GLOBAL NEWS
5 September 2022
Suzuki Updates the V-STROM 1050 and Newly Introduces the V-STROM 1050DE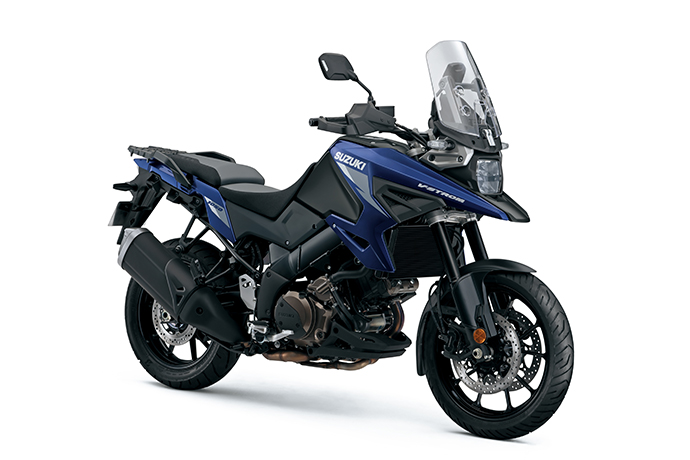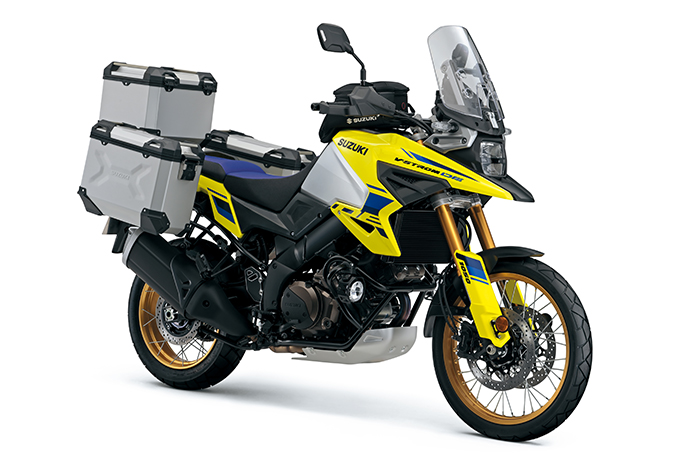 Suzuki Motor Corporation has announced two V-STROM models for overseas markets, the V-STROM 1050 with updated features, and the V-STROM 1050DE, a newly developed variation. Sales for both models will begin in January 2023, primarily in Europe and North America.
The highlights of the updated features of the V-STROM 1050 include, the bi-directional quick-shift system that allows up and down shifting without operating the clutch or throttle, and the enhanced S.I.R.S (Suzuki Intelligent Ride System) electronic control system for various riding conditions, now with the upgraded cruise control system allowing wider speed range and gear positions. In addition, the 5-inch color TFT LCD meter, displaying various information including the setting status of the S.I.R.S, has been adopted to improve the usability and convenience required for long-distance touring.
The newly Introduced V-STROM 1050DE adopts the G (gravel) mode in the traction control system, and cancellable ABS for the rear brake, engineered specifically for stable and comfortable riding over gravel roads so riders can enjoy long-distance touring over different road surfaces. The model's dimensions are specifically refined for gravel roads with large diameter 21-inch wheels on the front and semi-block pattern tires on the front and rear. In addition, it features shock-absorbing handlebars wider by 20mm on each side than standard models, accessory bars, and aluminum engine protectors to guard the lower part of the engine from stones flying up from the ground.
<New V-STROM 1050, V-STROM 1050DE Features and Specifications>
V-STROM 1050
V-STROM 1050DE
Description
Equipment
S.I.R.S
(Suzuki Intelligent Ride System)
Ride By Wire
SDMS
(Suzuki Drive Mode Selector)
Able to choose from 3 different power output characteristics
Traction Control
(3 Modes + OFF)
Traction Control
(3 Modes+ G Mode + OFF)
Limits power output when wheel spin is detected
Bi-Directional Quick Shift System
Able to shift up/down without clutch and throttle operation
Suzuki Easy Start System
Can start engine with one quick press of the button
Low RPM Assist
Assists smooth launch from standing start
Hill Hold Control System
Prevents the bike from moving back when launching uphill
Slope Dependent Control System
Optimizes ABS control in response to downward slope angle
Load Dependant Control System
Supports optimal braking in response to load conditions
Motion Track Brake System
(2 Modes)
Motion Track Brake System
(2 Modes + Rear ABS OFF Mode)
Controls ABS in response to the bank angle while cornering
Cruise Control System
Maintains a set speed without throttle operation
Wheels
Cast Aluminum Wheels
Wire-spoked Wheels
Windscreen
11-position Adjustable
(Tools not required)
3-position Adjustable
(Tools required)
Others
USB Socket, 12V Accessory Socket, Knuckle Covers, Under Cowling
USB Socket, 12V Accessory Socket, Knuckle Covers, Under Protector, Accessory Bar, Center Stand
Specs
Overall Length(mm)
2,265
2,390
Overall Width(mm)
940
960
Overall Height(mm)
1,515
1,505
Wheelbase(mm)
1,555
1,595
Curb Weight(kg)
242
252
Engine Type
1,037cm3 Liquid-Cooled 4 Cycle
90°V-twin Engine
Fuel Consumption
19.2km/L
CO2 Emissions
120g/km