2017 |

GIXXER
Global 150 cm³ street bike made in India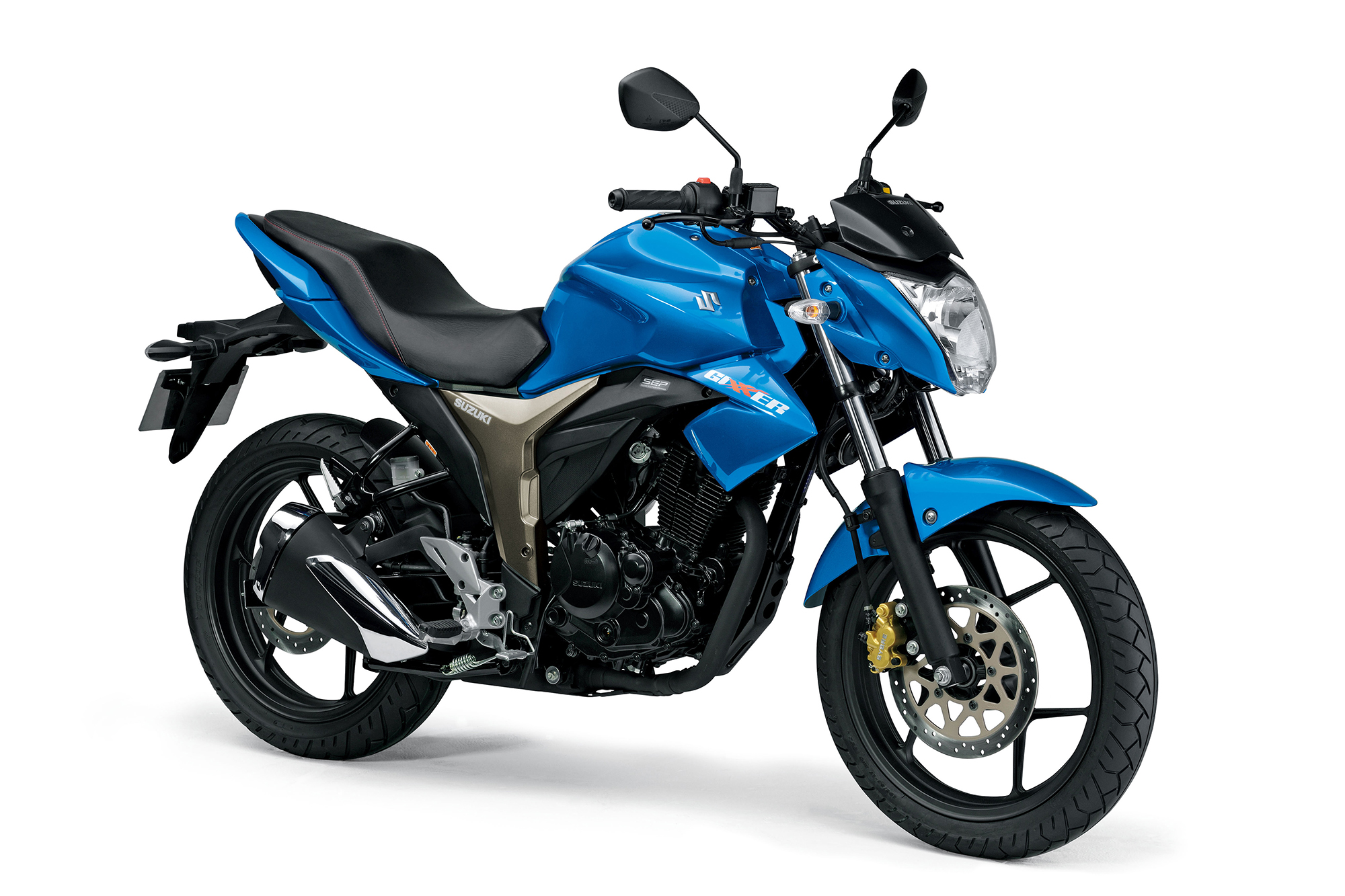 The 2017 GIXXER is a distinctive bike with a sporty design. It features a compact 150 cm³ air-cooled 1-cylinder engine that was engineered with lower friction and higher combustion efficiency and mounted on a lightweight and highly rigid frame. It combines a curb mass of 135 kg, powerful acceleration, and excellent fuel economy of 58.8 km/L (60 km/h steady state fuel economy*). It also features a wide range of equipment perfect for a sportbike, including a multi-function instrument cluster, front and rear disc brakes, large-diameter front forks, and a seven-stage adjustable rear suspension. The GIXXER was extremely well received in markets around the world, winning Bike of the Year awards in 13 different categories in India alone.
* Suzuki's internal test results. Figures may vary depending on the rider's skill or riding conditions.
Dimensions and weight
Dimensions
Overall length
2,005 mm
Overall width
785 mm
Overall height
1,030 mm
Wheelbase
1,330 mm
Weight
135 kg (Wet)
Engine
Engine type
4-stroke, 1-cylinder, air-cooled, SOHC
Engine displacement
154 cm³
Bore x stroke
56.0 mm × 62.9 mm
Maximum power
10kW(14PS) / 8,000rpm
Maximum torque
14N-m / 6,000rpm
Transmission
5-speed constant mesh
Front tire size
100/80-17M/C 52S
Rear tire size
140/60R17M/C 63H
2020 |

GIXXER
The first model change for the GIXXER since its 2017 debut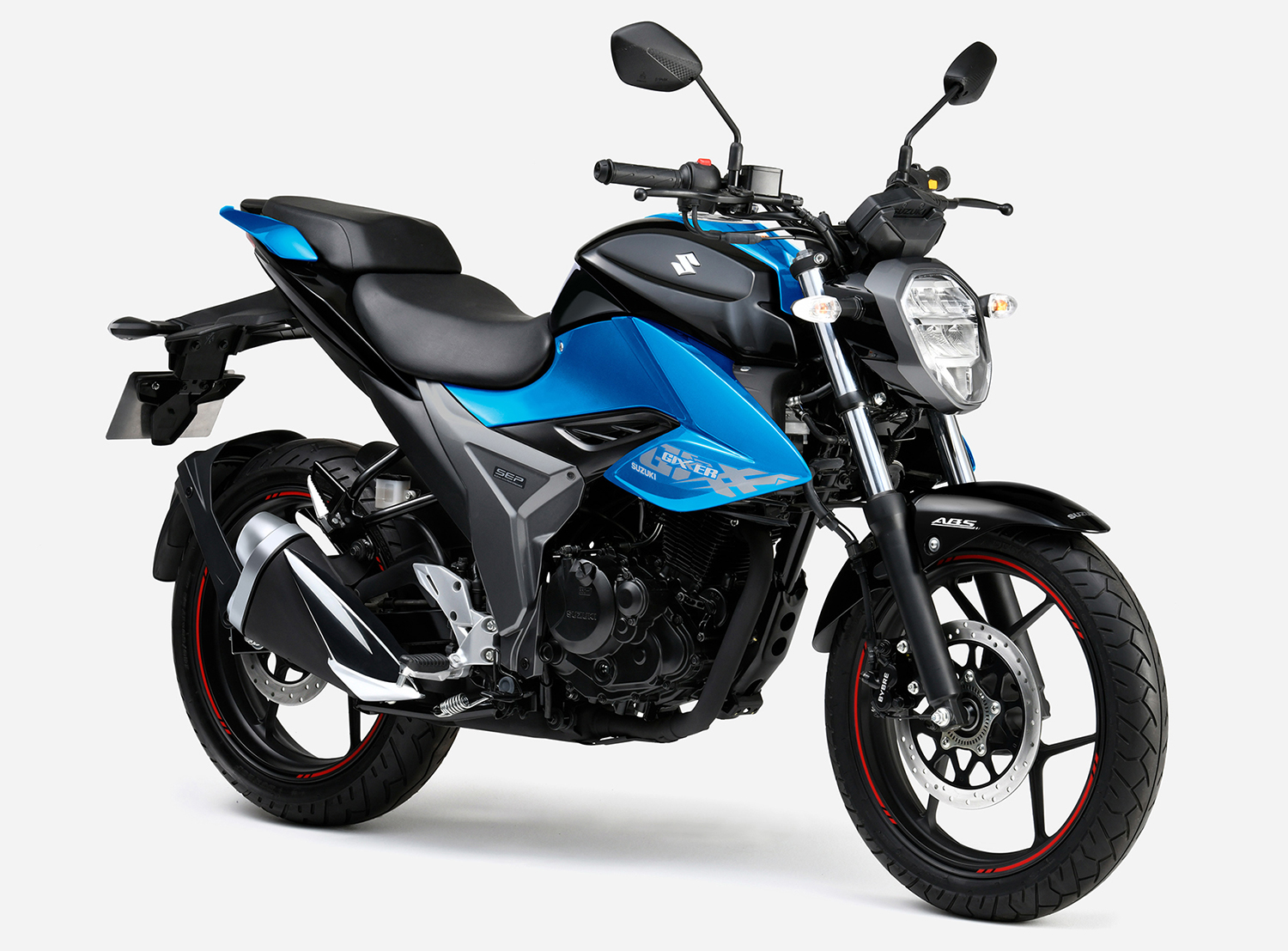 The 2020 GIXXER is a 150 cm³ street bike that combines sporty design cues with powerful acceleration and excellent fuel economy. The GIXXER is celebrated for its coherent headlight-to-tank styling and the vibrancy of its design that features a high-capacity fuel tank and a slim seat. The new model integrates these features with a fairing that echoes European design trends and compact proportions focused toward the center of the chassis to create a refined and sophisticated style. In addition to the dynamically shaped fuel tank and shroud, the sporty impression of the new GIXXER is elevated by the adoption of new components such as a compact thin LED headlight, independent front/rear seats, and a swingarm-mounted rear fender.
Dimensions and weight
Dimensions
Overall length
2,020 mm
Overall width
800 mm
Overall height
1,035 mm
Wheelbase
1,335 mm
Weight
139 kg (Wet)
Engine
Engine type
4-stroke, 1-cylinder, air-cooled, SOHC
Engine displacement
154 cm³
Bore x stroke
56.0 mm × 62.9 mm
Maximum power
10kW(14PS) / 8,000rpm
Maximum torque
14N-m / 6,000rpm
Transmission
5-speed constant mesh
Front tire size
100/80-17M/C 52S
Rear tire size
140/60R17M/C 63H