1982 |

GSX250E KATANA
250 cm³ model that inherits the styling of the KATANA series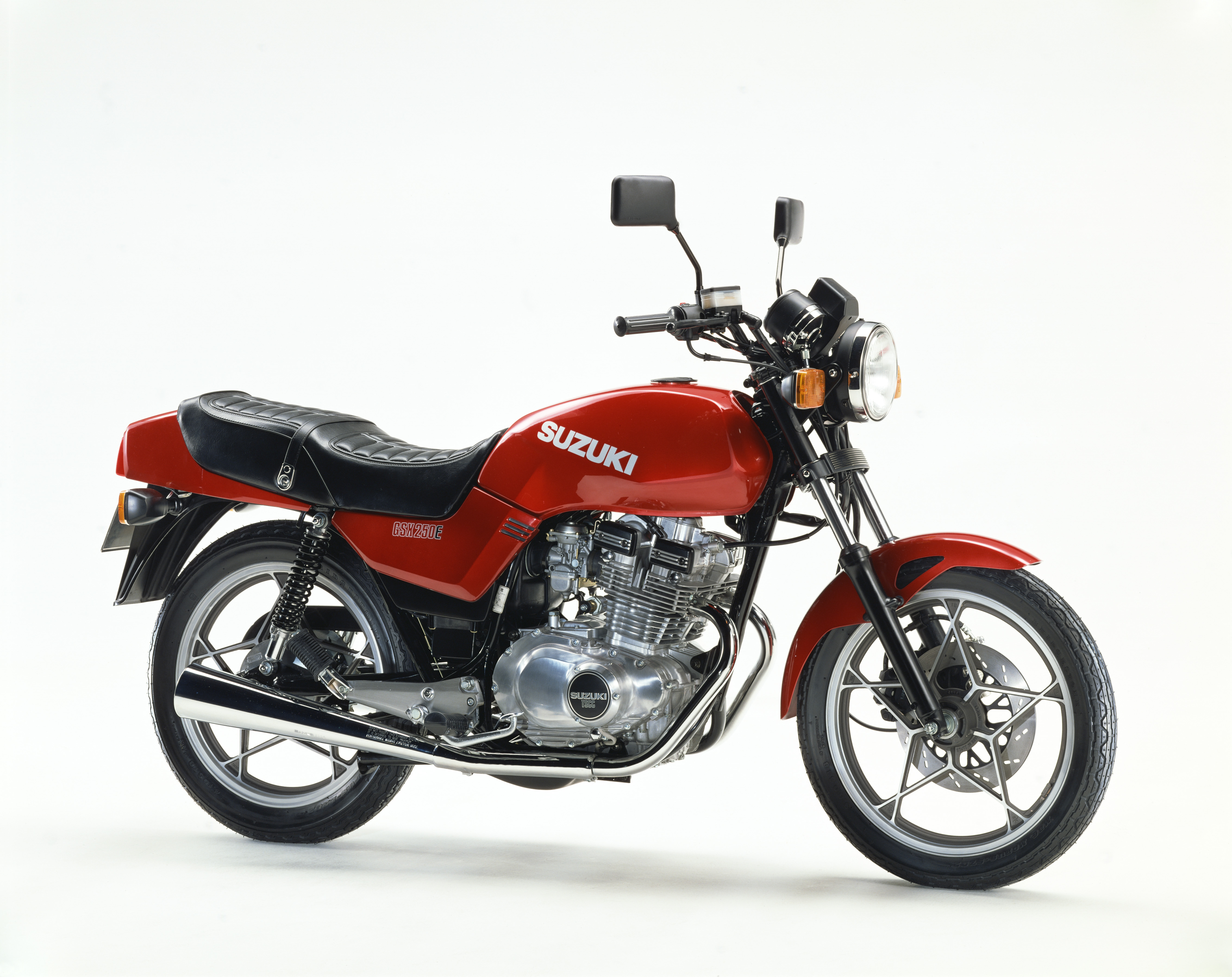 Based on the styling of its namesake series, the GSX250E KATANA emphasizes aerodynamics through a streamlined design. The 250 cm³ 4-stroke inline 2-cylinder DOHC is equipped with Twin Swirl Combustion Chambers (TSCCs) and generates high power and torque from low to high rpms. Other notable features of the GSX250E KATANA include excellent fuel economy, the Anti Nose Dive Fork (ANDF) system, a spiral-shaped drilled front disc plate, and a large capacity 16-liter fuel tank.
Dimensions and weight
Dimensions
Overall length
2,100 mm
Overall width
755 mm
Overall height
1,115 mm
Wheelbase
1,410 mm
Weight
157.3 kg (Dry)
Engine
Engine type
4-stroke, 2-cylinder, air-cooled, DOHC
Engine displacement
249 cm³
Bore x stroke
60.0 mm × 44.2 mm
Maximum power
21.3kW(29PS) / 10,000rpm
Maximum torque
21.6N-m / 8,000rpm
Transmission
6-speed constant mesh
Front tire size
3.60S18-4PR
Rear tire size
4.10S18-4PR
1991 |

GSX250S KATANA
250 cm³ model inheriting the original design of the KATANA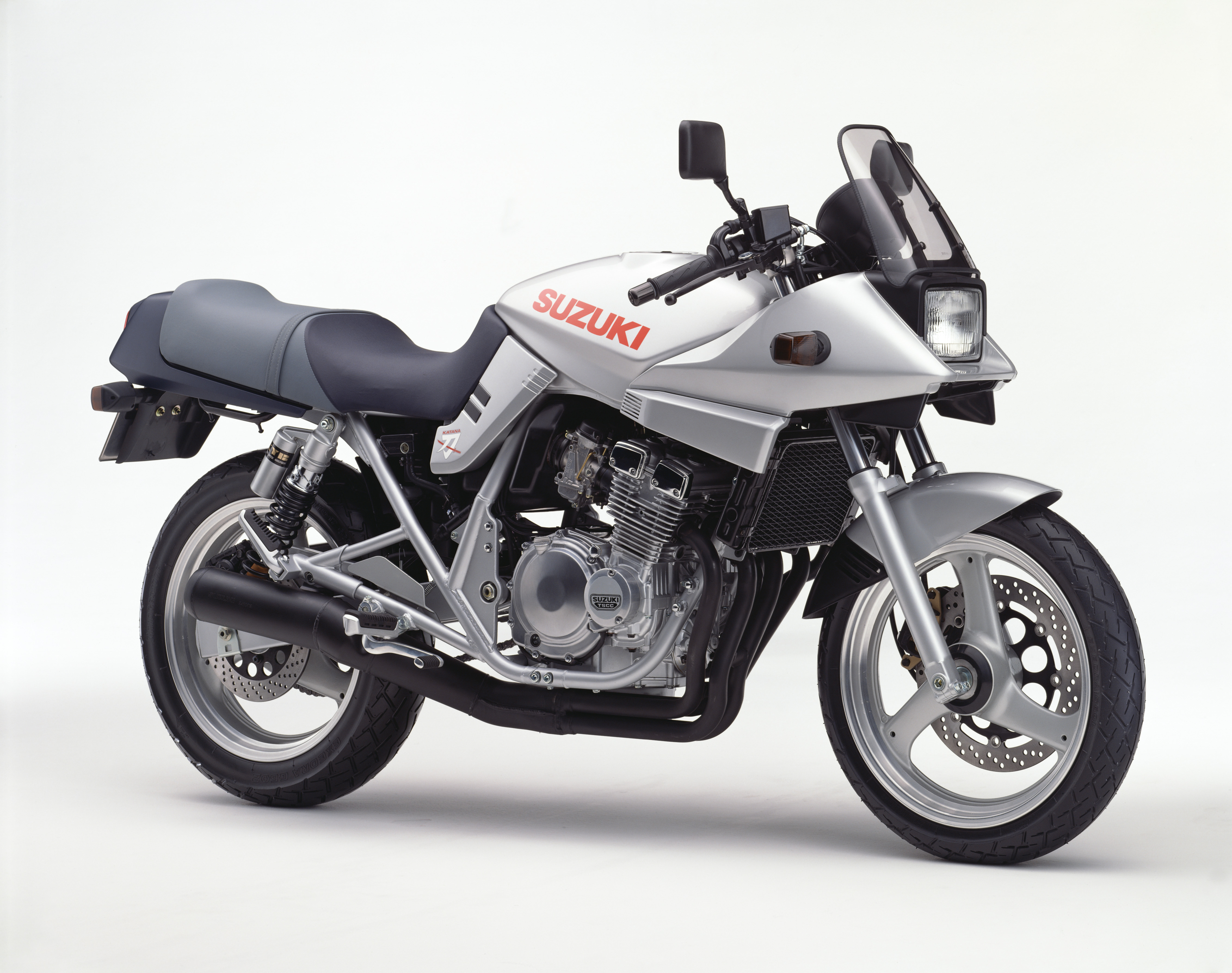 The most distinctive characteristic of this model is the faithful reproduction of the exterior styling from the GSX1100S KATANA design concept. It features a newly engineered lightweight and high-performance 250 cm³ 4-stroke liquid-cooled 4-cylinder DOHC engine based on the Bandit 250, which was tuned for optimum performance in the low- and mid-rpm ranges to realize excellent rideability on city streets. Cooling fins inspired from air-cooled designs were added to the liquid-cooled engine to create dynamic and memorable styling. The GSX250S KATANA also features a 4-into-1 muffler with excellent exhaust efficiency, a rear suspension equipped with a reservoir tank, large-diameter disc brakes (310 mm at the front and 250 mm at the rear), and wide tires.
Dimensions and weight
Dimensions
Overall length
2,060 mm
Overall width
685 mm
Overall height
1,160 mm
Wheelbase
1,435 mm
Weight
160 kg (Dry)
Engine
Engine type
4-stroke, 4-cylinder, liquid-cooled, DOHC
Engine displacement
248 cm³
Bore x stroke
49.0 mm × 33.0 mm
Maximum power
29.4kW(40PS) / 13,500rpm
Maximum torque
26.5N-m / 10,000rpm
Transmission
6-speed constant mesh
Front tire size
110/70-17 54H
Rear tire size
140/70-17 66H