2013 |

GSR750
Aggressively designed roadster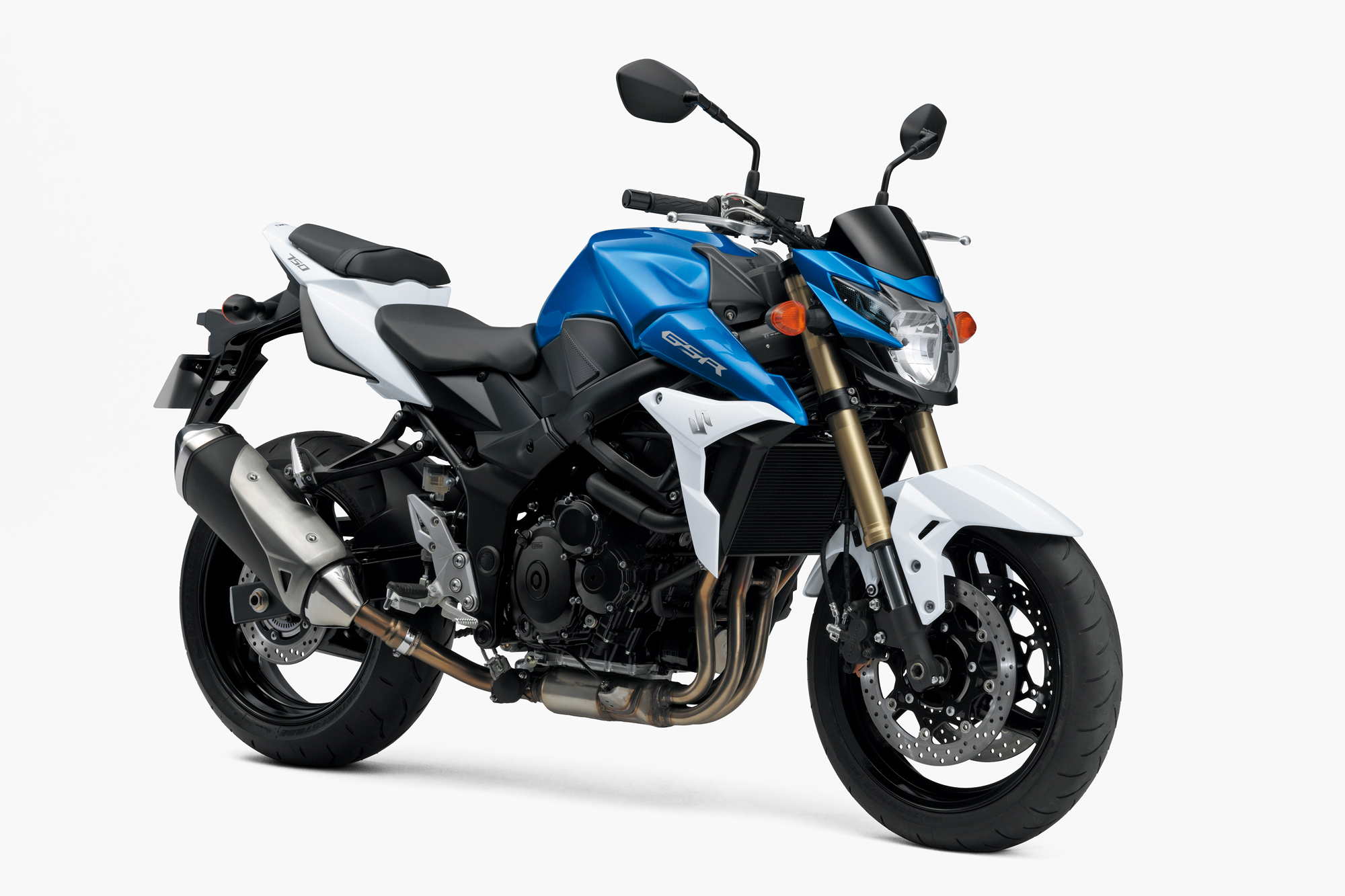 After its debut in Europe in 2011, the GSR750 roadster was warmly received as a result of its sharp-edged chassis styling that creates a compact and fresh silhouette. The GSR750 realizes improved handling through the layout of the handlebars and footpegs, which enables a natural and optimum riding position, and a lightweight 213 kg chassis. The engine is based on the supersport GSX-R750 and is tuned for rideability in the low- to mid-rpm range frequently used on urban streets. The result is a fun-to-ride bike with agile handling both in the city and on winding roads. Excellent fuel economy of 30.0 km/L (60 km/h steady state fuel economy*) was realized by increasing combustion efficiency, and ABS is provided as standard equipment.
* Suzuki's internal test results. Figures may vary depending on the rider's skill or riding conditions.
Dimensions and weight
Dimensions
Overall length
2,115 mm
Overall width
785 mm
Overall height
1,060 mm
Wheelbase
1,450 mm
Weight
213 kg (Wet)
Engine
Engine type
4-stroke, 4-cylinder, liquid-cooled, DOHC
Engine displacement
749 cm³
Bore x stroke
72.0 mm × 46.0 mm
Maximum power
78kW(106PS) / 10,000rpm
Maximum torque
80N-m / 9,000rpm
Transmission
6-speed constant mesh
Front tire size
120/70ZR17M/C (58W)
Rear tire size
180/55ZR17M/C (73W)
2017 |

GSX-S750
Street sportbike imbued with the GSX-R DNA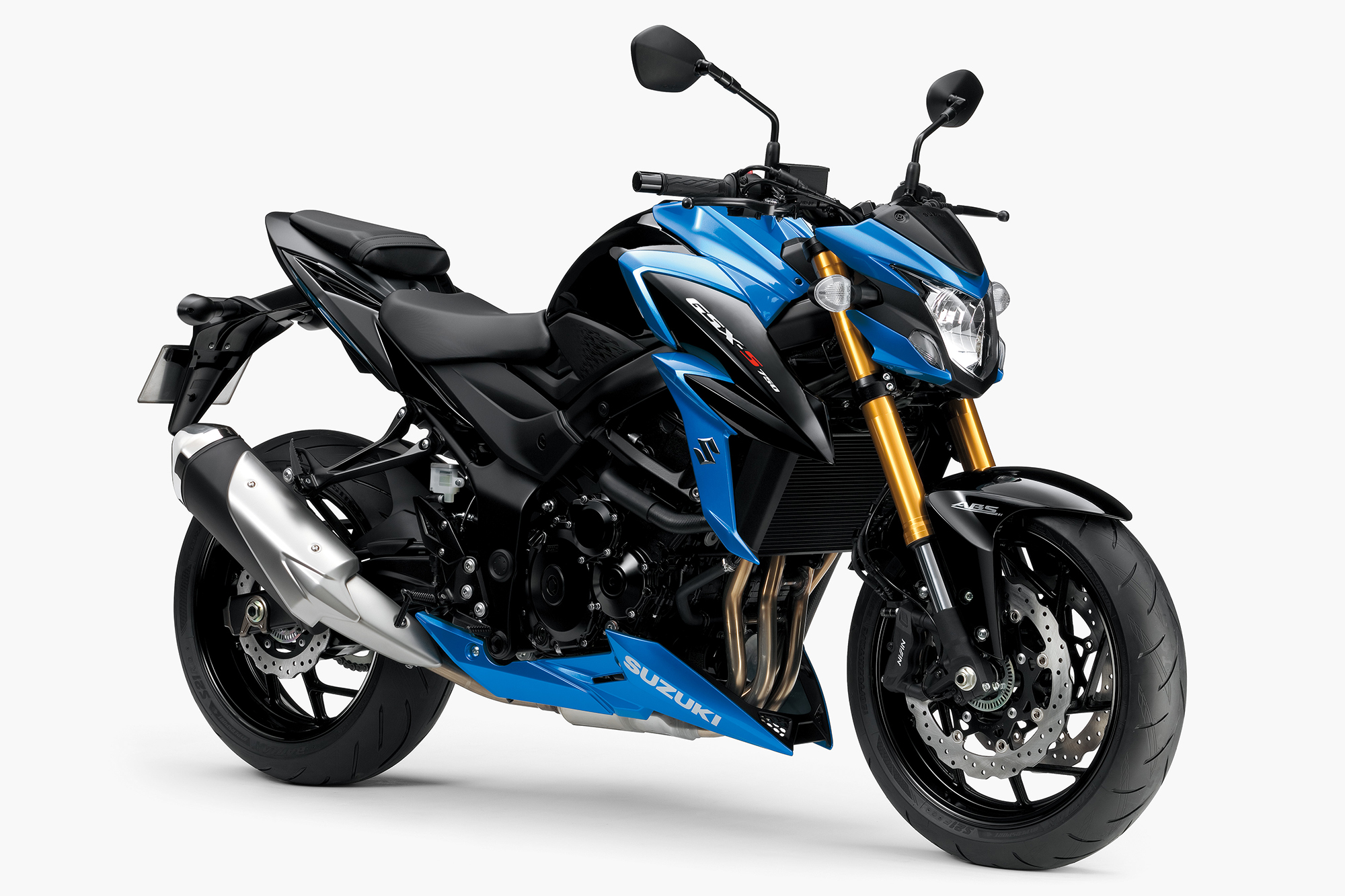 The GSX-S750 delivers uplifting smooth throttle response and agile handling inherited directly from the GSX-R750. It is also equipped with a three-mode selectable traction control system that enables the best performance for pure sporty riding, city streets, or wet conditions. The system uses multiple sensor signals to calculate and suppress rear wheel spin by controlling engine power, resulting in more efficient transfer of power to the road surface. The GSX-S750 is also equipped with the Suzuki Easy Start System and ABS as standard equipment.
Dimensions and weight
Dimensions
Overall length
2,125 mm
Overall width
785 mm
Overall height
1,055 mm
Wheelbase
1,455 mm
Weight
212 kg (Wet)
Engine
Engine type
4-stroke, 4-cylinder, liquid-cooled, DOHC
Engine displacement
749 cm³
Bore x stroke
72.0 mm × 46.0 mm
Maximum power
83kW(112PS) / 10,500rpm
Maximum torque
80N-m / 9,000rpm
Transmission
6-speed constant mesh
Front tire size
120/70ZR17M/C (58W)
Rear tire size
180/55ZR17M/C (73W)