1978 |

GS1000
Suzuki's first liter-class model developed based on the GS750.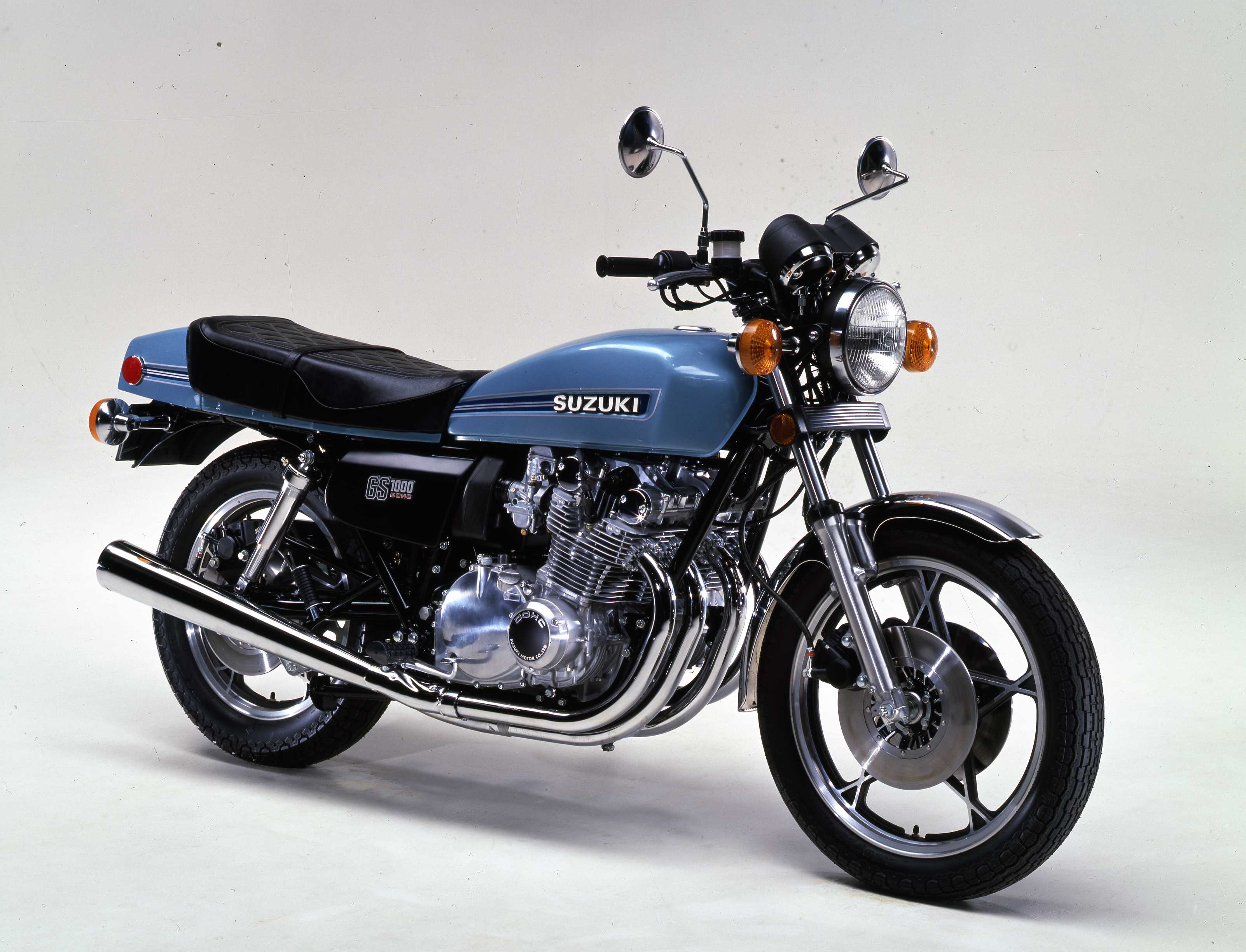 Suzuki's first model in the liter class, the GS1000 was developed based on the basic engine and chassis layout of the GS750. The 4-stroke air-cooled inline 4-cylinder DOHC 2-valve engine generates maximum horsepower of 87 PS. A lightweight yet highly rigid frame was achieved by adopting large-diameter thin-walled pipes and other thorough weight reduction measures such as eliminating the kick starter, which kept the weight of the model down to only 234 kg. In 1978, the same year as its launch, a Yoshimura Suzuki GS1000 won the model's debut victory in an American Motorcyclist Association (AMA) event held at the Daytona International Speedway. The GS1000 also won the first Suzuka 8 Hours that was held in July of the same year, demonstrating the model's impressive potential.
Dimensions and weight
Dimensions
Overall length
2,340 mm
Overall width
755 mm
Overall height
1,145 mm
Wheelbase
1,505 mm
Weight
234 kg (Dry)
Engine
Engine type
4-stroke, 4-cylinder, air-cooled, DOHC
Engine displacement
997 cm³
Bore x stroke
70.0 mm × 64.8 mm
Maximum power
64kW(87PS) / 8,000rpm
Maximum torque
83.4N-m / 6,000rpm
Transmission
5-speed constant mesh
Front tire size
3.50-19
Rear tire size
4.50-17
1980 |

GSX1100E
The model that formed the basis of the GSX1100S KATANA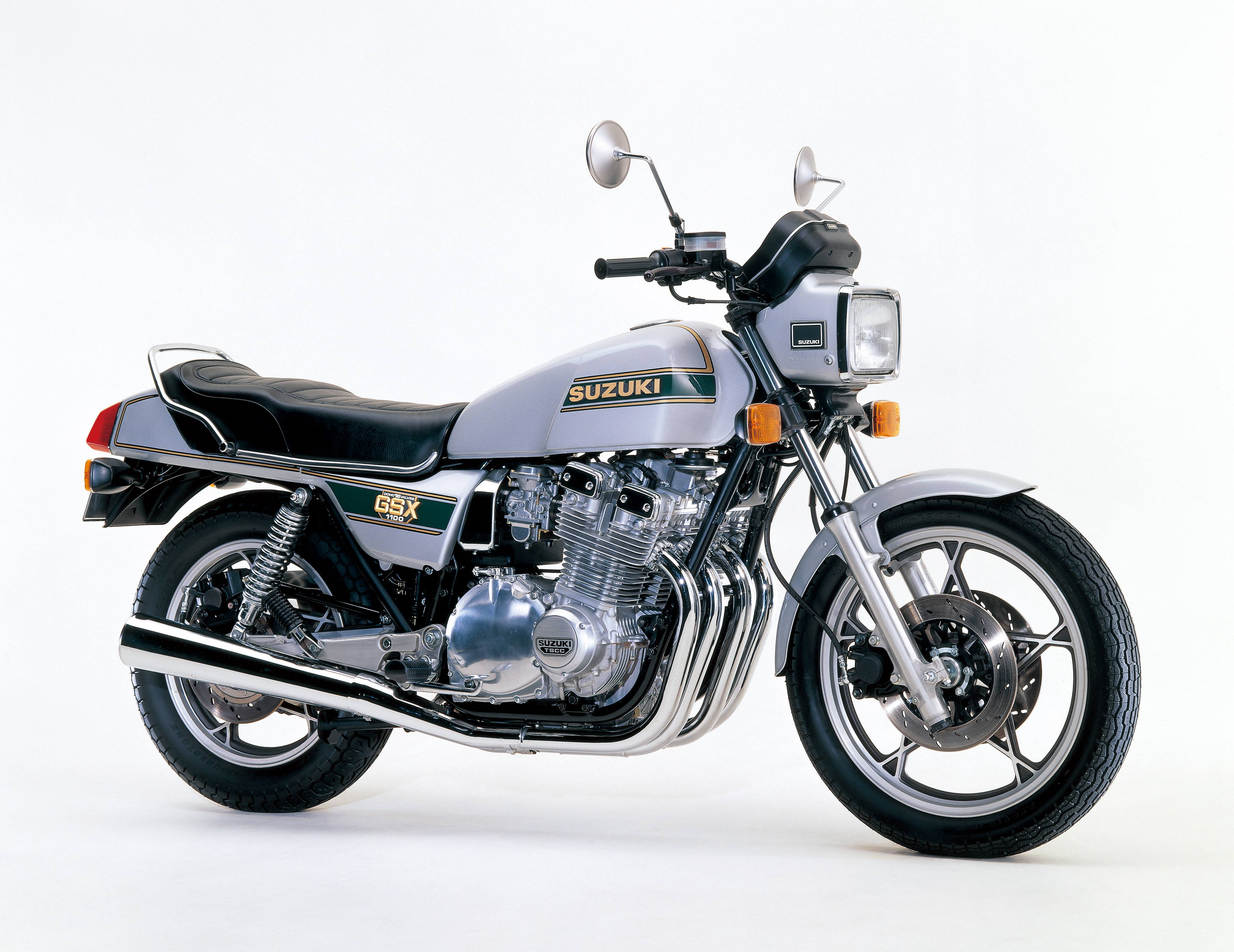 The GSX1100E debuted as the successor of the GS1000. A DOHC 4-valve per-cylinder configuration was adopted for greater engine performance. Combined with a highly rigid and strong integrated crankshaft and Twin Swirl Combustion Chambers (TSCCs), this engine generates maximum horsepower of 105 PS. Compared to the orthodox styling of the GS1000, the GSX1100E features unique design elements such as a large rectangular headlight, as well as a prominent fuel tank and instrument cluster area. Subsequently, the GSX1100E served as the basis for the revolutionary design of the GSX1100S KATANA.
Dimensions and weight
Dimensions
Overall length
2,255 mm
Overall width
760 mm
Overall height
1,190 mm
Wheelbase
1,520 mm
Weight
266 kg (Dry)
Engine
Engine type
4-stroke, 4-cylinder, air-cooled, DOHC
Engine displacement
1,074 cm³
Bore x stroke
72.0 mm × 66.0 mm
Maximum power
73.6kW(100PS) / 8,700rpm
Maximum torque
85.3N-m / 6,500rpm
Transmission
5-speed constant mesh
Front tire size
3.50-19
Rear tire size
4.50-17