1998 |

Inazuma 1200
Big naked bike designed to realize fun-to-ride performance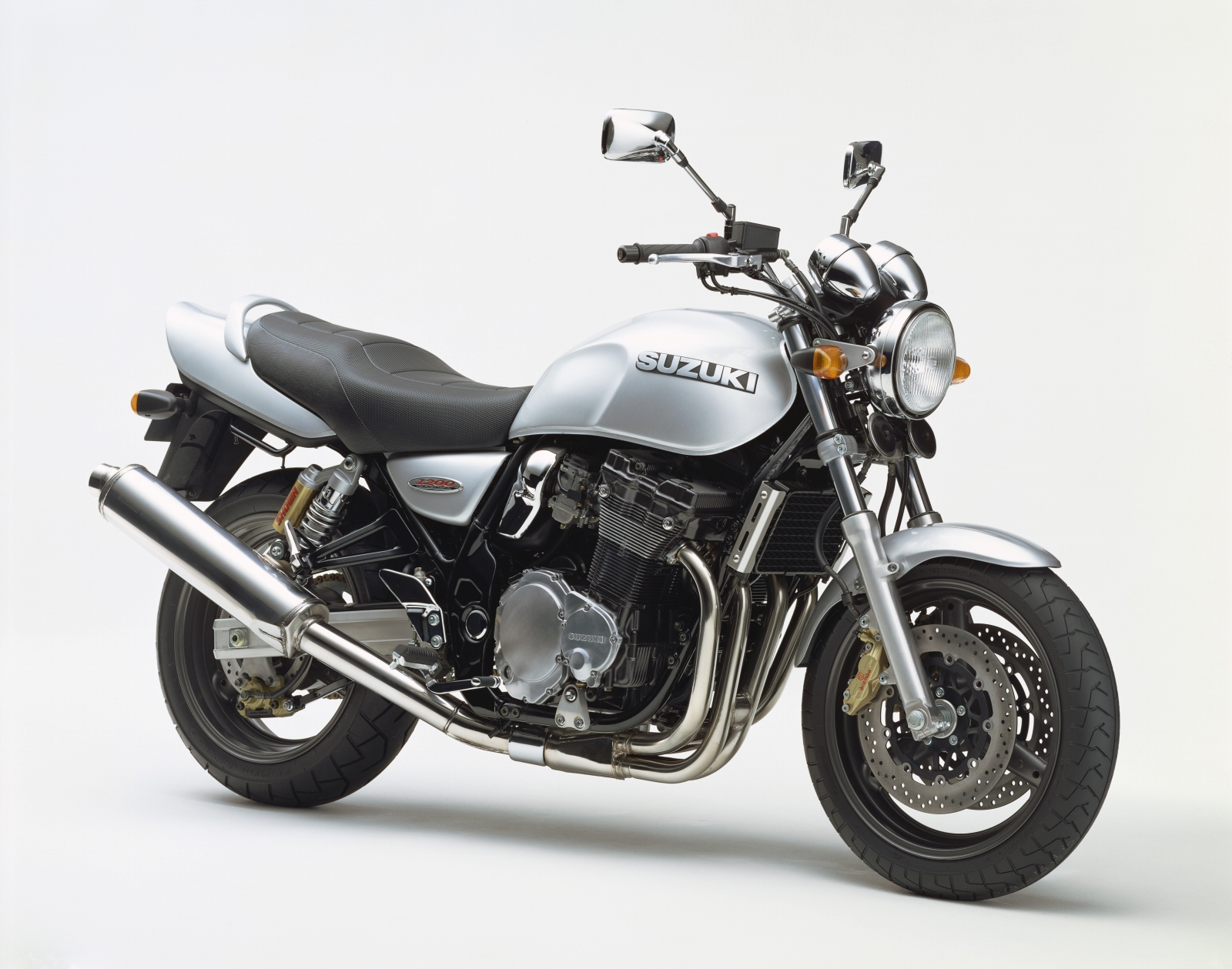 With a similar size to the 400 cm³ Inazuma already on the market and a dry weight of only 208 kg, the Inazuma 1200 combines a lightweight and compact chassis with Suzuki's unique 1,200 cm³ oil-cooled in-line 4-cylinder DOHC engine that generates maximum horsepower of 100 PS and maximum torque of 98.1 N·m at only 4,500 rpm. The appeal of the Inazuma 1200 is rooted in its intense acceleration sensation and rich exhaust note. With a large-diameter 310-mm front disc brake and irregularly shaped 4-pot calipers, the Inazuma 1200 is also noted for its powerful and easy-to handle braking performance.
Dimensions and weight
Dimensions
Overall length
2,140 mm
Overall width
780 mm
Overall height
1,100 mm
Wheelbase
1,465 mm
Weight
208 kg (Dry)
Engine
Engine type
4-stroke, 4-cylinder, oil-cooled, DOHC
Engine displacement
1,156 cm³
Bore x stroke
79.0 mm × 59.0 mm
Maximum power
73.6kW(100PS) / 8,500rpm
Maximum torque
98.1N-m / 4,500rpm
Transmission
5-speed constant mesh
Front tire size
120/70ZR17 (58W)
Rear tire size
170/60ZR17 (72W)
2001 |

GS1200SS
Big 1,200 cm³ bike with an uncompromising image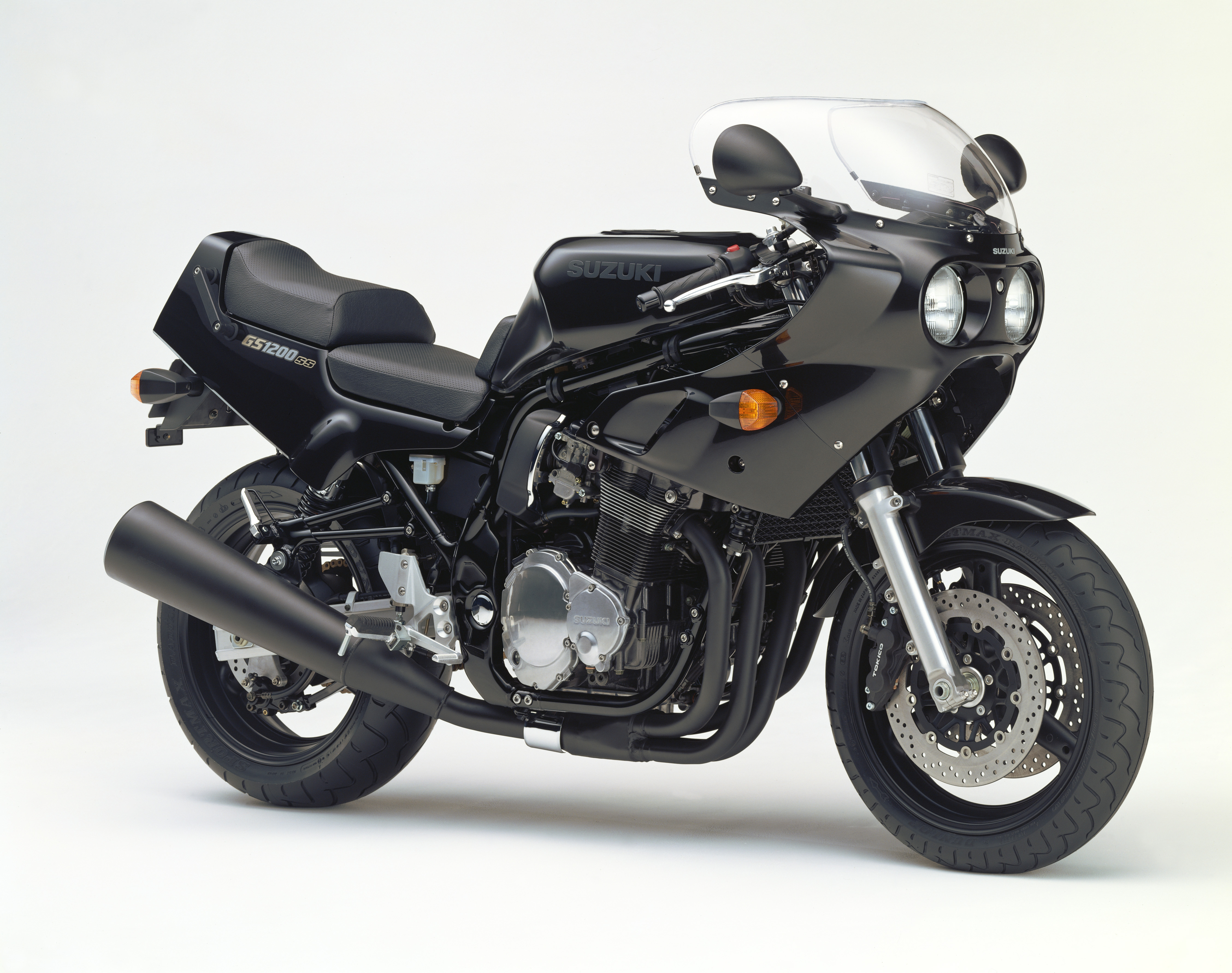 The GS1200SS is a big fun-to-ride bike for city streets designed to take advantage of the distinctive image of endurance racers. The rounded and prominent half fairing has a fresh appearance that evokes the image of Suzuki's endurance bikes from the 1980s, and is combined with distinctive dual round headlights. One of the main appeals of the GS1200SS is its 1,200 cm³ 4-stroke oil-cooled 4-cylinder DOHC engine that delivers punchy and powerful acceleration from low to mid speeds, paired with a naked style double cradle frame. Features such as a large megaphone-shaped muffler, black body and chassis, and boldly designed fuel tank help to emphasize its tough and uncompromising image.
Dimensions and weight
Dimensions
Overall length
2,115 mm
Overall width
765 mm
Overall height
1,220 mm
Wheelbase
1,460 mm
Weight
210 kg (Dry)
Engine
Engine type
4-stroke, 4-cylinder, oil-cooled, DOHC
Engine displacement
1,156 cm³
Bore x stroke
79.0 mm × 59.0 mm
Maximum power
74kW(100PS) / 8,000rpm
Maximum torque
94N-m / 6,500rpm
Transmission
5-speed constant mesh
Front tire size
120/70ZR17 (58W)
Rear tire size
170/60ZR17 (72W)