1982 |

RG50Γ
Exciting 50 cm³ model featuring a hexagonal pipe frame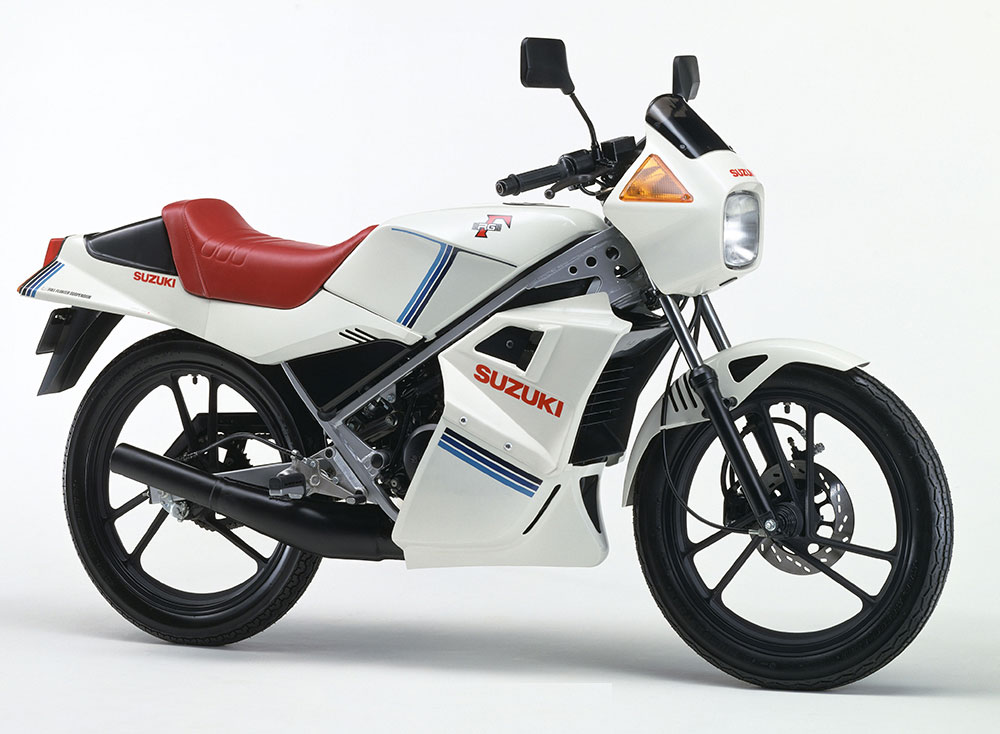 The RG50Γ combines the first hexagonal pipe frame adopted on a 50 cm³ model produced in Japan with a newly developed 2-stroke liquid-cooled 1-cylinder power reed valve engine. Incorporating Suzuki's unique power reed valve into this engine helps ro realize gutsy torque in the low- and mid-rpm ranges. The adoption of a liquid cooling system featuring a radiator equipped with an airflow-converging cover substantially improves cooling performance and enhances fuel economy. Handling is also improved through features such as the Full Floater suspension with a hexagonal pipe swingarm, smaller-diameter front wheel, and Anti Nose Dive Forks (ANDF). The RG50Γ is also provided with fairings and a 6-speed transmission. Weight was reduced by the widespread use of aluminum forgings, resulting in a machine that meets the expectations of users looking for a sporty ride.
* Under fairing is an optional equipment.
Dimensions and weight
Dimensions
Overall length
1,880 mm
Overall width
650 mm
Overall height
1,030 mm
Wheelbase
1,230 mm
Weight
69 kg (Dry)
Engine
Engine type
2-stroke, 1-cylinder, air-cooled
Engine displacement
49 cm³
Bore x stroke
41.0 mm × 37.8 mm
Maximum power
5.3kW(7.2PS) / 8,000rpm
Maximum torque
6.5N-m / 7,500rpm
Transmission
6-speed constant mesh
Front tire size
2.75-17-4PR
Rear tire size
2.75-18-4PR
1989 |

WOLF 50
Light and agile 50 cm³ naked bike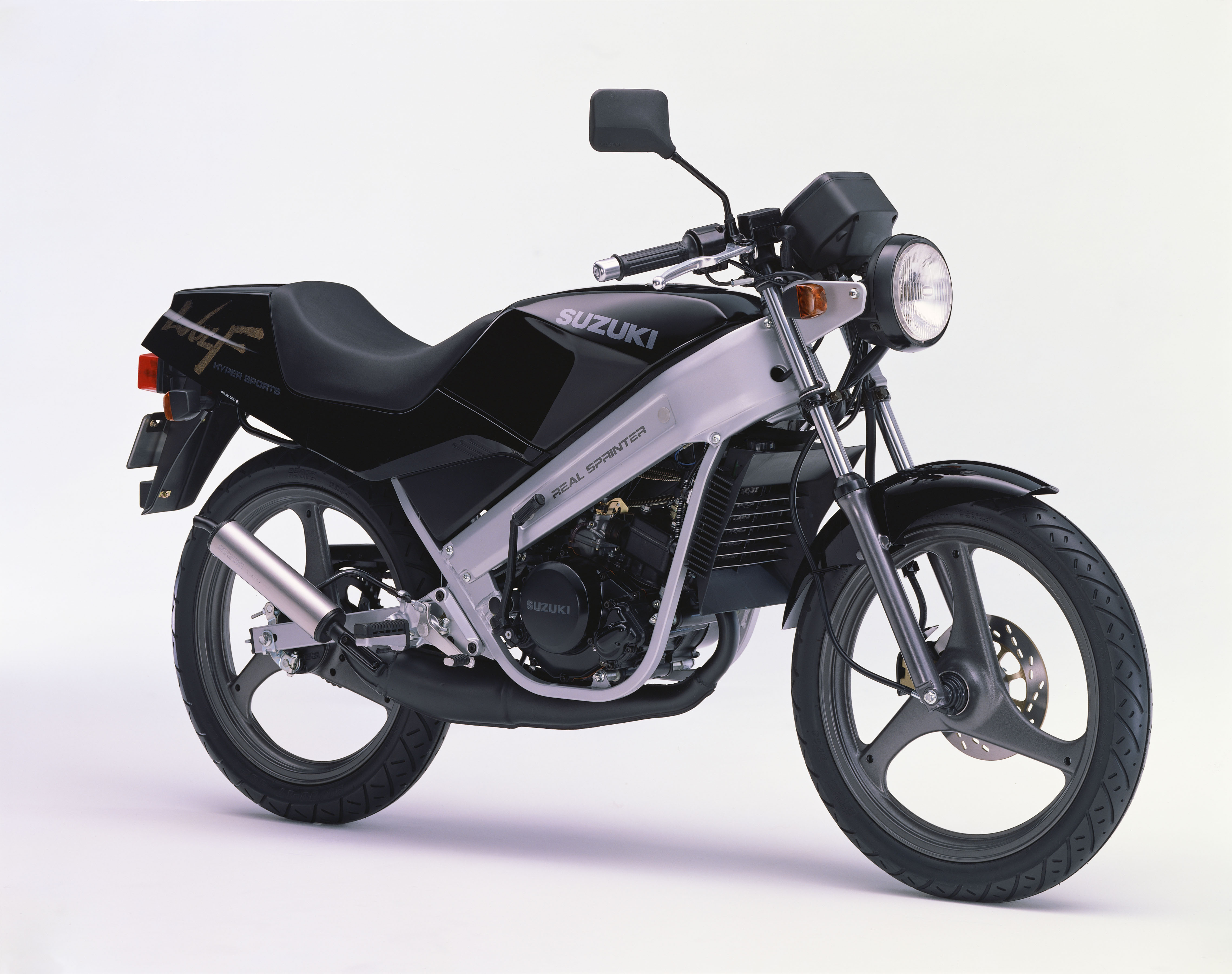 This is a sister model to the 250 cm³ WOLF. It is equipped with the dynamic and proven 2-stroke liquid-cooled 1-cylinder engine installed on the RG50Γ. The WOLF 50 delivers a simple and stylish impression completely different to any previous race replica model due to features such as a round halogen headlight, tapered frame cover, new-pattern low-profile tires, hollow 3-spoke wheels , and chamber type muffler.
Dimensions and weight
Dimensions
Overall length
1,880 mm
Overall width
655 mm
Overall height
995 mm
Wheelbase
1,235 mm
Weight
73 kg (Dry)
Engine
Engine type
2-stroke, 1-cylinder, air-cooled
Engine displacement
49 cm³
Bore x stroke
41.0 mm × 37.8 mm
Maximum power
5.3kW(7.2PS) / 7,200rpm
Maximum torque
7.1N-m / 7,000rpm
Transmission
6-speed constant mesh
Front tire size
80/90-17 44P
Rear tire size
90/90-17 49P