1965 |

Colleda 250T20
Model designed to be ridden on the highways of Europe and the U.S.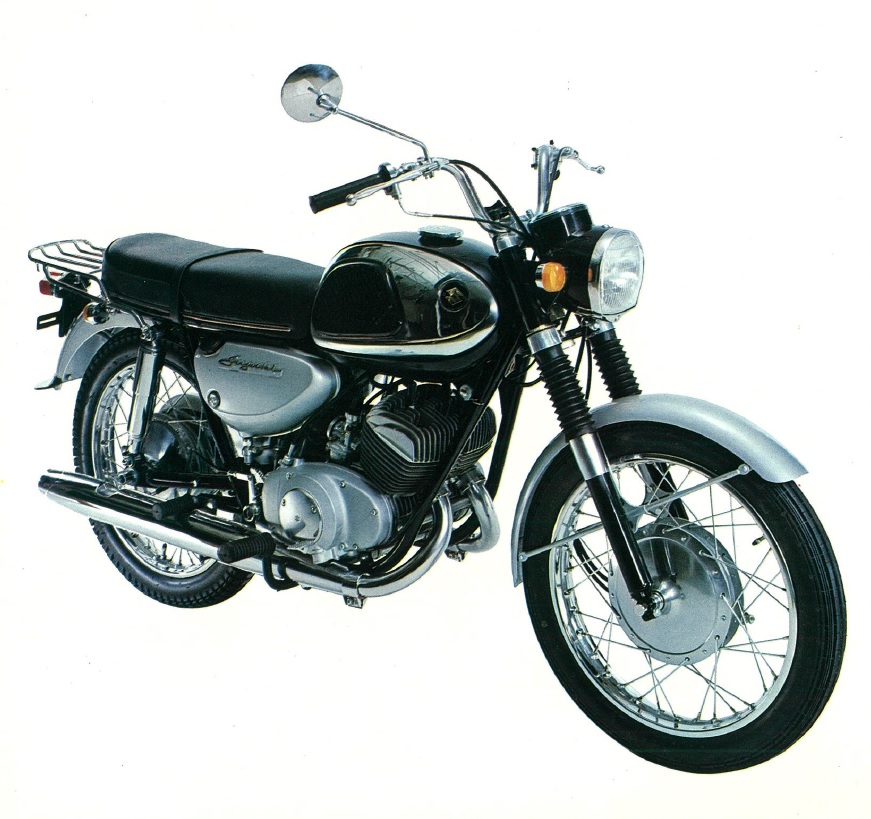 The Colleda 250T20 was developed with the aim of producing the fastest 250 cm³ model in the world. It adopted some of the latest technologies from victorious World Grand Prix Road Race factory machines, such as aluminum cylinders, the first Cylinder Crank Injection (CCI) system adopted on a motorcycle, and the first 6-speed transmission on a mass production model. This model realized class-leading performance in every aspect, including being the first 250 cm³ model to reach a speed of 100 mph (160 km/h) and successfully being ridden at a speed of at least 120 km/h for 24 hours non-stop on highways in the U.S. The Colleda 250T20 can be described as the origin of Suzuki's strategic global models.
Dimensions and weight
Dimensions
Overall length
2,030 mm
Overall width
765 mm
Overall height
1,030 mm
Wheelbase
1,285 mm
Weight
145 kg
Engine
Engine type
2-stroke, 2-cylinder, air-cooled
Engine displacement
247 cm³
Bore x stroke
54.0 mm × 54.0 mm
Maximum power
18.4kW(25PS) / 8,000rpm
Maximum torque
23.7N-m / 7,000rpm
Transmission
6-speed constant mesh
Front tire size
2.75-18-4PR
Rear tire size
3.00-18-4PR
1971 |

GT250
GT series model reborn with a powerful new design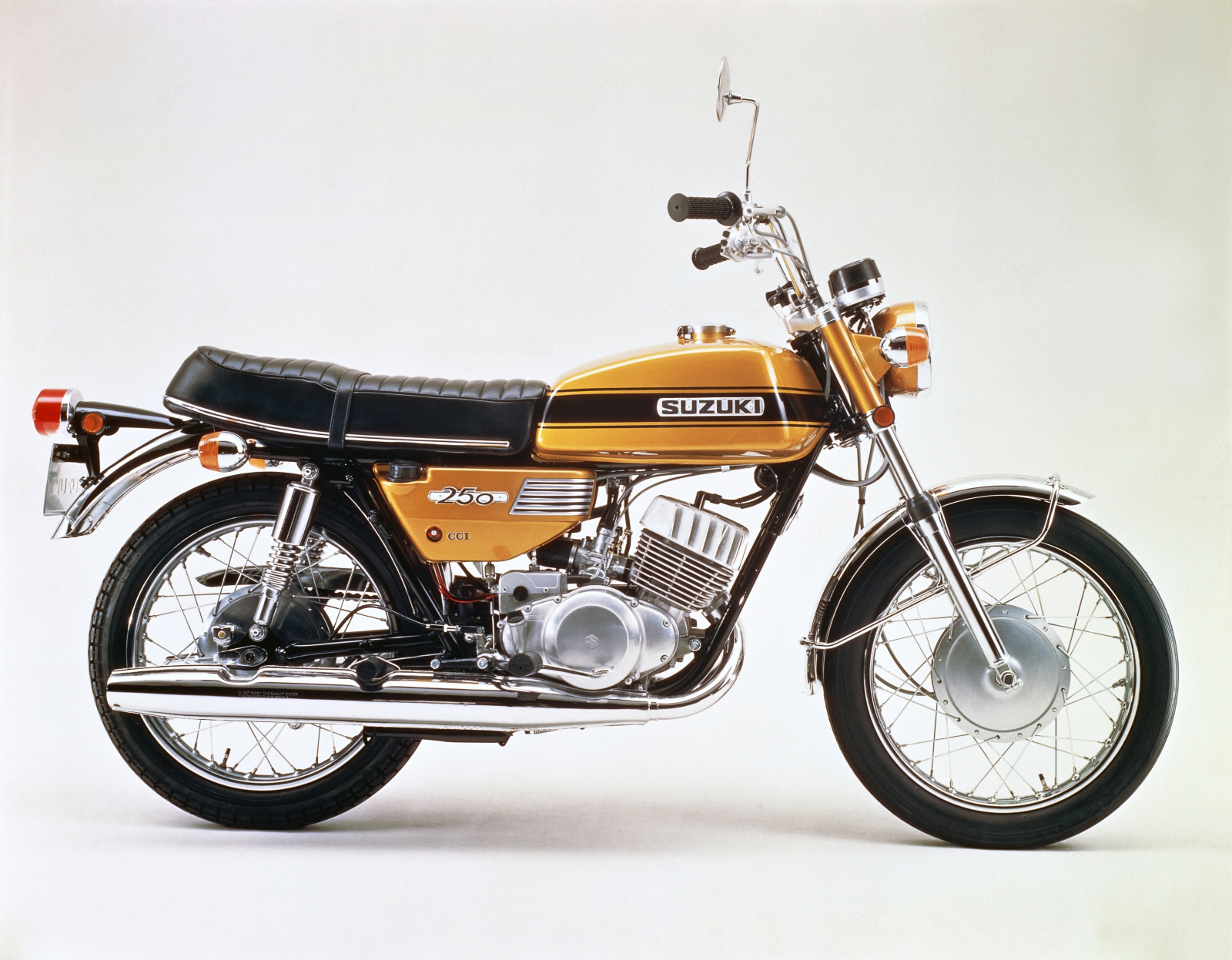 The GT250 debuted alongside the GT500 and GT350 as part of Suzuki's GT series, replacing the existing T series of models. Its 250 cm³ 2-stroke Cylinder Crank Injection (CCI) engine features a 6-port exhaust cylinder head, resulting in dramatically higher exhaust efficiency. This engine generates maximum horsepower of 30.5 PS and maximum torque of 27.7 N·m. It is paired with a close-ratio 6-speed transmission that makes effective use of the available engine power under a wide range of riding conditions. In the same way as the GT500 and GT350, the styling combines essential motorcycle design elements such as a down type muffler, large-capacity 15-liter fuel tank, and chrome-plated fenders. The spacious seat realizes impressive cushioning and restoration performance.
Dimensions and weight
Dimensions
Overall length
2,030 mm
Overall width
870 mm
Overall height
1,130 mm
Wheelbase
1,300 mm
Weight
154 kg
Engine
Engine type
2-stroke, 2-cylinder, air-cooled
Engine displacement
247 cm³
Bore x stroke
54.0 mm × 54.0 mm
Maximum power
22.4kW(30.5PS) / 8,000rpm
Maximum torque
27.7N-m / 7,000rpm
Transmission
6-speed constant mesh
Front tire size
3.00-18-4PR
Rear tire size
3.25-18-4PR