1998 |

Address 110
Comfortable mid-class scooter with agile and stable performance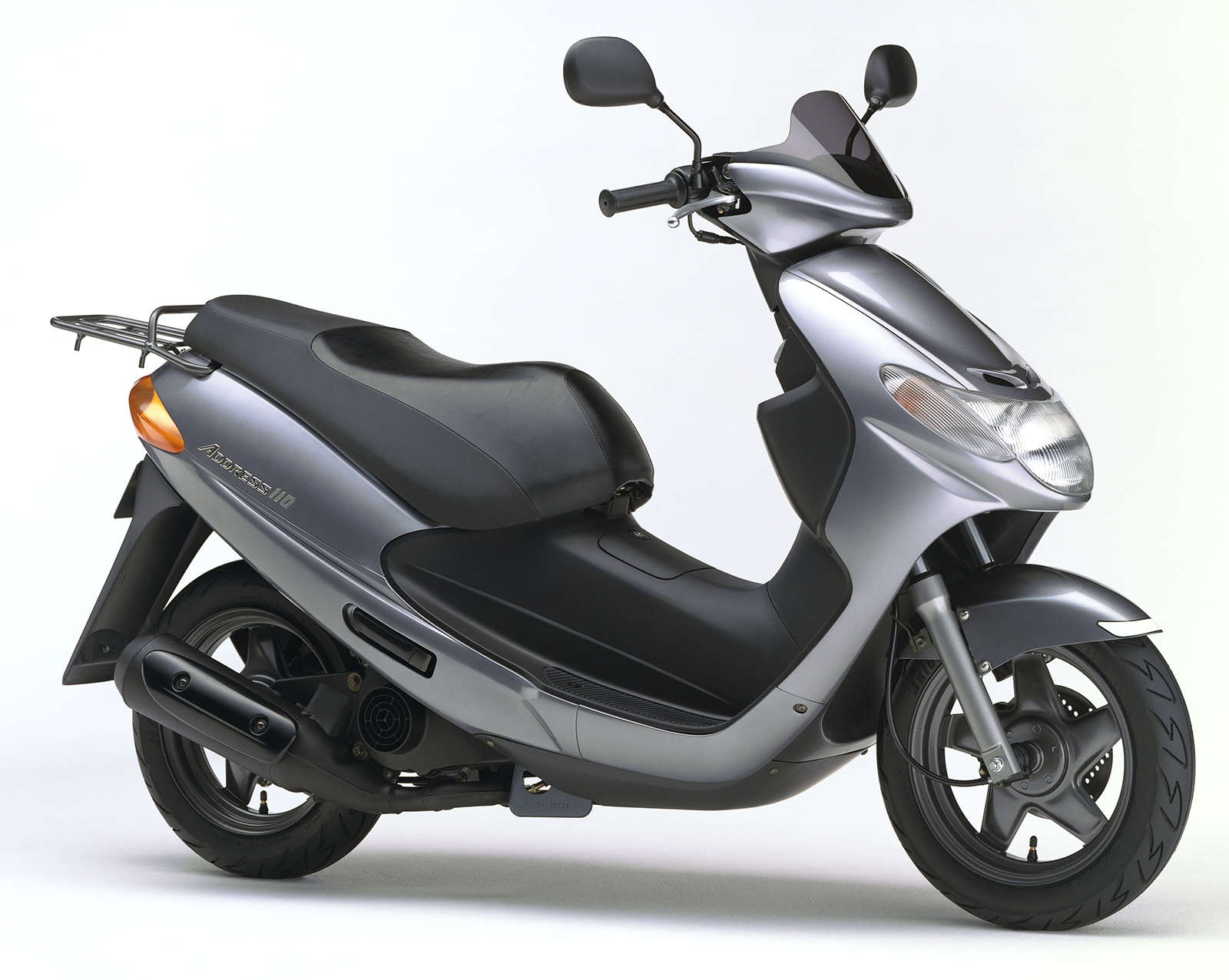 This is the second generation mid-class model in the Address series that debuted in 1987. The Address 110 combines a smooth and powerful 110 cm³ 2-stroke engine with large 12-inch tires rarely adopted on scooters in the same class, enabling a highly stable and comfortable ride. The Address 110 lineup features two models, one with a windshield to protect the rider from the wind and rain, and one with a compact and stylish visor in front of the instrument cluster. In addition to a helmet, the spacious 27-liter under-seat storage compartment is also large enough to hold rain gear or other small articles.
Dimensions and weight
Dimensions
Overall length
1,855 mm
Overall width
630 mm
Overall height
1,120 mm
Wheelbase
1,265 mm
Weight
90 kg (Dry)
Engine
Engine type
2-stroke, 1-cylinder, air-cooled
Engine displacement
113 cm³
Bore x stroke
52.5 mm × 52.2 mm
Maximum power
7.4kW(10PS) / 6,000rpm
Maximum torque
12.7N-m / 5,500rpm
Transmission
CVT
Front tire size
90/90-12-44J
Rear tire size
100/80-12-56J
2015 |

Address 110
Global model produced in Indonesia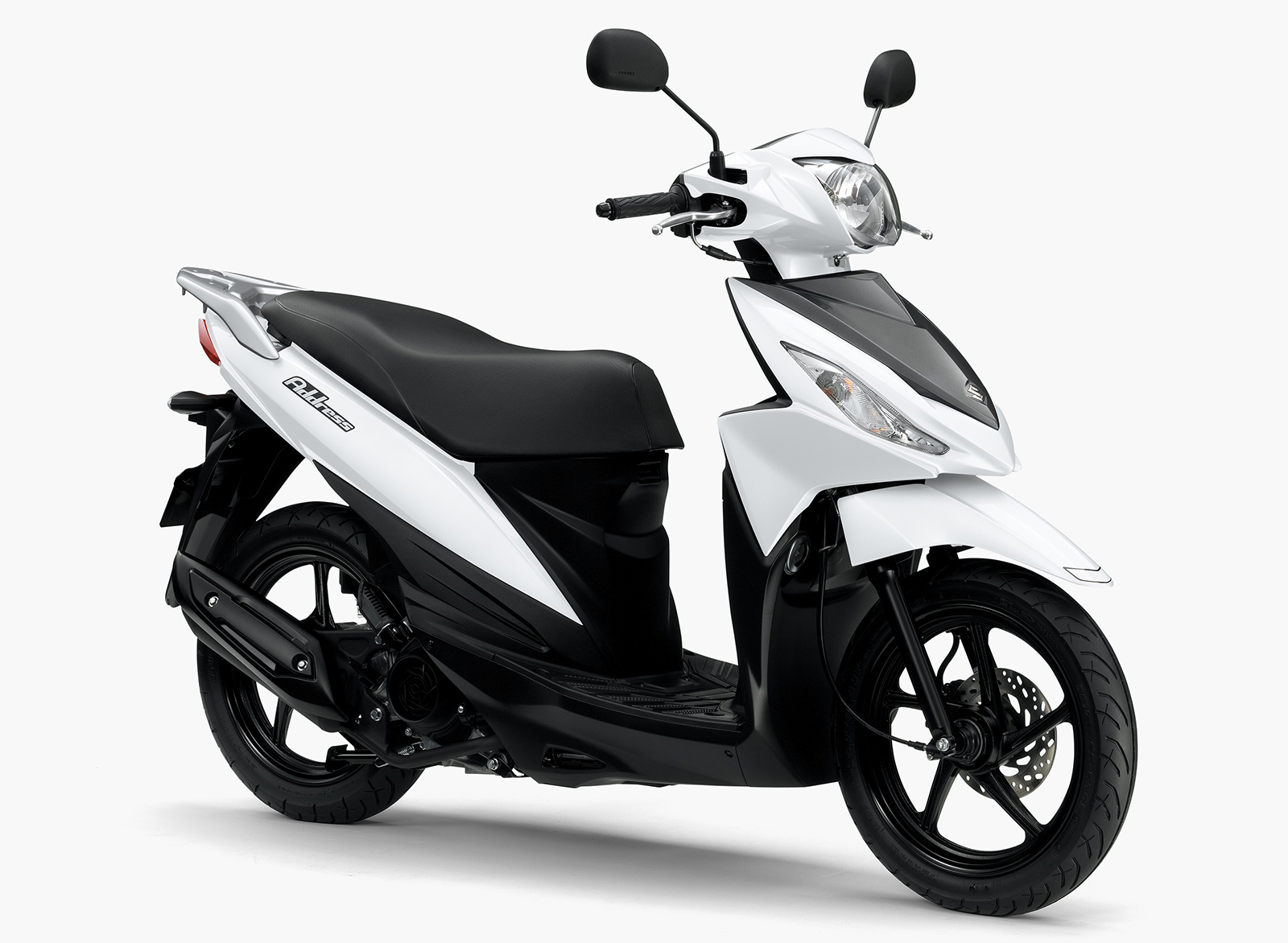 The Address 110 is a strategic global model produced by Suzuki Motor Corporation's subsidiary in Indonesia, Suzuki Indomobil Motor. In addition to the Indonesian market, the Address 110 is exported to Japan, ASEAN countries, Europe, and Oceania. With a sharp and compact design that expresses head-turning dynamism, the exterior styling of the Address 110 has universal appeal to customers throughout the world. A curb mass of only 97 kg, the lowest in its class, ensures superb handling alongside a fuel economy of 51.2 km/L (WMTC mode*) and breathtaking acceleration at low- and mid-range engine speeds. The 110 cm³ 4-stroke air-cooled 1-cylinder engine generates maximum horsepower of 6.7 kW (9.1 PS). Including a roomy 20.6-liter under-seat storage compartment, front inner pockets, and a steering lock equipped with a function that provides easy access to the under-seat compartment, the Address 110 is ideally suited for everyday use.
* Suzuki's internal test results. Figures may vary depending on the rider's skill or riding conditions.
Dimensions and weight
Dimensions
Overall length
1,845 mm
Overall width
665 mm
Overall height
1,095 mm
Wheelbase
1,260 mm
Weight
97 kg (Wet)
Engine
Engine type
4-stroke, 1-cylinder, air-cooled, SOHC
Engine displacement
112 cm³
Bore x stroke
51.0 mm × 55.2 mm
Maximum power
6.7kW(9.1PS) / 8,000rpm
Maximum torque
8.6N-m / 6,000rpm
Transmission
CVT
Front tire size
80/90-14M/C 40P
Rear tire size
90/90-14M/C 46P