1981 |

Gemma
Elegant classical moped-style scooter with luxurious touches throughout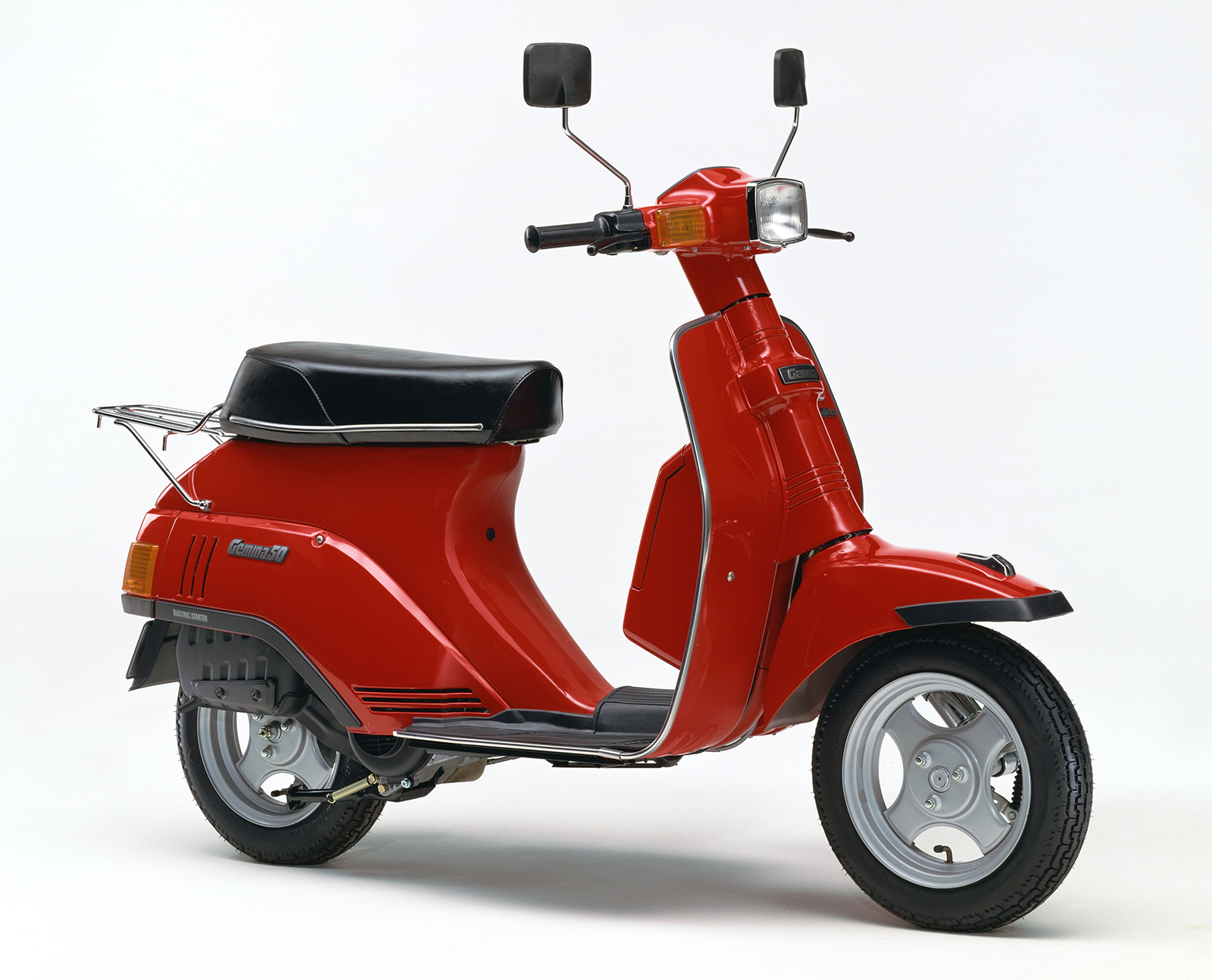 Following the popularity of family-oriented models in the 1970s, the Gemma was designed in response to the booming popularity of the scooter category. Its 50 cm³ air-cooled 2-stroke 1-cylinder engine generates maximum horsepower of 3.5 PS. Intended as a higher class model different from family-oriented scooters with limited demographic appeal, the Gemma is a classic scooter with thoroughly elegant styling and a sense of restrained luxury. It features a completely covered engine and full-size leg shields. Additionally, the adoption of a front cantilever suspension, wide scooter tires, and an automatic 3-speed transmission with automatic power shift mechanism ensure excellent ride comfort and safety, as well as enhanced maneuverability.
Dimensions and weight
Dimensions
Overall length
1,690 mm
Overall width
665 mm
Overall height
1,040 mm
Wheelbase
1,155 mm
Weight
65 kg (Dry)
Engine
Engine type
2-stroke, 1-cylinder, air-cooled
Engine displacement
49 cm³
Bore x stroke
41.0 mm × 37.4 mm
Maximum power
2.6kW(3.5PS) / 5,500rpm
Maximum torque
4.9N-m / 4,500rpm
Transmission
3-speed constant mesh
Front tire size
3.00-10-2PR
Rear tire size
3.00-10-2PR
1986 |

Gemma Questo
Second-generation scooter with enhanced luxury
The Gemma Questo is the new name given to the model changed Gemma. It was developed with greater performance, a wider range of equipment, and enhanced styling to meet the needs of experienced riders for a luxurious scooter. The refined solidity of the styling generates the proper degree of class to establish the authenticity of the model. The 50 cm³ 2-stroke 1-cylinder engine adopts a forced air-cooling system for increased power. This engine generates maximum horsepower of 6.5 PS and maximum torque of 7.1 N·m. The Gemma Questo also features various equipment, including a V-belt CVT that ensures smooth riding performance and Anti Nose Dive Forks (ANDF) for improved handling.
Dimensions and weight
Dimensions
Overall length
1,640 mm
Overall width
645 mm
Overall height
995 mm
Wheelbase
1,150 mm
Weight
60 kg (Dry)
Engine
Engine type
2-stroke, 1-cylinder, air-cooled
Engine displacement
49 cm³
Bore x stroke
41.0 mm × 37.4 mm
Maximum power
4.8kW(6.5PS) / 6,500rpm
Maximum torque
7.1N-m / 6,000rpm
Transmission
CVT
Front tire size
3.00-10-2PR
Rear tire size
3.00-10-2PR