2002 |

Skywave 650
The biggest model in the Skywave series equipped with the world's largest displacement engine for a mass-produced scooter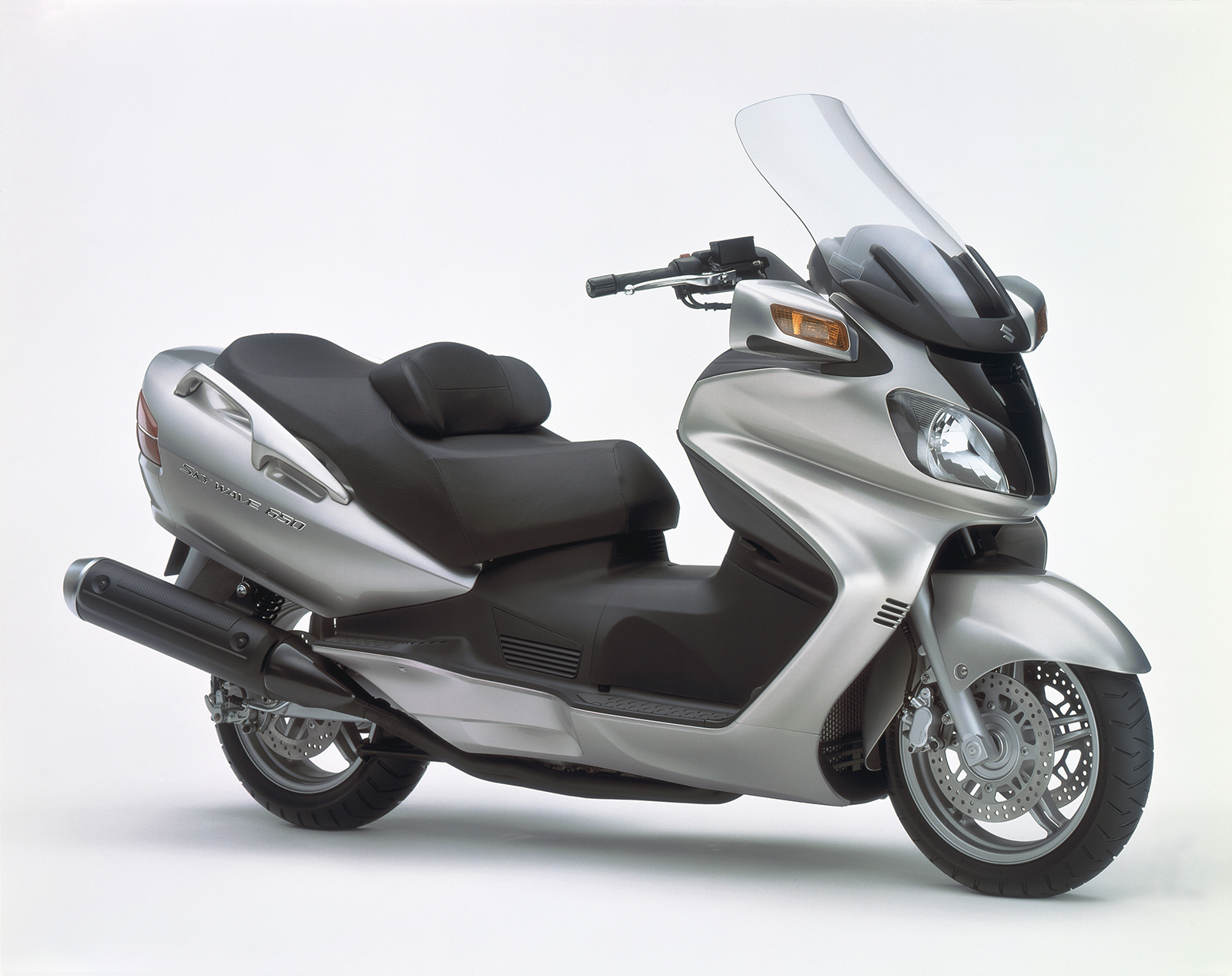 At the time of its debut, the Skywave 650 featured the world's largest displacement engine for a mass-produced scooter. This is a big scooter with a classy, high-status design. The newly designed 650 cm³ liquid-cooled 2-cylinder DOHC engine delivers effortless and fun-to-ride performance from city streets to the highway. The Skywave 650 is also equipped with the world's first electronically controlled CVT system for a motorcycle, which features two selectable automatic shifting patterns (Power Mode and Normal Mode) as well as a 5-speed manual shifting mode, enabling exhilaratingly sporty performance. The highly durable dry composite CVT drive belt consists of resin-coated reinforced aluminum alloy blocks and heat-resistant rubber tensile members using aramid fibers. In 2005, the top-of-the range Skywave 650LX debuted featuring ABS, electrically retractable mirrors, and an electrically adjustable windscreen.
Dimensions and weight
Dimensions
Overall length
2,260 mm
Overall width
810 mm
Overall height
1,430 mm
Wheelbase
1,595 mm
Weight
238 kg (Dry)
Engine
Engine type
4-stroke, 2-cylinder, liquid-cooled, DOHC
Engine displacement
638 cm³
Bore x stroke
75.5 mm × 71.3 mm
Maximum power
37kW(50PS) / 7,000rpm
Maximum torque
60N-m / 5,000rpm
Transmission
CVT
Front tire size
120/70R15M/C 56H
Rear tire size
160/60R14M/C 65H
2013 |

Skywave 650
Dignified, elegant, and easy-to-handle, Suzuki's advanced flagship scooter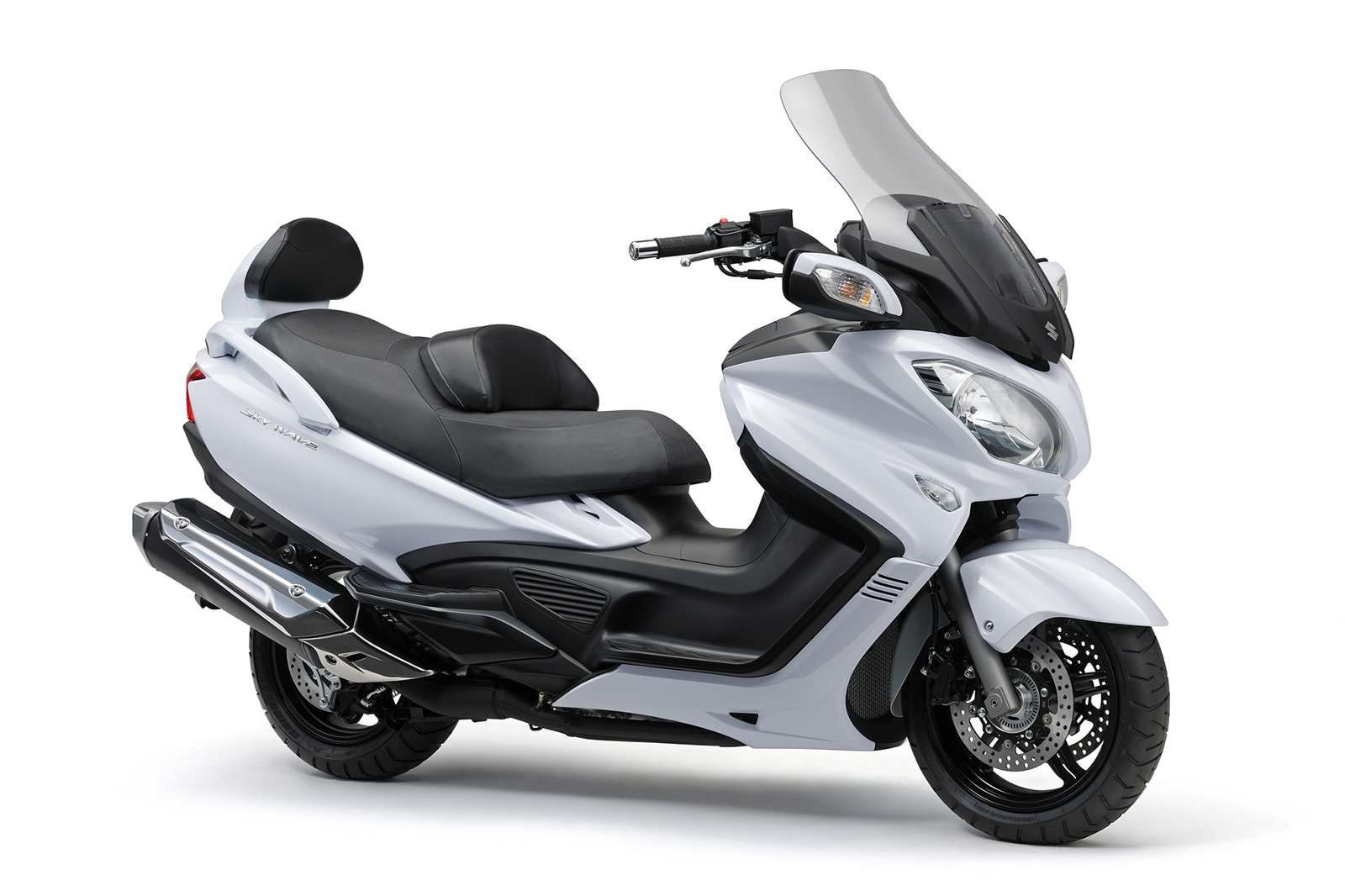 Through this model change, further emphasis was given to refined styling as a showcase for the dignity and elegance of Suzuki's flagship scooter. In addition to electrically retractable mirrors and an electrically adjustable windscreen, the Skywave is especially well appointed with functions such as an instrument panel that combines analog style dials and a multi-function LCD instrument cluster. The 650 cm³ 4-stroke liquid-cooled 2-cylinder engine generates maximum horsepower of 37 kW (50 PS). By reducing engine friction and refining the control of the CVT, fuel economy was improved by around 19% from the previous generation model (from 27.0 to 32.0 km/L (60 km/h steady state fuel economy*)). The floating disc brakes are paired with compact and lightweight ABS as standard equipment.
* Suzuki's internal test results. Figures may vary depending on the rider's skill or riding conditions.
Dimensions and weight
Dimensions
Overall length
2,265 mm
Overall width
810 mm
Overall height
1,420 mm
Wheelbase
1,585 mm
Weight
277 kg (Wet)
Engine
Engine type
4-stroke, 2-cylinder, liquid-cooled, DOHC
Engine displacement
638 cm³
Bore x stroke
75.5 mm × 71.3 mm
Maximum power
37kW(50PS) / 7,000rpm
Maximum torque
60N-m / 5,000rpm
Transmission
CVT
Front tire size
120/70R15M/C 56H
Rear tire size
160/60R14M/C 65H