1983 |

Birdie 50 (4-Stroke)
Quiet, tough, and fuel-efficient 4-stroke commercial model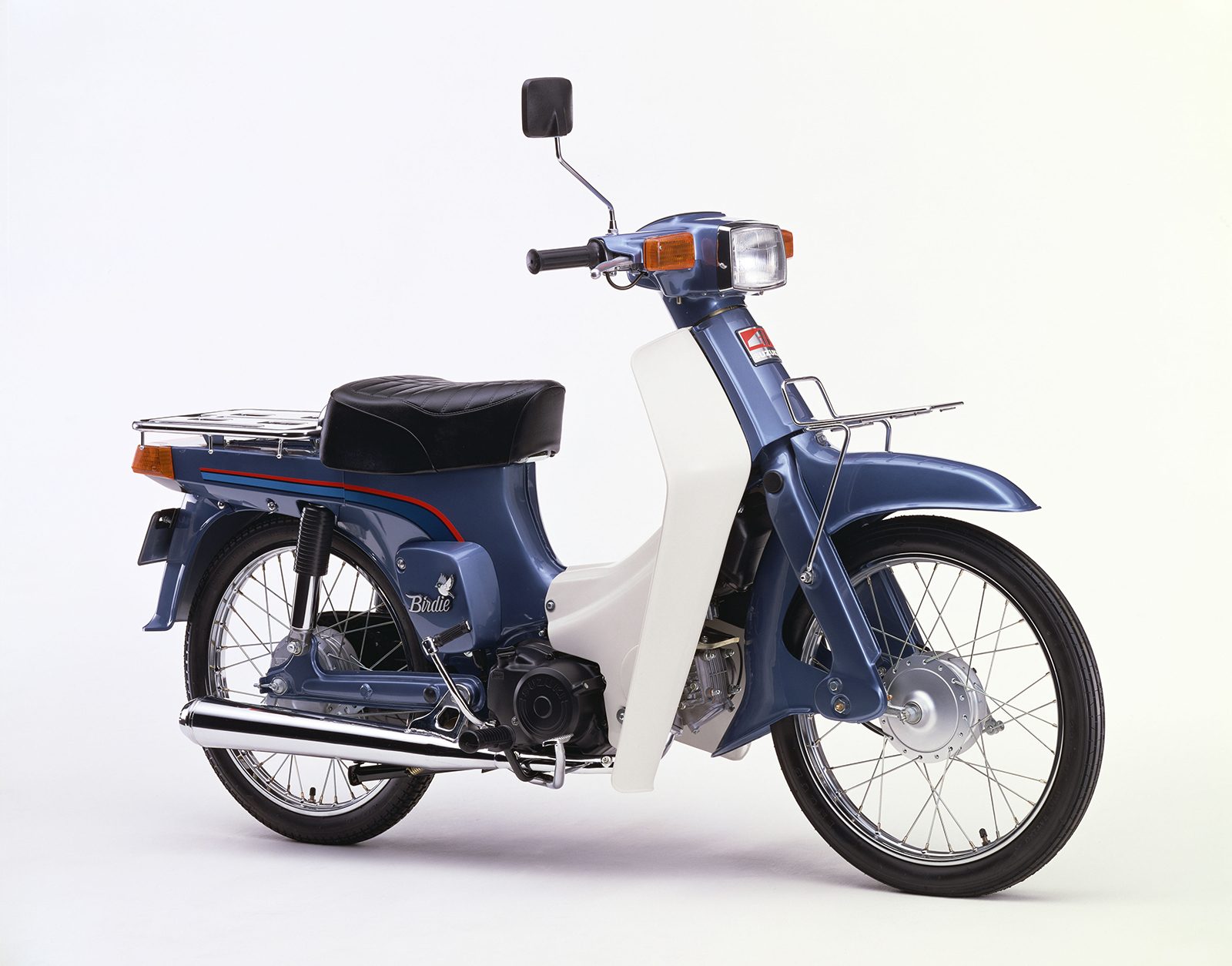 Equipped with a 4-stroke engine, a first for a 50 cm³ model from Suzuki, the Birdie 50 combines excellent fuel economy and quietness with superb ride comfort and handling. The Let's 4*1 engine uses the Suzuki Economy System (SES) to realize excellent fuel economy of 170 km/L (30 km/h steady state fuel economy*2, Custom and Super Custom models). Superb engine performance is achieved through features such as a fuel pump designed to boost power during acceleration. With this addition, the Birdie series offers a wide range of variations including both 2- and 4-stroke models.
*1 The name "Let's 4" stands for: L = lightweight, E = economy, T = toughness, S = silent, 4 = 4-stroke
*2 Suzuki's internal test results. Figures may vary depending on the rider's skill or riding conditions.
Dimensions and weight
Dimensions
Overall length
1,815 mm
Overall width
635 mm
Overall height
1,005 mm
Wheelbase
1,170 mm
Weight
66 kg (Dry)
Engine
Engine type
4-stroke, 1-cylinder, air-cooled, SOHC
Engine displacement
49 cm³
Bore x stroke
39.0 mm × 41.8 mm
Maximum power
3.7kW(5.0PS) / 6,500rpm
Maximum torque
5.6N-m / 6,000rpm
Transmission
3-speed constant mesh
Front tire size
2.25-17-4PR
Rear tire size
2.25-17-4PR
2004 |

Birdie 50 (4-Stroke)
Lightweight, reassuringly stable, and easy-to-handle commercial bike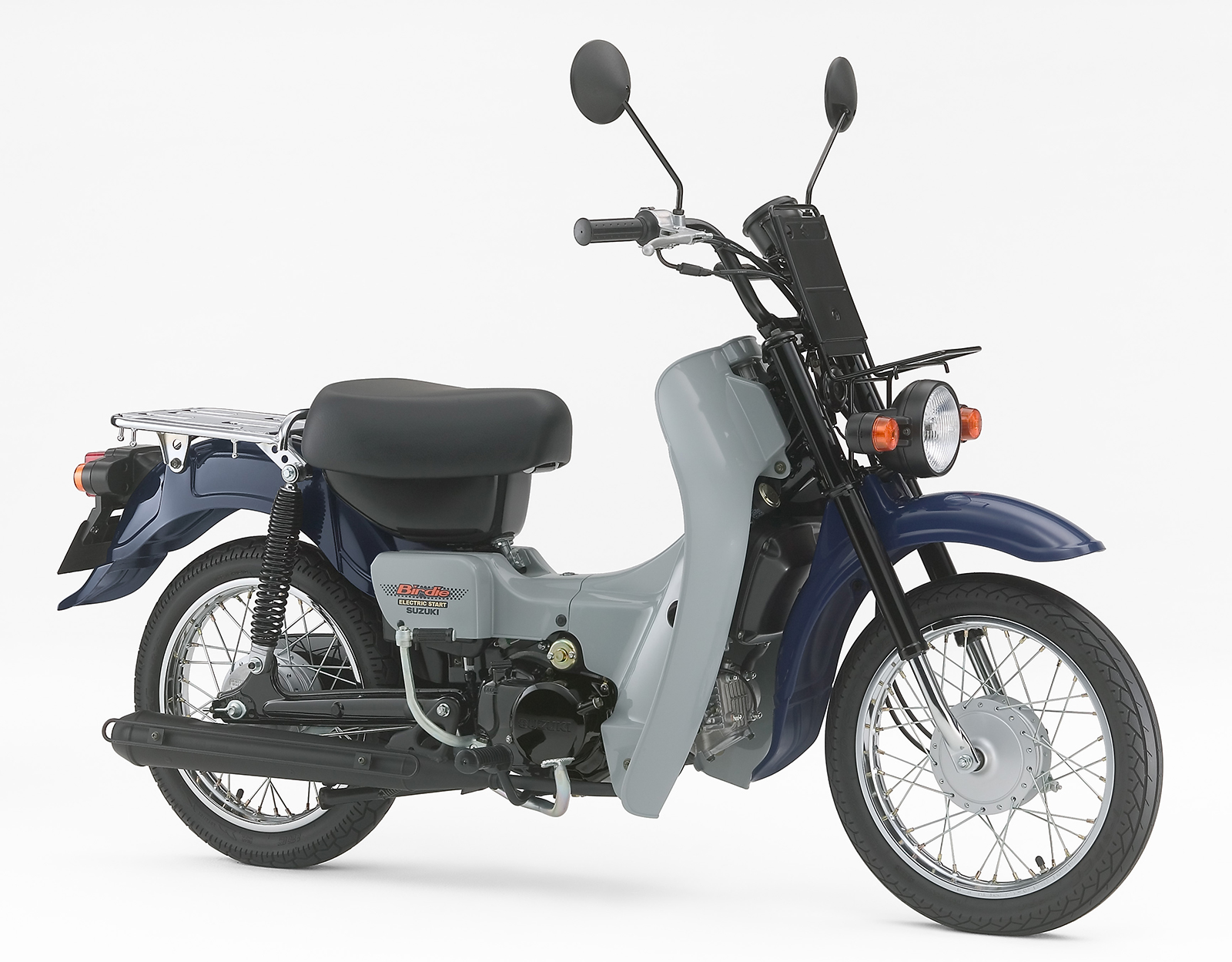 Featuring a brand new chassis and engine, this full model change of the Birdie 50 (4-Stroke) was designed with an emphasis on easy handling, riding stability when loaded, and durability. The 14-inch tires and newly designed pipe frame help to realize a low seat height of 705 mm, and a low step-through height of 480 mm makes it easier for the rider to mount and dismount from the seat. The front bottom-link suspension of the previous model was changed to a telescopic suspension, helping the rider to negotiate uneven road surfaces and obstacles more stably, even at an angle. The dry weight of the Birdie 50 (4-Stroke) is only 69 kg, the lightest in the 50 cm³ commercial bike class.
Dimensions and weight
Dimensions
Overall length
1,805 mm
Overall width
650 mm
Overall height
990 mm
Wheelbase
1,175 mm
Weight
69 kg (Dry)
Engine
Engine type
4-stroke, 1-cylinder, air-cooled, SOHC
Engine displacement
49 cm³
Bore x stroke
39.0 mm × 41.8 mm
Maximum power
3.2kW(4.4PS) / 7,000rpm
Maximum torque
4.9N-m / 5,500rpm
Transmission
3-speed constant mesh
Front tire size
70/90-14M/C 34P
Rear tire size
80/90-14M/C 40P