1984 |

Birdie 80 (4-Stroke)
High-performance and economical commercial model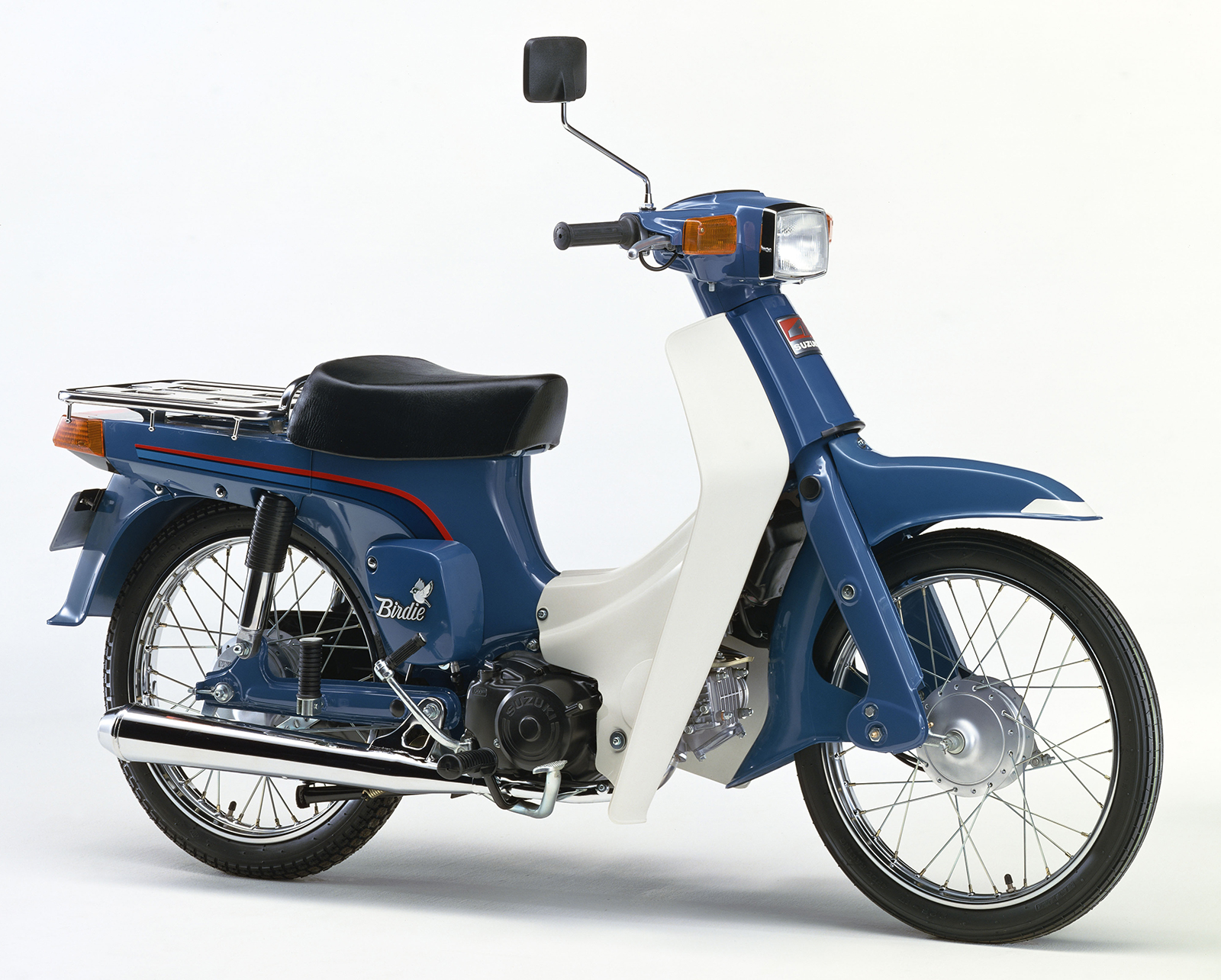 This is the 80 cm³ version of the 4-stroke Birdie 50 that debuted in the previous year. The displacement of the Let's 4*1 engine was expanded to 80 cm³, generating around 30% higher power and torque than the 50 cm³ engine. In addition, with excellent fuel economy of 85.1 km/L (50 km/h steady state fuel economy*2), the Birdie 80 realizes a superb balance between high performance and economy. In addition to the standard model, the Birdie 80 lineup also features a commercial model (with side stand), a super deluxe model, and a super deluxe model with an electric starter.
*1 The name "Let's 4" stands for: L = lightweight, E = economy, T = toughness, S = silent, 4 = 4-stroke
*2 Suzuki's internal test results. Figures may vary depending on the rider's skill or riding conditions.
Dimensions and weight
Dimensions
Overall length
1,815 mm
Overall width
635 mm
Overall height
1,005 mm
Wheelbase
1,170 mm
Weight
74 kg (Dry)
Engine
Engine type
4-stroke, 1-cylinder, air-cooled, SOHC
Engine displacement
81 cm³
Bore x stroke
48.0 mm × 45.0 mm
Maximum power
5.0kW(6.8PS) / 6,500rpm
Maximum torque
7.8N-m / 5,500rpm
Transmission
3-speed constant mesh
Front tire size
2.25-17-4PR
Rear tire size
2.50-17-6PR
2001 |

Birdie 90 (4-Stroke)
4-stroke commercial bike renowned for its durability and rider friendliness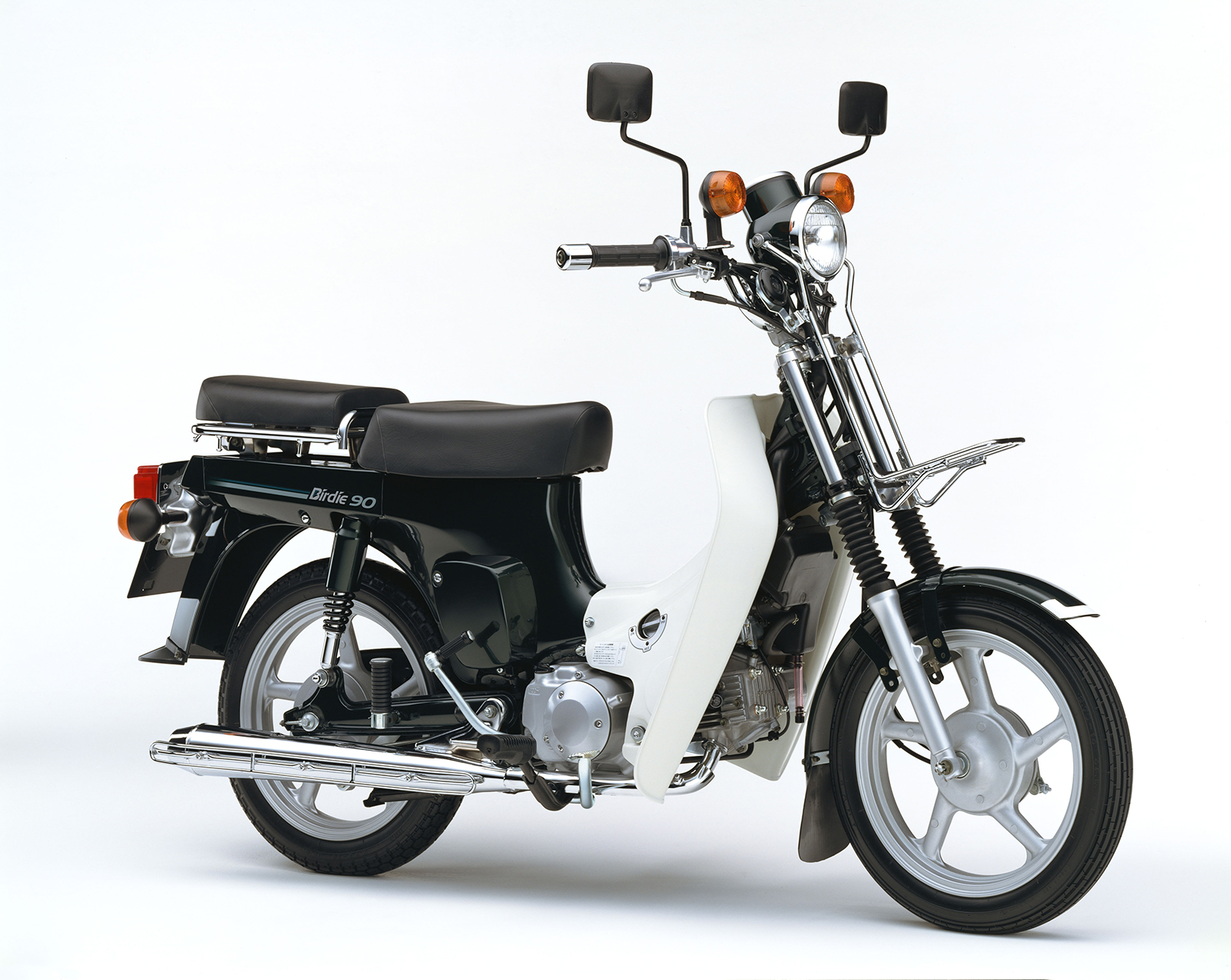 Ridden under harsh conditions throughout the year, the Birdie 90 (4-Stroke) is a commercial bike designed for delivery, catering services, and other applications that demand the highest durability. These requirements are satisfied by a quiet and superbly durable 90 cm³ 4-stroke air-cooled 1-cylinder engine that is ideally suited for early morning delivery routes. The Birdie 90 (4-Stroke) features cast aluminum wheels and tubeless tires capable of securely supporting heavy loads, as well as a tandem pillion seat as standard equipment. Other features include a fuel tank that can be locked using a key to discourage pranks and gasoline theft, as well as a front brake lock for greater stability when parking.
Dimensions and weight
Dimensions
Overall length
1,845 mm
Overall width
715 mm
Overall height
1,110 mm
Wheelbase
1,175 mm
Weight
98 kg (Dry)
Engine
Engine type
4-stroke, 1-cylinder, air-cooled, SOHC
Engine displacement
88 cm³
Bore x stroke
48.0 mm × 48.8 mm
Maximum power
4.9kW(6.7PS) / 6,000rpm
Maximum torque
7.7N-m / 5,500rpm
Transmission
3-speed constant mesh
Front tire size
2.75-14-35P
Rear tire size
2.75-14-41P