1986 |

Mollet
Designed for a wide range of applications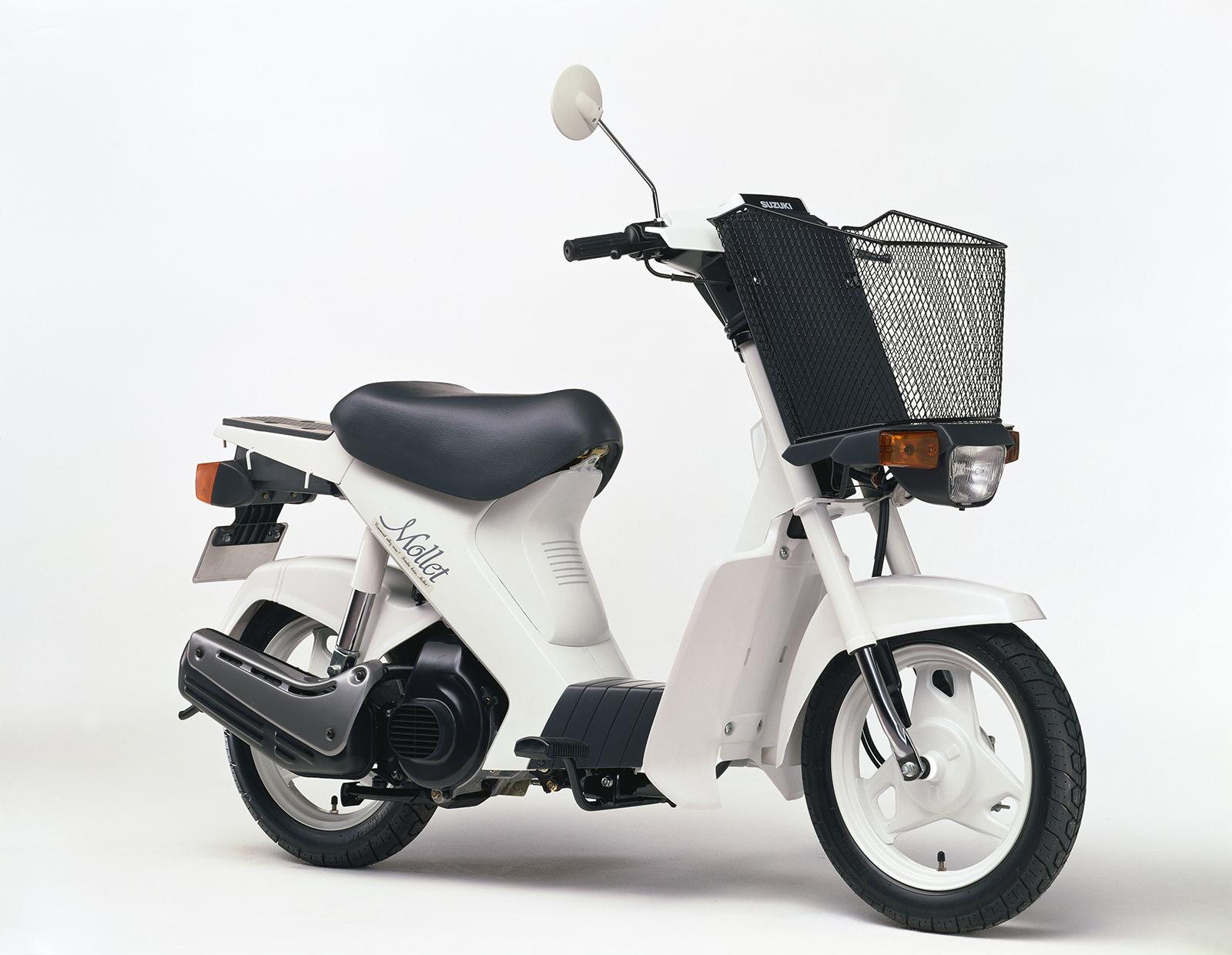 The Mollet is a family-oriented bike with fashionable styling that meets the needs of users searching for a fresh new look. The pipe underbone type chassis adopts a bar step for easy foot grounding and has a sharp straight-lined design. Its 50 cm³ 2-stroke 1-cylinder engine is known for durability and is equipped with a forced air-cooling system. This engine is paired with a V-belt CVT that realizes smooth acceleration. The Mollet has an excellent loading capacity with a front basket and flat rear carrier, making it an ideal choice for a wide range of applications, including business as well as everyday uses.
Dimensions and weight
Dimensions
Overall length
1,570 mm
Overall width
640 mm
Overall height
985 mm
Wheelbase
1,090 mm
Weight
62 kg (Dry)
Engine
Engine type
2-stroke, 1-cylinder, air-cooled
Engine displacement
49 cm³
Bore x stroke
41.0 mm × 37.4 mm
Maximum power
4.4kW(6.0PS) / 6,500rpm
Maximum torque
6.8N-m / 6,000rpm
Transmission
CVT
Front tire size
2.75-12-2PR
Rear tire size
2.75-12-2PR
1994 |

Mollet/Super Mollet
The Super Mollet: specially designed for newspaper delivery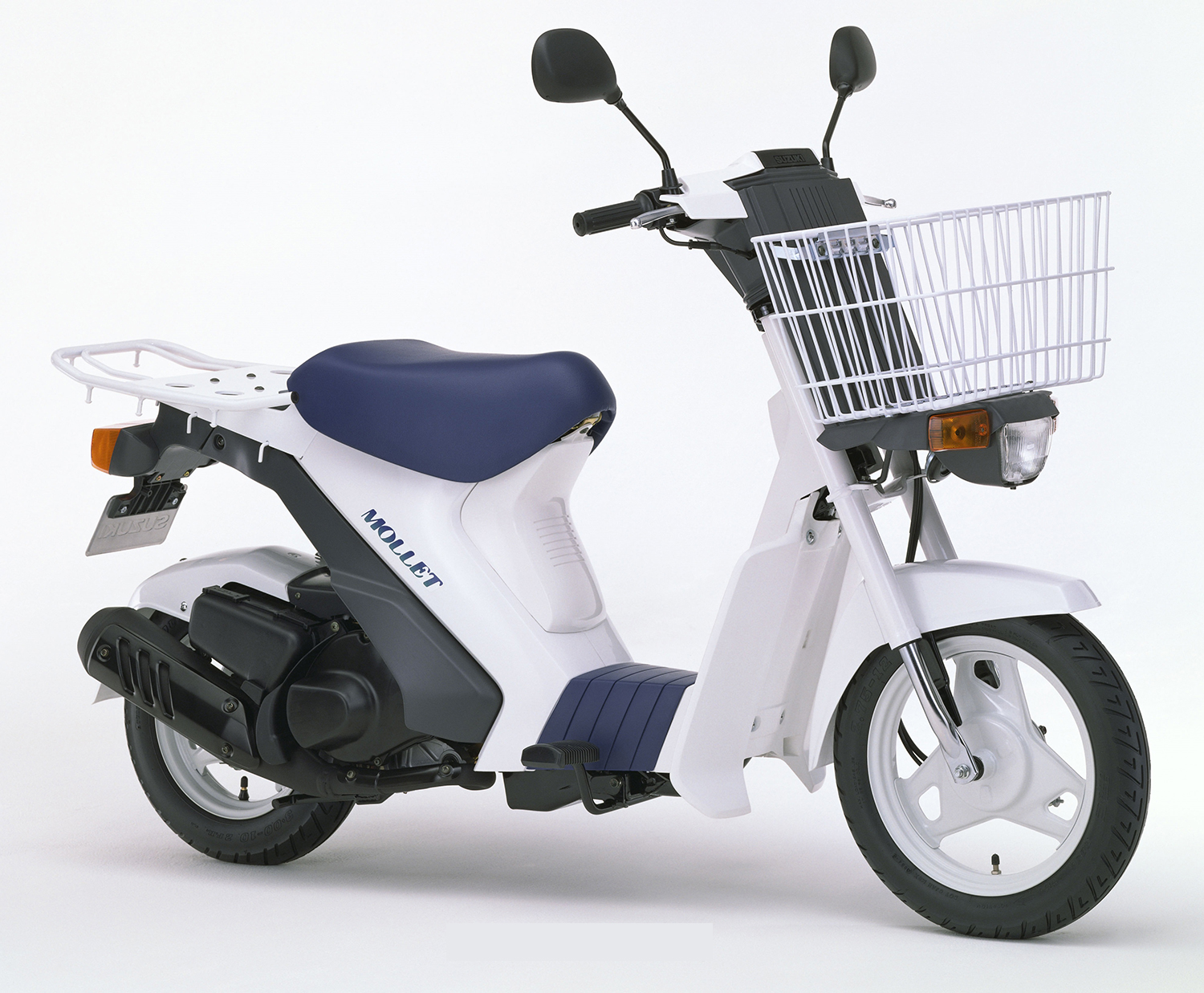 The model-changed Mollet combines the same engine used by the popular Sepia scooter with the V-belt CVT drivetrain from the previous model. Debuting at the same time, the Super Mollet was developed specifically for newspaper delivery with feedback from the Japan Newspaper Publishers & Editors Association as well as people involved in the newspaper delivery business. Based on the Mollet, the Super Mollet includes a number of features suited for newspaper delivery, including a spacious front basket, a large rear carrier, and a strong side stand, as well as a 12-inch front tire to ensure excellent maneuverability, and bar-type footpegs for greater stability when loaded. In addition, the headlight was designed so that it cannot be blocked by items in the front basket.
Mollet
Super Mollet
Dimensions and weight
Dimensions
Overall length
1,660 mm
1,665 mm
Overall width
640 mm
Overall height
985 mm
Wheelbase
1,180 mm
Weight
67 kg (Dry)
71 kg (Dry)
Engine
Engine type
2-stroke, 1-cylinder, air-cooled
Engine displacement
49 cm³
Bore x stroke
41.0 mm × 37.4 mm
Maximum power
5kW(6.8PS) / 7,000rpm
Maximum torque
7.1N-m / 6,500rpm
Transmission
CVT
Front tire size
2.75-12 32J
Rear tire size
3.00-10-2PR