2000 |

DR-Z400S
Lightweight, high power dual purpose bike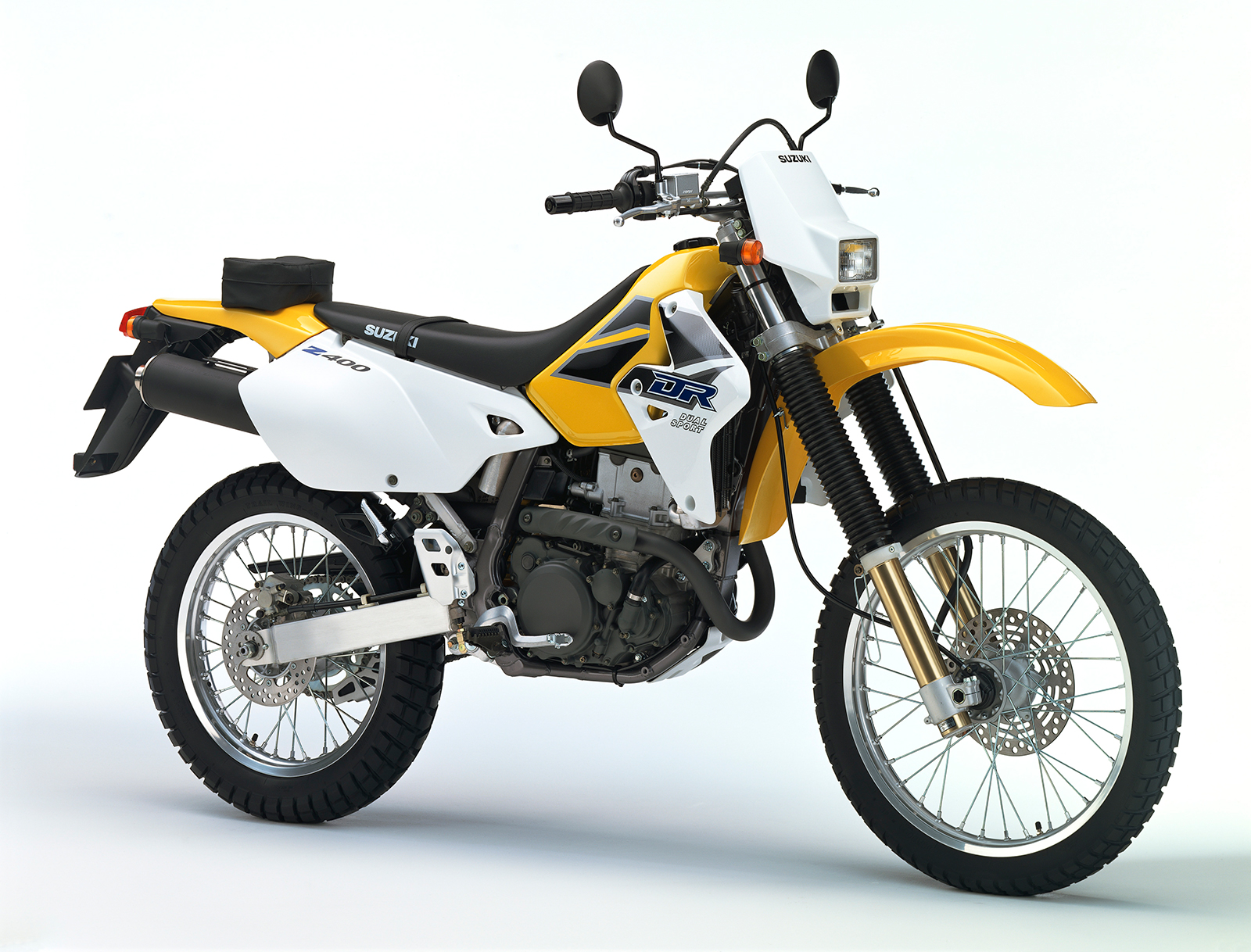 The DR-Z400S is a dual purpose bike perfectly suited for a wide range of scenarios from sporty off-road riding to touring and city streets. It features a lightweight, compact, and powerful 400 cm³ 4-stroke liquid-cooled 1-cylinder DOHC 4-valve engine. The combination of a lightweight and highly rigid frame and the incorporation of thorough weight reduction measures into the design create a dry weight of only 129 kg, resulting in superb riding performance. Both the front and rear suspensions have adjustable play with a long stroke to ensure rideability and excellent stability over unpaved roads. The DR-Z400 enduro racing bike also debuted at the same time.
Dimensions and weight
Dimensions
Overall length
2,310 mm
Overall width
875 mm
Overall height
1,235 mm
Wheelbase
1,475 mm
Weight
129 kg (Dry)
Engine
Engine type
4-stroke, 1-cylinder, liquid-cooled, DOHC
Engine displacement
398 cm³
Bore x stroke
90.0 mm × 62.6 mm
Maximum power
29kW(40PS) / 7,500rpm
Maximum torque
39N-m / 6,500rpm
Transmission
5-speed constant mesh
Front tire size
80/100-21 51P
Rear tire size
120/90-18 65P
2004 |

DR-Z400SM
Supermotard that breaks new ground of riding potential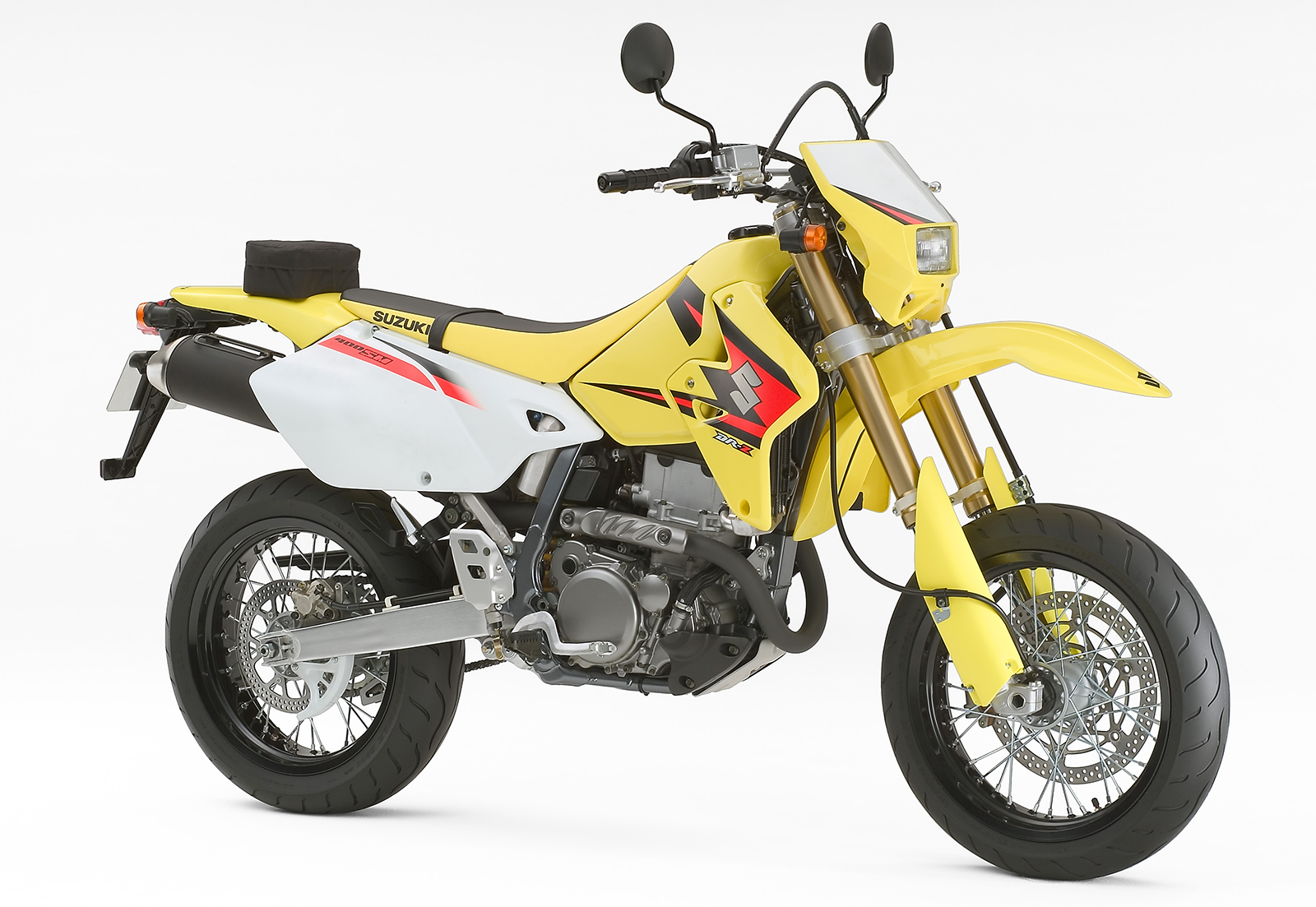 Based on the DR-Z400S, the DR-Z400SM was developed as an on-road street bike inspired by supermoto. Equipped with a lightweight and compact 400 cm³ 4-stroke liquid-cooled 1-cylinder DOHC engine, the DR-Z400SM is renowned for its power and rideability. To realize excellent road holding performance, the front suspension features the same inverted front forks as adopted by Suzuki's RM series of motocross bikes. A tapered swingarm at the rear wheel creates a narrower axle area, helping to enhance rigidity and realize nimble handling. In addition, the adoption of lightweight wide aluminum rims and on-road 17-inch high-grip tires helps to ensure sporty fun-to-ride performance.
Dimensions and weight
Dimensions
Overall length
2,225 mm
Overall width
870 mm
Overall height
1,185 mm
Wheelbase
1,460 mm
Weight
133 kg (Dry)
Engine
Engine type
4-stroke, 1-cylinder, liquid-cooled, DOHC
Engine displacement
398 cm³
Bore x stroke
90.0 mm × 62.6 mm
Maximum power
29kW(40PS) / 7,500rpm
Maximum torque
39N-m / 6,500rpm
Transmission
5-speed constant mesh
Front tire size
120/70R17M/C 58H
Rear tire size
140/70R17M/C 66H