1988 |

DR750S
Desert Express equipped with a big 750 cm³ single-cylinder engine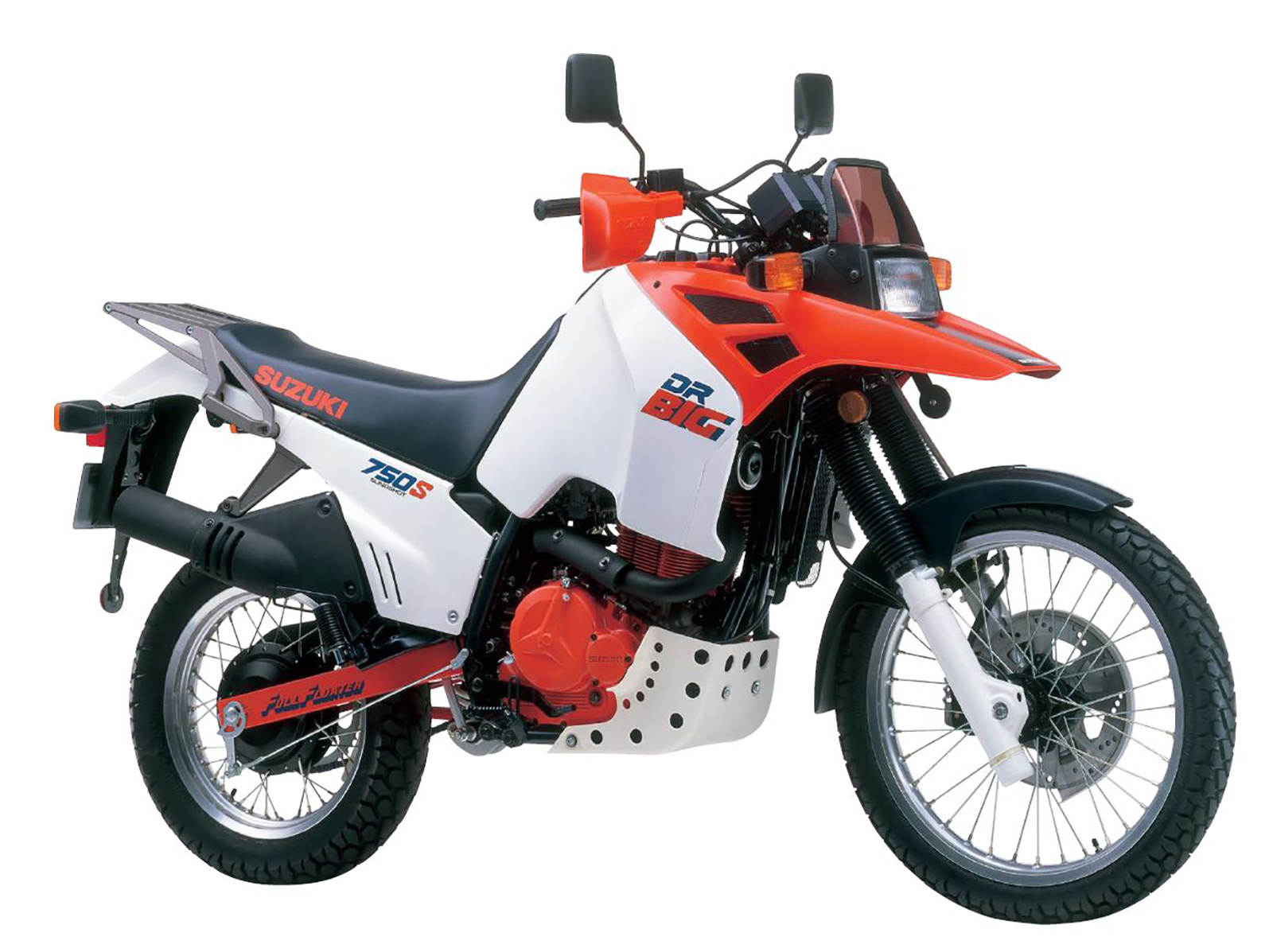 The DR750S is a replica model of the DR-Zeta factory rally bike and combines the toughness and reliability developed using know-how cultivated under harsh and challenging race conditions. It features a lightweight and compact easy-to-maintain 750 cm³ 4-stroke oil-cooled 1-cylinder SOHC 4-valve engine with revolutionary dual slingshot carburetors delivering the air-fuel mixture to the big single cylinder. This engine generates ample torque and quick response from low and medium revs right up to the high-rpm range. A thorough approach to reducing the size and weight of the chassis and lowering the center of gravity was instituted from the design phase, resulting in a superb balance between high-speed stability and rough road handling.
Dimensions and weight
Dimensions
Overall length
2,255 mm
Overall width
945 mm
Overall height
1,295 mm
Wheelbase
1,510 mm
Weight
179 kg (Dry)
Engine
Engine type
4-stroke, 1-cylinder, oil-cooled, SOHC
Engine displacement
727 cm³
Bore x stroke
105.0 mm × 84.0 mm
Maximum power
38.2kW(52PS) / 6,600rpm
Maximum torque
57.9N-m / 5,500rpm
Transmission
5-speed constant mesh
Front tire size
90/90-21
Rear tire size
130/80-17
1990 |

DR800S
Even more competitive off-road model with a larger engine displacement of 800 cm³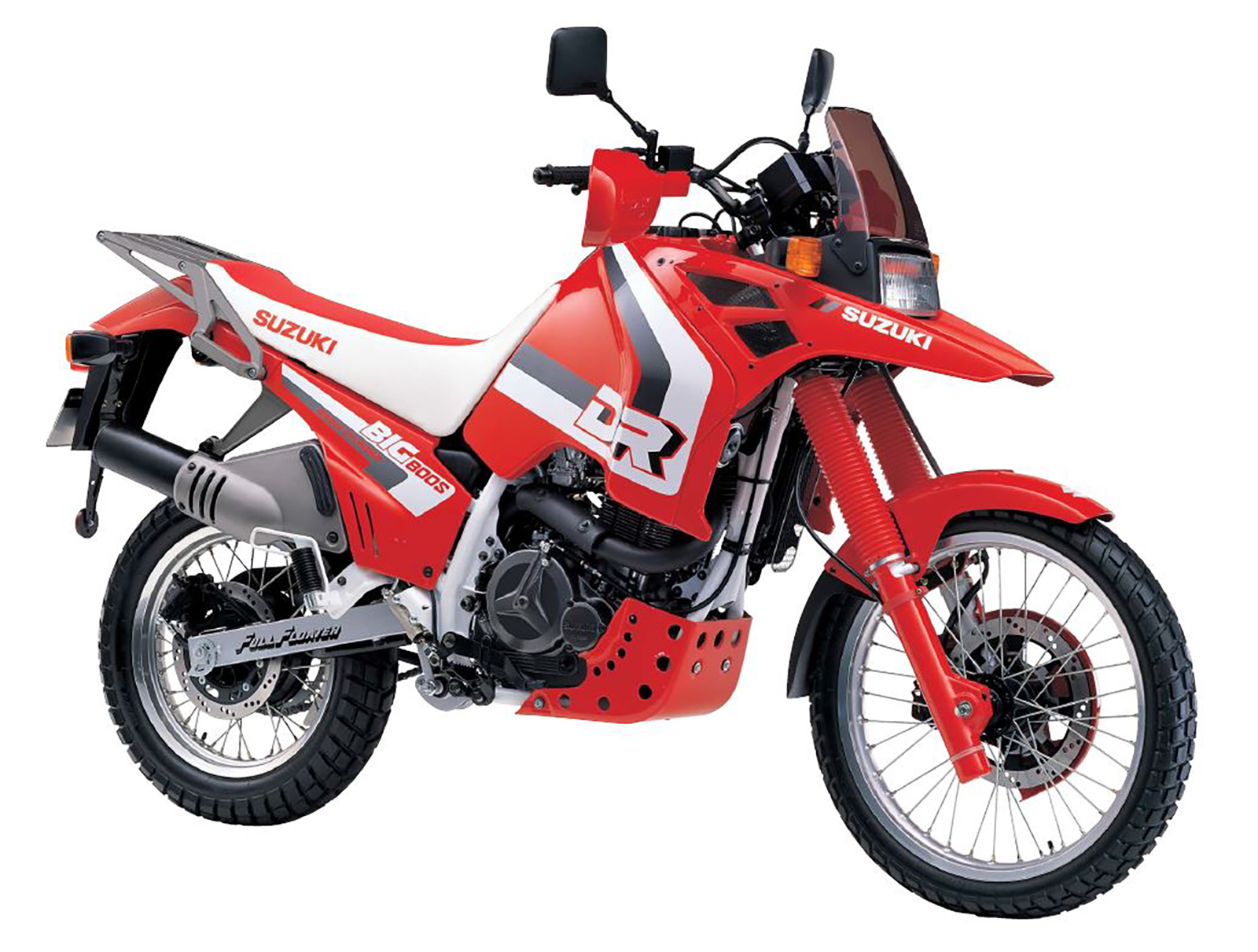 Ample engine performance was realized by lengthening the piston stroke by 6 mm and increasing the displacement by 52 cm³. The DR-Zeta rally bike, which was based on the DR800S, was ridden in the Paris-Dakar Rally by Gaston Rahier, who won the 125 cm³ Motocross World Championship (MXGP) for three consecutive years between 1975 and 1977. The exterior design is unchanged from the DR750S, and features a front fairing that extends from the fuel tank to beyond the headlight, creating the impression of a bird's beak. This popular and totally unique design feature was inherited by the V-Strom 1000 (2014), 650 (2017), and 250 (2017).
Dimensions and weight
Dimensions
Overall length
2,255 mm
Overall width
945 mm
Overall height
1,295 mm
Wheelbase
1,510 mm
Weight
185 kg (Dry)
Engine
Engine type
4-stroke, 1-cylinder, oil-cooled, SOHC
Engine displacement
779 cm³
Bore x stroke
105.0 mm × 90.0 mm
Maximum power
38.6kW(52.5PS) / 7,000rpm
Maximum torque
59.4N-m / 5,500rpm
Transmission
5-speed constant mesh
Front tire size
90/90-21
Rear tire size
130/80-17