1984 |

RA125
High-performance inherited from the RA, winner of nine consecutive Motocross World Championships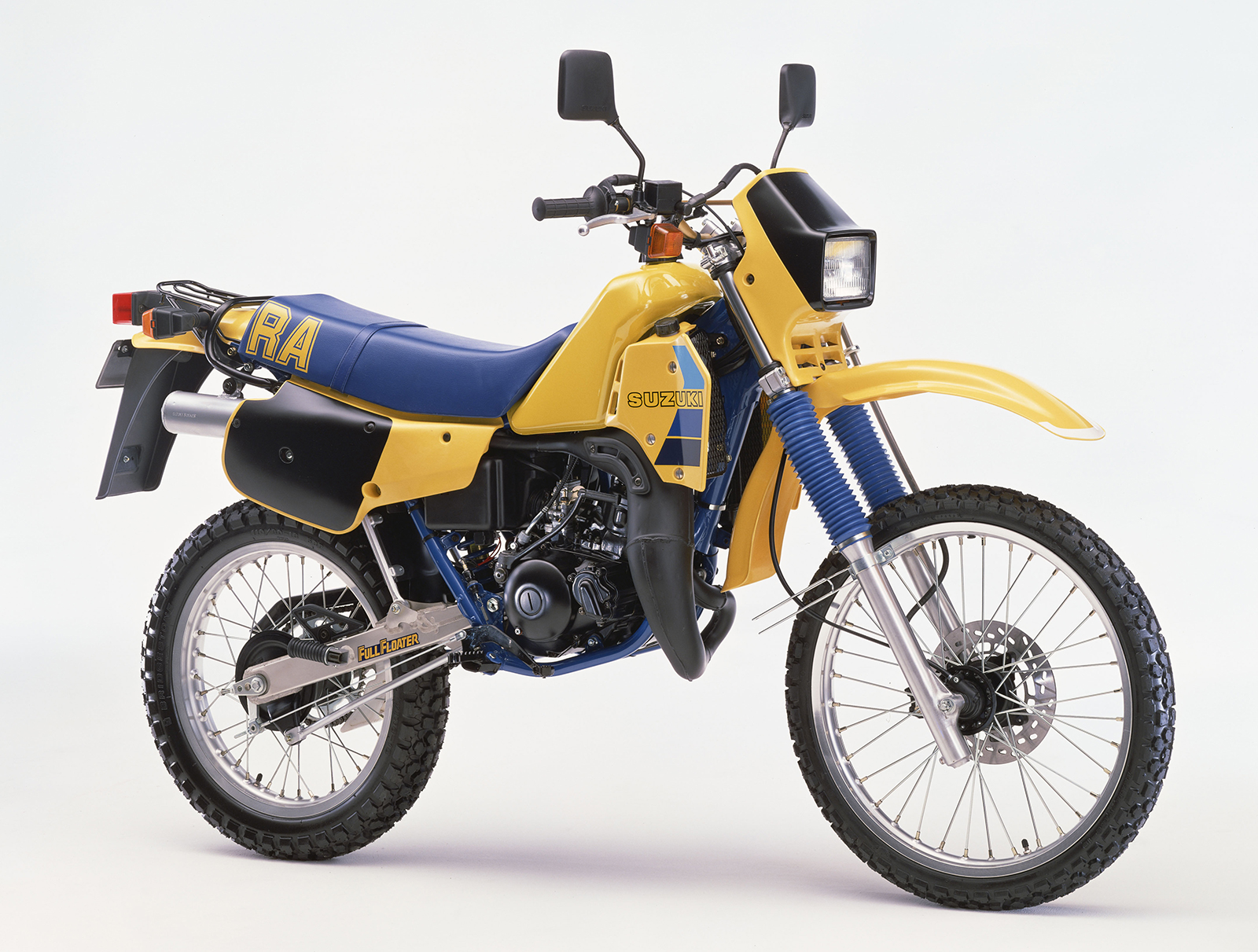 The RA125 inherits the high performance of the renowned RA factory machine that won nine consecutive titles in the 125 cm³ class of the FIM Motocross World Championship. The newly designed 2-stroke liquid-cooled power reed valve engine generates class-leading maximum horsepower of 22 PS. This high-performance power unit includes a highly efficient liquid-cooling system, flat slide carburetor, and multi-stage expansion type muffler with excellent exhaust efficiency. The semi-double cradle frame adopts high-tensile steel pipes to realize both low weight and high rigidity. The long stroke suspension includes the Full-Floater suspension and a square aluminum swingarm at the rear. Combined with features such as a hydraulic front disc brake and low profile tires, the RA125 is a true high-performance off-road machine.
Dimensions and weight
Dimensions
Overall length
2,070 mm
Overall width
840 mm
Overall height
1,165 mm
Wheelbase
1,355 mm
Weight
96 kg (Dry)
Engine
Engine type
2-stroke, 1-cylinder, liquid-cooled
Engine displacement
124 cm³
Bore x stroke
56.0 mm × 50.6 mm
Maximum power
16.2kW(22PS) / 8,000rpm
Maximum torque
19.6N-m / 7,500rpm
Transmission
6-speed constant mesh
Front tire size
80/80-21 45P
Rear tire size
110/80-18 58P
1989 |

TS125R
Adding a sense of fun to hardware directly descended from the RM series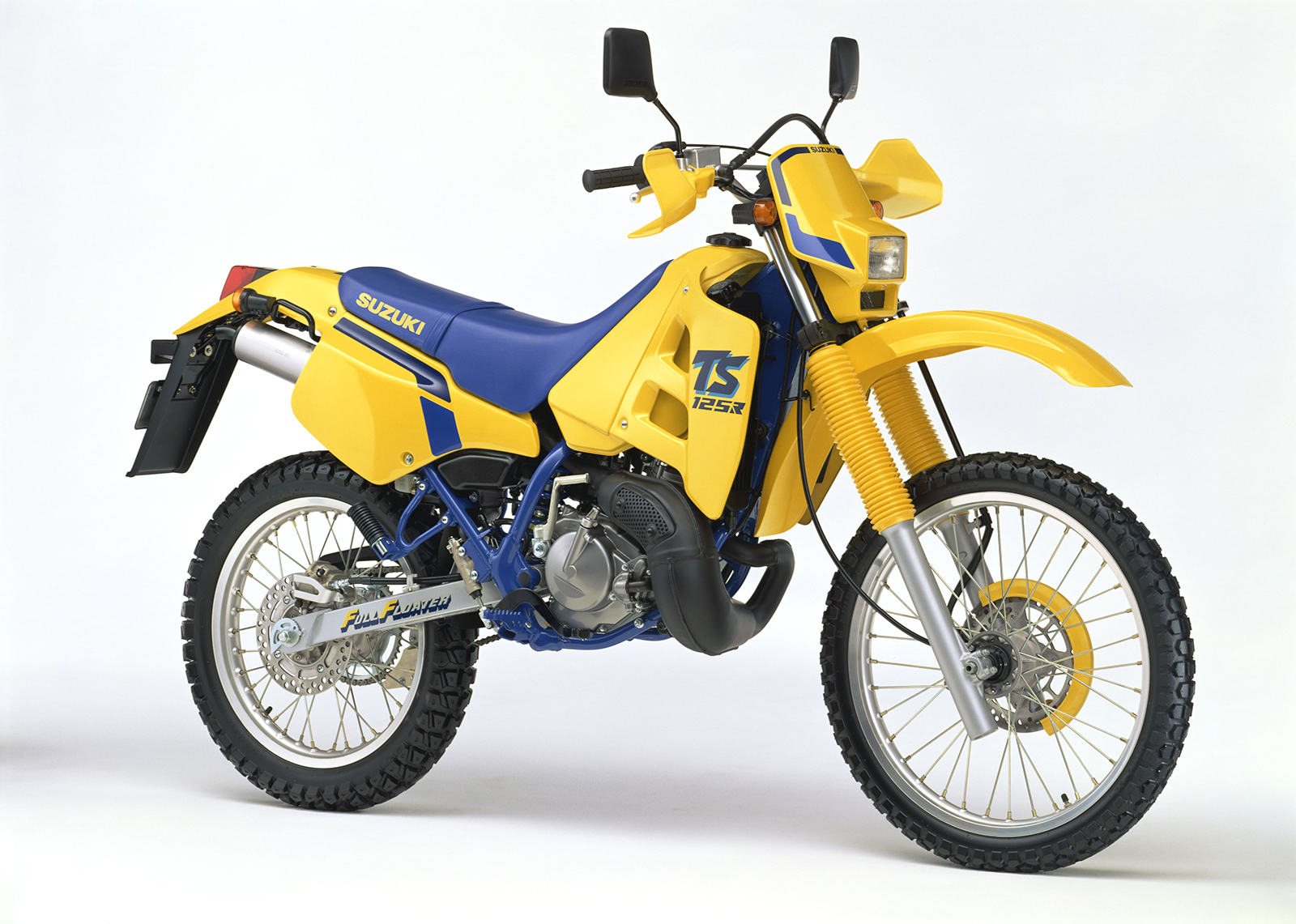 The TS125R was developed based on the RM series of motocrossers that had achieved great success in the All Japan Motocross and AMA Supercross Championships. To ensure performance that meets the needs of a wide range of applications from city streets to unpaved roads, a newly designed 2-stroke liquid-cooled 1-cylinder engine equipped with a crankcase reed valve and the Automatic Exhaust Timing Control (AETC) system was adopted alongside a slingshot carburetor, delivering high power and torque throughout the whole rpm range. In addition to front and rear disc brakes, the new link-type Full Floater Suspension was adopted at the rear. The TS125R combines a slim form inherited from the RM series that facilitates shifts in rider weight with a low center of gravity to realize superb maneuverability.
Dimensions and weight
Dimensions
Overall length
2,150 mm
Overall width
880 mm
Overall height
1,225 mm
Wheelbase
1,400 mm
Weight
110 kg (Dry)
Engine
Engine type
2-stroke, 1-cylinder, liquid-cooled
Engine displacement
124 cm³
Bore x stroke
56.0 mm × 50.6 mm
Maximum power
16.2kW(22PS) / 9,500rpm
Maximum torque
18.6N-m / 8,000rpm
Transmission
6-speed constant mesh
Front tire size
2.75-21-4PR
Rear tire size
4.10-18-4PR