1971 |

Hustler 185
Hustler with a completely new engine displacement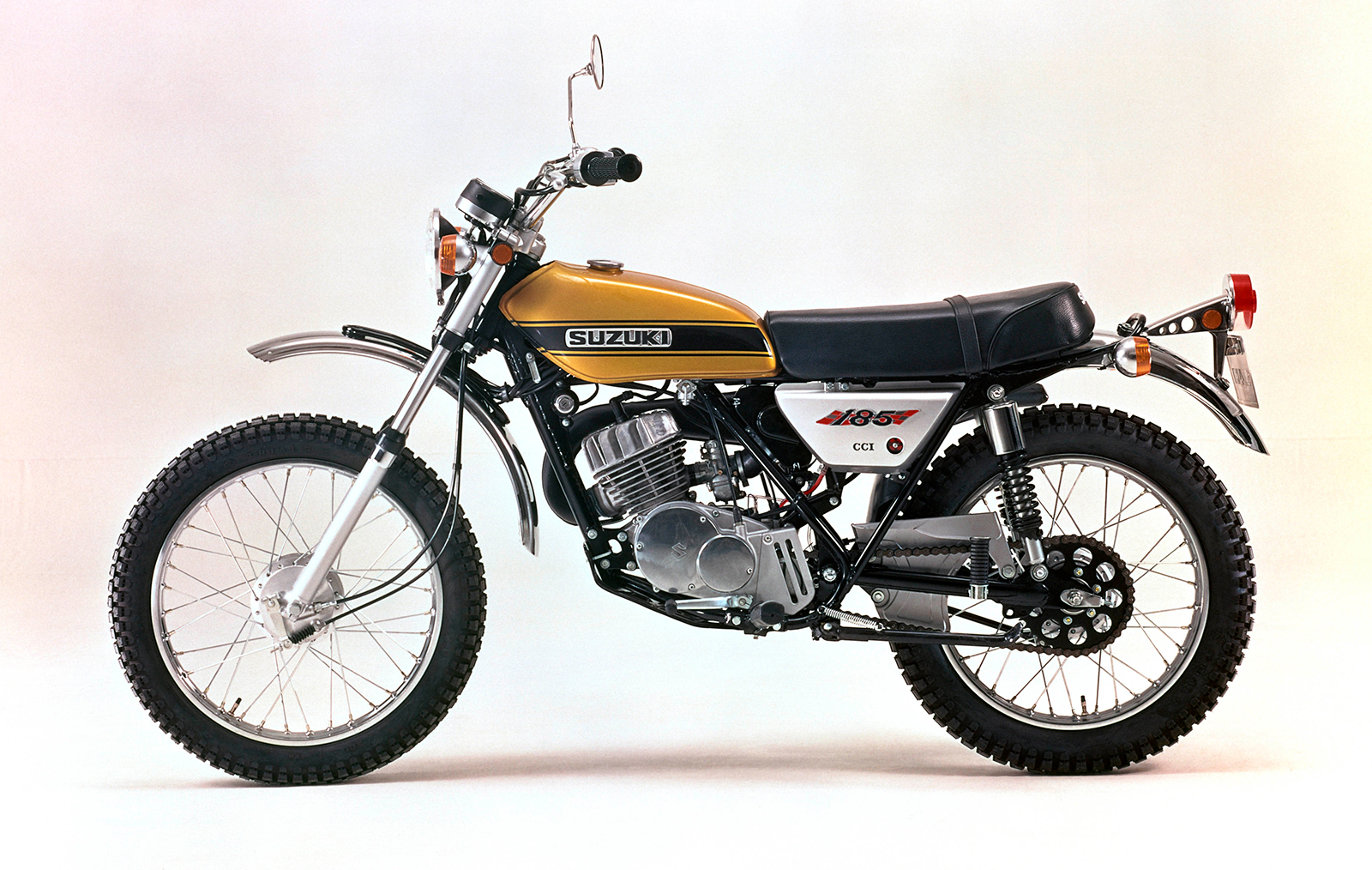 The Hustler 185 is a mid-size model in the Hustler series and was developed for users wanting more power than the 125 cm³ model. Its 185 cm³ 2-stroke 1-cylinder engine generates maximum horsepower of 18 PS and is mounted on a lightweight and strong semi-double cradle pipe frame. This engine delivers powerful torque in the low- and mid-rpm ranges and adopts the same Pointless Electronic Ignition (PEI) system as the 250 cm³ model. Other features include an aluminum cylinder with high heat dissipation, a primary kickstarter with excellent startability, and a comfortable suspension designed to thoroughly absorb shocks from the road surface.
Dimensions and weight
Dimensions
Overall length
2,010 mm
Overall width
845 mm
Overall height
1,100 mm
Wheelbase
1,335 mm
Weight
95 kg (Dry)
Engine
Engine type
2-stroke, 1-cylinder, air-cooled
Engine displacement
183 cm³
Bore x stroke
64.0 mm × 57.0 mm
Maximum power
13.2kW(18PS) / 7,000rpm
Maximum torque
18.6N-m / 6,500rpm
Transmission
5-speed constant mesh
Front tire size
3.00-19-4PR
Rear tire size
3.50-18-4PR
1989 |

TS200R
Model derived from the RM series and equipped with inverted front forks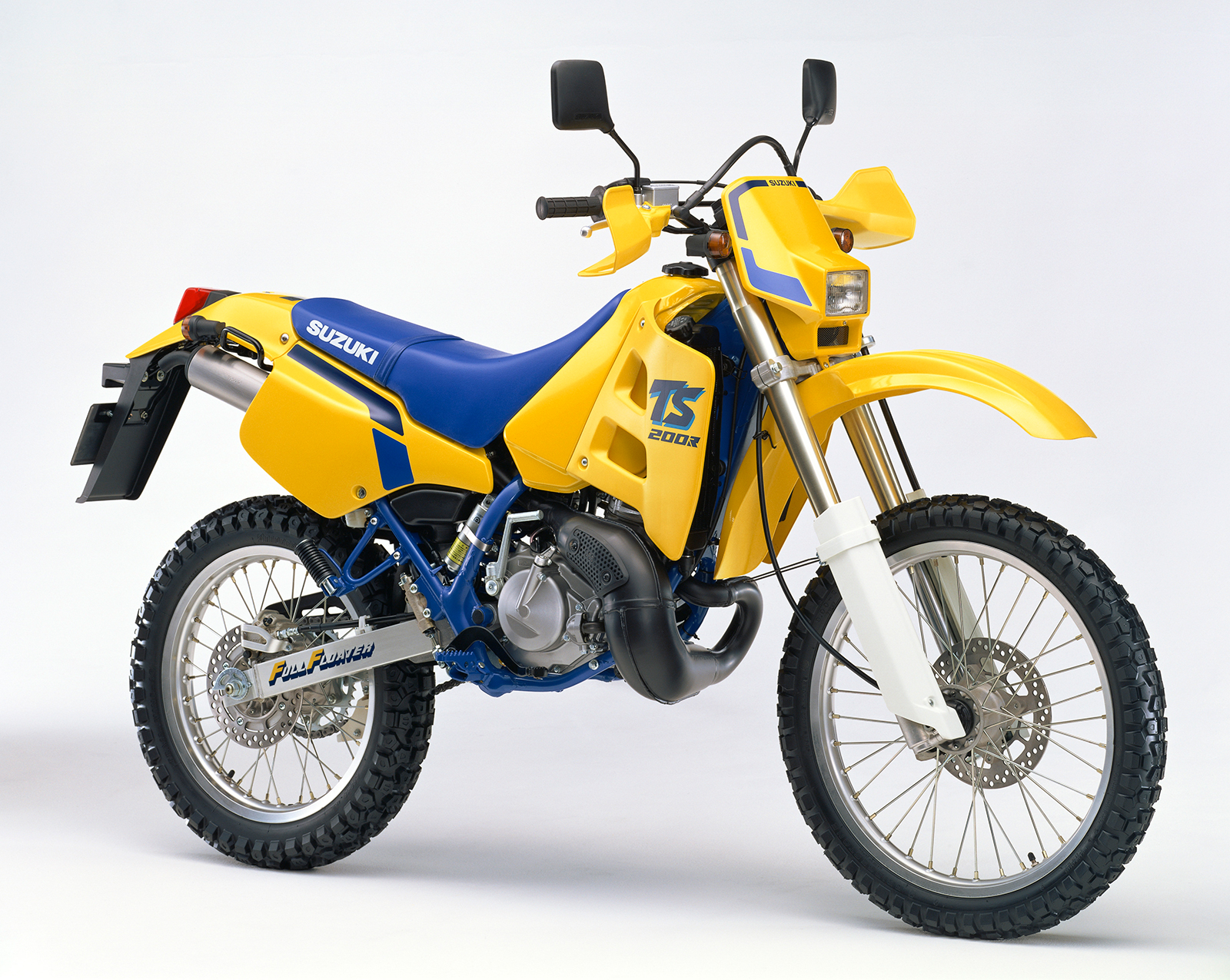 The TS200R was developed based on the RM series motocrossers that had achieved great success in the All Japan Motocross and AMA Supercross Championships. The newly designed 2-stroke liquid-cooled 1-cylinder engine is equipped with the digital Capacitor Discharge Ignition (CDI) system and paired with Suzuki's unique Automatic Exhaust Timing Control (AETC) system to realize both high-level performance and easy handling for entry-level riders. The chassis features inverted front forks adopted on a street-legal off-road type motorcycle for the first time in Japan, helping to realize an optimized balance between low weight and high rigidity. Another distinctive feature of the TS200R is its sleekly curved flushed-surface design that evokes the RM series.
Dimensions and weight
Dimensions
Overall length
2,170 mm
Overall width
880 mm
Overall height
1,260 mm
Wheelbase
1,410 mm
Weight
112 kg (Dry)
Engine
Engine type
2-stroke, 1-cylinder, liquid-cooled
Engine displacement
195 cm³
Bore x stroke
66.0 mm × 57.0 mm
Maximum power
25.7kW(35PS) / 8,500rpm
Maximum torque
28.4N-m / 8,000rpm
Transmission
6-speed constant mesh
Front tire size
3.00-21-4PR
Rear tire size
4.60-18-4PR