1999 |

Desperado Winder
An unobtrusively luxurious and elegant 400 cm³ cruiser for mature riders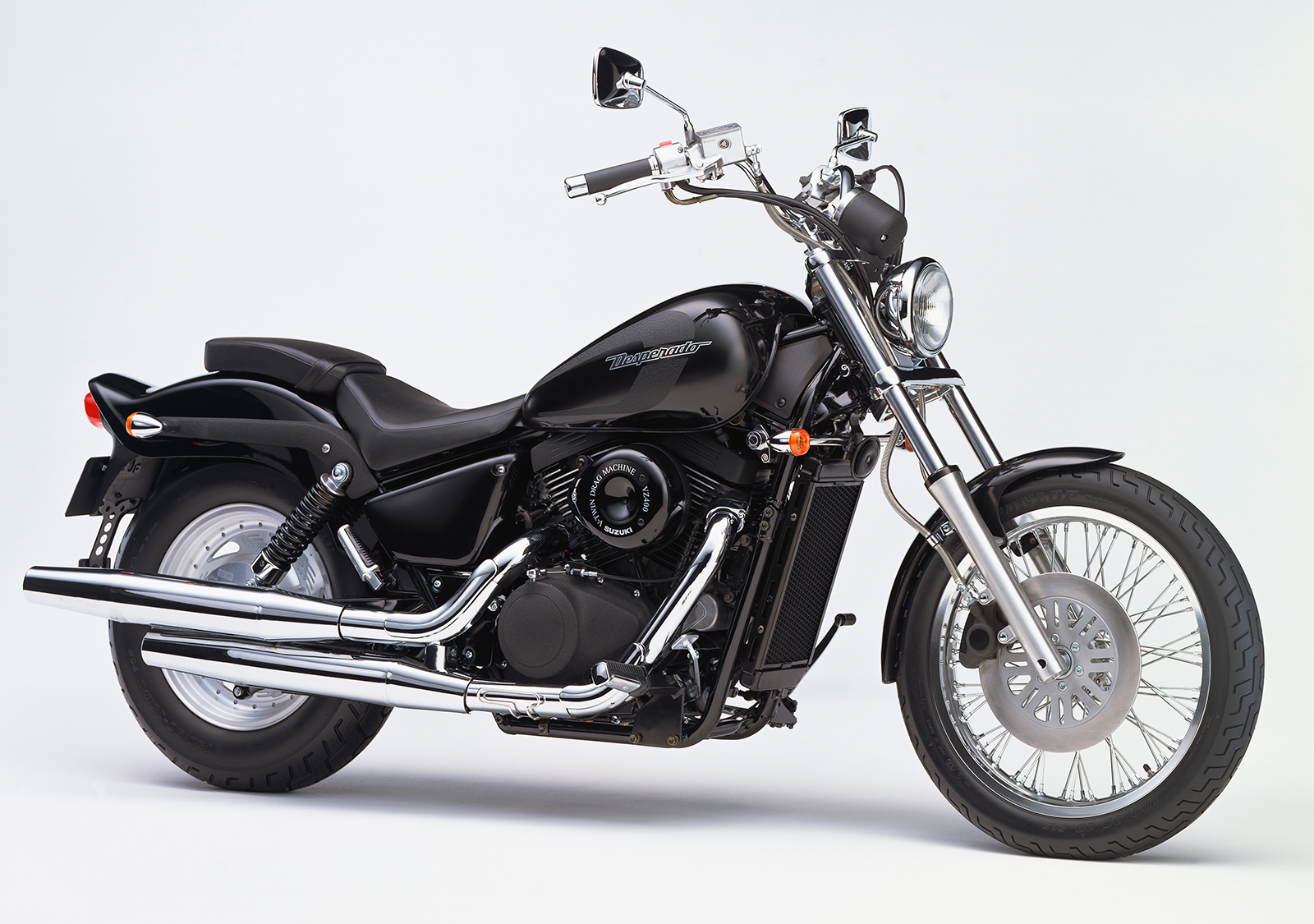 Designed to project a sense of unobtrusive luxury, the Desperado Winder is a highly refined and elegant cruiser. It combines a glossy black paint finish that showcases the smooth beautiful curves of the fuel tank, front and rear fenders, and air cleaner cover with matte black decal accents on the fuel tank and engines cover parts applied via a special crystallization treatment. The muffler, headlight cover, and a wide range of other parts are styled in eye-catching chrome silver. The Desperado Winder is equipped with a 400 cm³ SOHC V-twin engine that generates an acceleration sensation full of torque and power from the lowest revs right up to the mid- and high-rpm ranges.
Dimensions and weight
Dimensions
Overall length
2,390 mm
Overall width
870 mm
Overall height
1,175 mm
Wheelbase
1,660 mm
Weight
195 kg (Dry)
Engine
Engine type
4-stroke, 2-cylinder, liquid-cooled, SOHC
Engine displacement
399 cm³
Bore x stroke
65.0 mm × 60.2 mm
Maximum power
28kW(38PS) / 8,500rpm
Maximum torque
33N-m / 6,000rpm
Transmission
5-speed constant mesh
Front tire size
100/90-19 57H
Rear tire size
150/90-15M/C 74H
2005 |

SUZUKI BOULEVARD 400
Uniquely styled new wave American bike for urban riders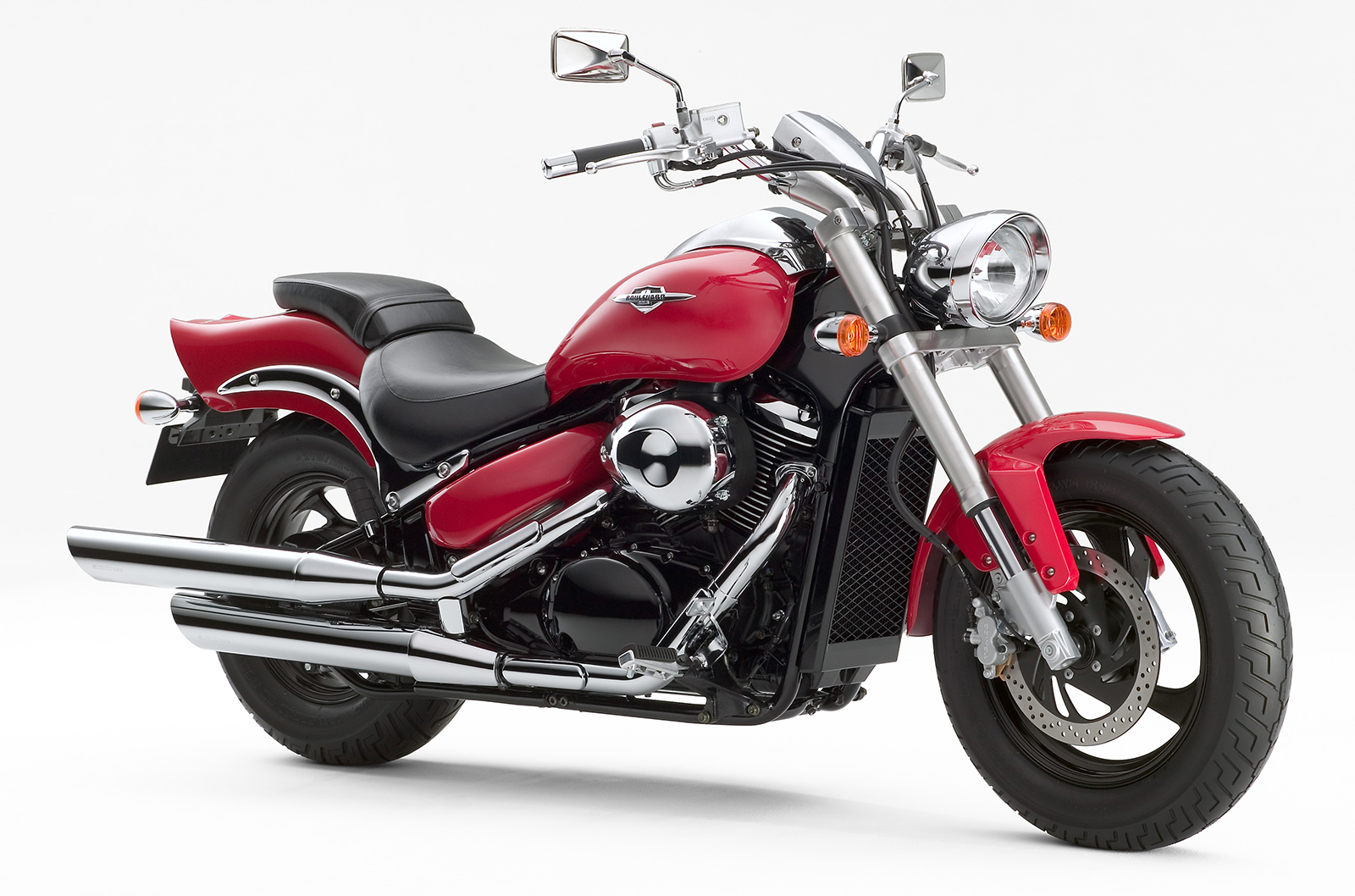 Named after the English word for a broad avenue, the SUZUKI BOULEVARD 400 is a unique, sporty American-styled cruiser for urban riders that was designed as the successor to the Desperado. With its low forward-swept handlebars, long stretched out fuel tank, and upswept bobtail rear fender, the low-slung body lines of the 400 creates a strongly futuristic impression. Every aspect of the styling features individualistic touches, including the oval multi-reflector headlight and white-lensed LED taillight. The powerplant is a powerful and easy-to-handle fuel injected 400 cm³ V-twin SOHC engine with excellent startability and fuel economy. The front and rear boast impressively sporty and lightweight aluminum diecast wheels.
Dimensions and weight
Dimensions
Overall length
2,370 mm
Overall width
920 mm
Overall height
1,125 mm
Wheelbase
1,655 mm
Weight
240 kg (Dry)
Engine
Engine type
4-stroke, 2-cylinder, liquid-cooled, SOHC
Engine displacement
399 cm³
Bore x stroke
65.0 mm × 60.2 mm
Maximum power
24kW(33PS) / 8,000rpm
Maximum torque
33N-m / 6,000rpm
Transmission
5-speed constant mesh
Front tire size
130/90-16M/C 67H
Rear tire size
170/80-15M/C 77H