1985 |

VS750 INTRUDER
Chopper-type V-twin cruiser that is both glamorous and slim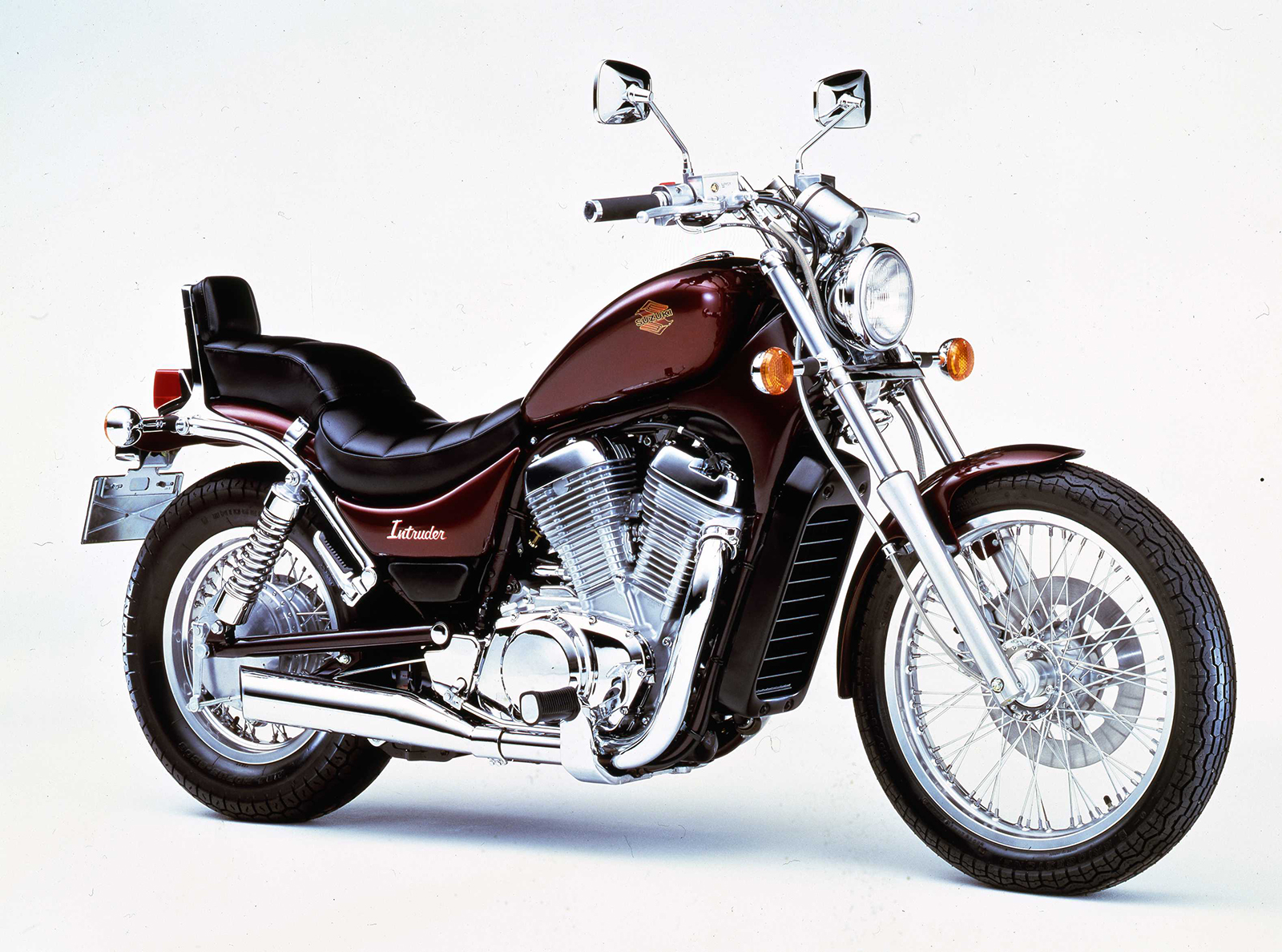 The VS750 INTRUDER pairs a 750 cm³ 4-stroke liquid-cooled V-twin SOHC 4-valve engine with a slim and beautiful newly designed double cradle frame. This engine delivers a distinctive V-twin sound with powerful and sharp response, alongside a spirited and fun-to-ride acceleration feeling. The distinguishing feature of this model is the adoption of a shaft drive to deliver the power from the engine to the fat, 15-inch rear tire. This model also reduces power transmission loss and noise, and is maintenance-free. Riders can choose between traditional upright handlebars and more radical flat handlebars.
Dimensions and weight
Dimensions
Overall length
2,225 mm
Overall width
710 mm
Overall height
1,100 mm
Wheelbase
1,545 mm
Weight
186 kg (Dry)
Engine
Engine type
4-stroke, 2-cylinder, liquid-cooled, SOHC
Engine displacement
747 cm³
Bore x stroke
80.0 mm × 74.4 mm
Maximum power
46.3kW(63PS) / 7,000rpm
Maximum torque
68.6N-m / 6,000rpm
Transmission
5-speed constant mesh
Front tire size
100/90-19 57H
Rear tire size
140/90-15 70H
1993 |

INTRUDER 800
Luxurious and neat-looking cruiser that is a pleasure to own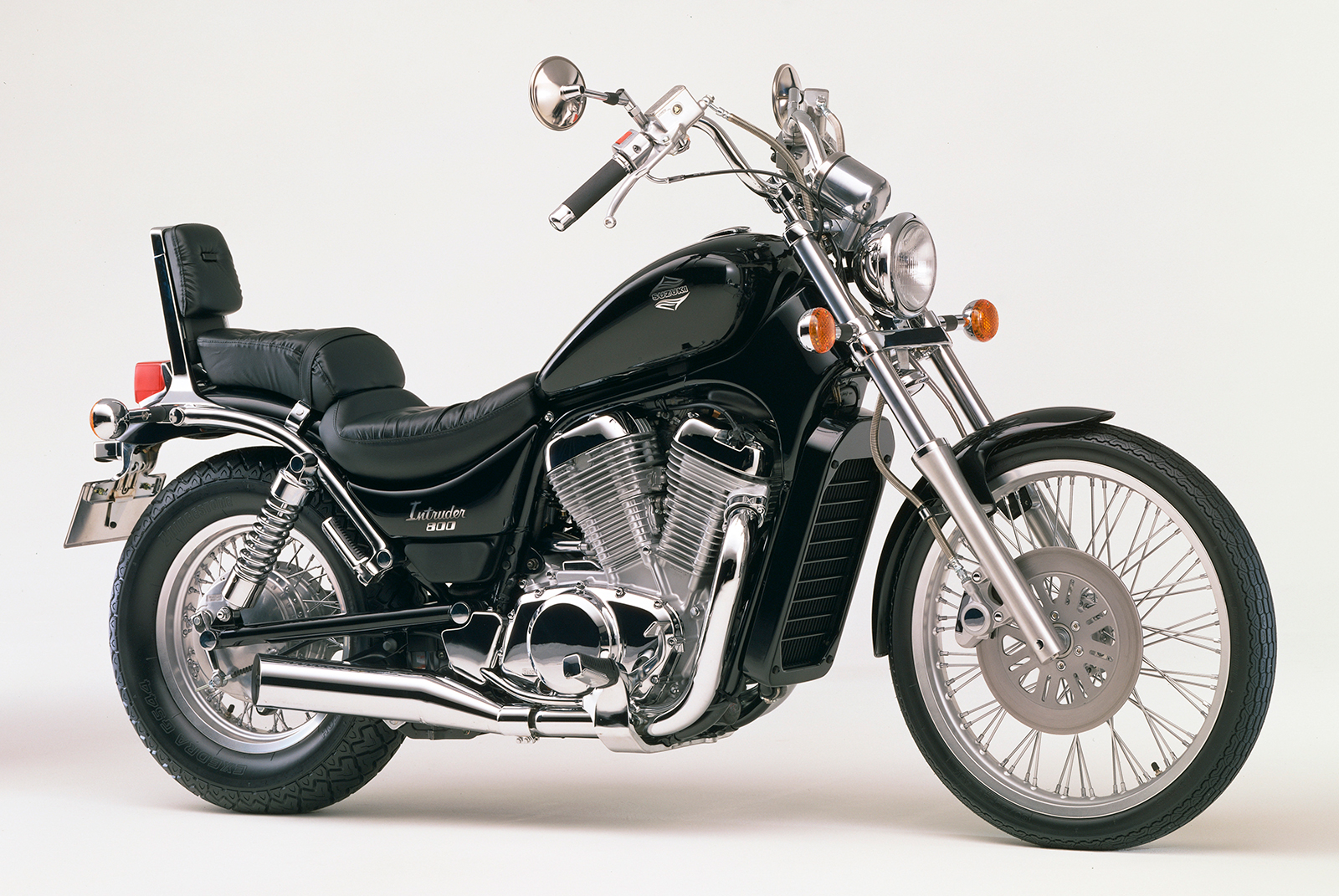 For this model change, the cylinders of the VS750 INTRUDER that debuted in 1985 were enlarged by 3 mm to create the INTRUDER 800, which pairs the resulting 800 cm³ liquid-cooled V-twin SOHC 4-valve engine with the neat and elegant styling of the original model. Greater adoption of chrome plating and fewer plastic parts results in an even more refined appearance. The combination of luxury and ample engine displacement results in a full-scale chopper-type cruiser that is an even greater pleasure to own. The INTRUDER 800 ensures a comfortable ride through features such as easy-to-hold 1-inch-diameter (25.4 mm) pipe handlebars and a luxurious tuck-rolled low seat set only 685 mm from the ground.
Dimensions and weight
Dimensions
Overall length
2,255 mm
Overall width
770 mm
Overall height
1,215 mm
Wheelbase
1,560 mm
Weight
200 kg (Dry)
Engine
Engine type
4-stroke, 2-cylinder, liquid-cooled, SOHC
Engine displacement
805 cm³
Bore x stroke
83.0 mm × 74.4 mm
Maximum power
36.8kW(50PS) / 6,000rpm
Maximum torque
62.8N-m / 4,500rpm
Transmission
5-speed constant mesh
Front tire size
80/90-21 48H
Rear tire size
140/90-15M/C 70H