1997 |

INTRUDER LC
Big American cruiser with majestic performance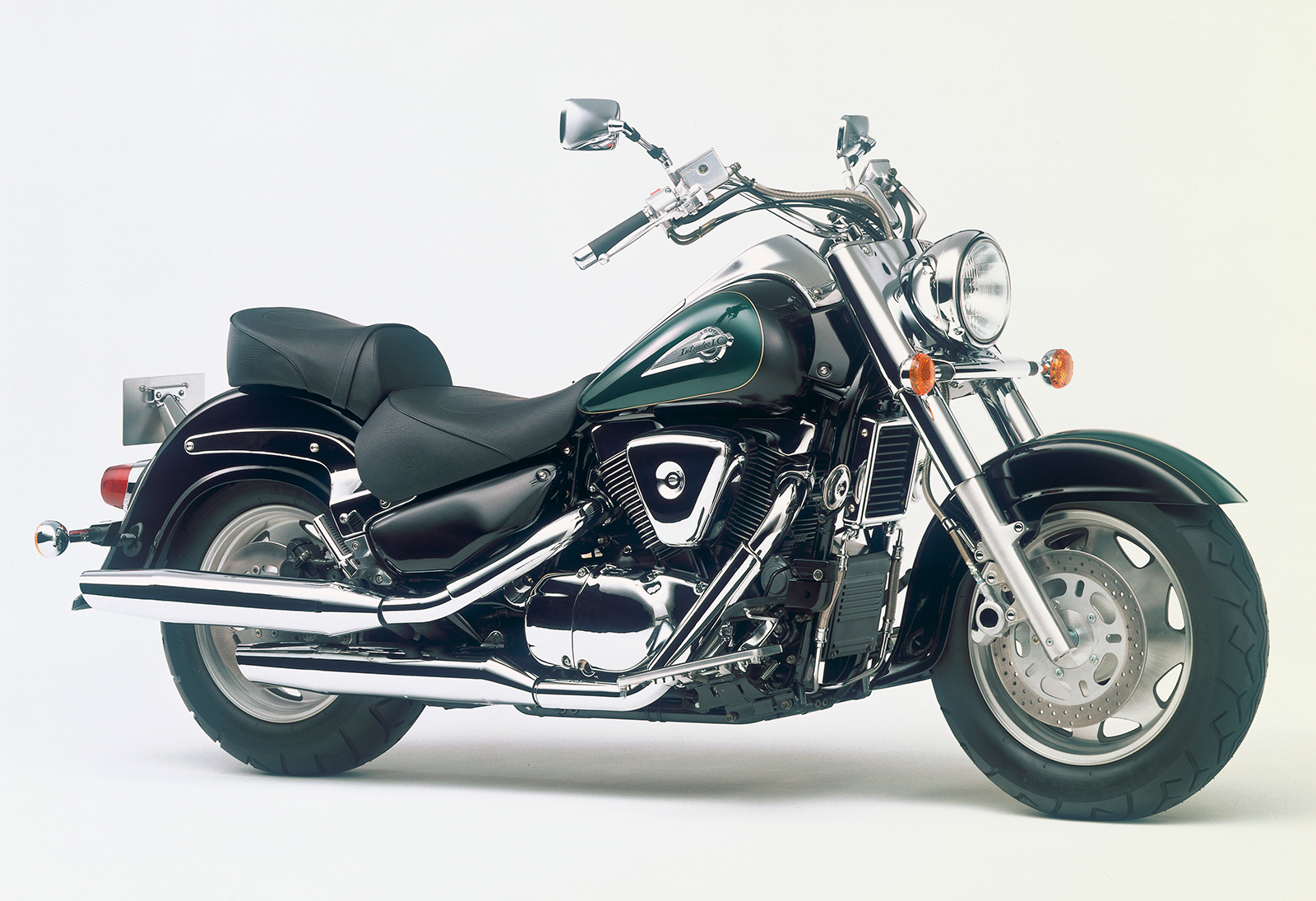 The key concept of the INTRUDER LC is majesty. The 1,500 cm³ oil-cooled 45-degree V-twin SOHC 3-valve engine delivers an acceleration sensation filled with power and a deep and emotional rumble alongside tenacity and comfort at low speeds. Other distinguishing features include a hydraulic lash adjuster for maintenance-free performance and shaft drive. The INTRUDER LC combines a low, long, and sturdy chassis design, richly finished with a wide range of refined metallic and chrome parts, including front and rear fenders fabricated from steel sheets. The result is a bike that is a pleasure and honor to own.
Dimensions and weight
Dimensions
Overall length
2,525 mm
Overall width
965 mm
Overall height
1,165 mm
Wheelbase
1,700 mm
Weight
296 kg (Dry)
Engine
Engine type
4-stroke, 2-cylinder, oil-cooled, SOHC
Engine displacement
1,462 cm³
Bore x stroke
96.0 mm × 101.0 mm
Maximum power
49.3kW(67PS) / 4,800rpm
Maximum torque
113.8N-m / 2,300rpm
Transmission
5-speed constant mesh
Front tire size
150/80-16 71H
Rear tire size
180/70-15M/C 76H
2013 |

SUZUKI BOULEVARD C90T/INTRUDER C1500T
Combining classic cruiser styling with modern technology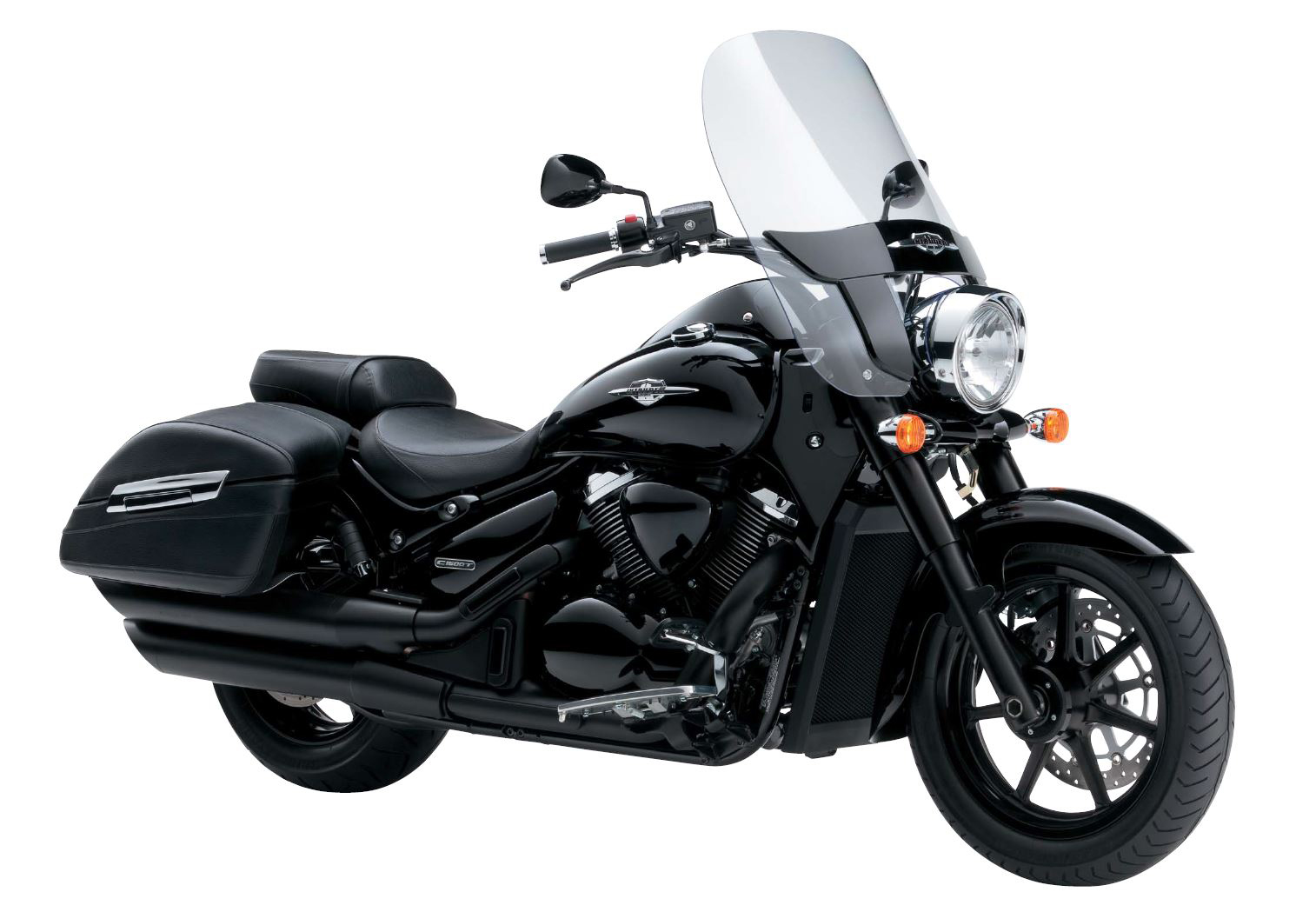 The SUZUKI BOULEVARD C90T/INTRUDER 1500T pairs a fuel-injected 1,500 cm³ 4-stroke liquid-cooled V-twin SOHC 4-valve engine with a classic steel-tubed double cradle frame. The back-torque-limiting clutch system enables seamless and smooth downshifts while ensuring fast and reassuring upshifts. The rider's seat was designed to allow flexible adjustment of the riding position, allowing comfortable fatigue-free cruising, even over long distances. The SUZUKI BOULEVARD C90T/INTRUDER 1500T also features integrated side cases for long-distance touring.
Dimensions and weight
Dimensions
Overall length
2,570 mm
Overall width
990 mm
Overall height
1,440 mm
Wheelbase
1,675 mm
Weight
363 kg (Wet)
Engine
Engine type
4-stroke, 2-cylinder, liquid-cooled, SOHC
Engine displacement
1,462 cm³
Bore x stroke
96.0 mm × 101.0 mm
Maximum power
58kW(78.9PS) / 4,800rpm
Maximum torque
131N-m / 2,600rpm
Transmission
5-speed constant mesh
Front tire size
130/80R17M/C 65H
Rear tire size
200/60R16M/C 79H