GLOBAL NEWS
6 October 2023
Suzuki Unveils the All-New V-STROM 800 Sport Adventure Tourer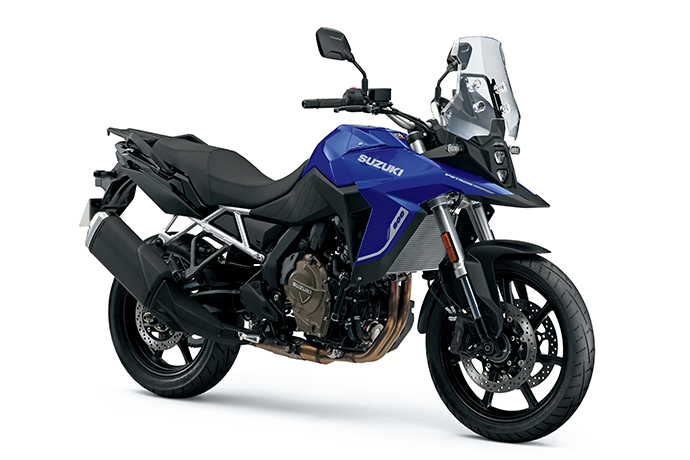 Suzuki Motor Corporation has unveiled the all-new V-STROM 800 sport adventure tourer. Sales will start in October 2023 globally, primarily in Europe and North America.
The V-STROM 800 is a newly developed variation model of the V-STROM 800DE, which has been on sale from this year. Both models offer optimized balance of rideability required both in daily commuting and in touring as 800cc class models with lightweight and maneuvrable features for a wide range of riders. While the V-STROM 800DE was engineered and equipped with features for riding over gravel roads, the V-STROM 800 was developed for high comfortability and driving performance on paved roads and long-distance touring.
In addition to S.I.R.S (Suzuki Intelligent Ride System) electronic control system for various riding conditions, such features as 19-inch wheel and radial-mount brake calipers on the front brake, and tubeless tires on both front and rear are adopted to best suit the driving performance on paved roads.
It is also equipped with height-adjustable wind screen that contributes to ease fatigue in long-distance riding, and a large 20L capacity fuel tank suited for long-distance touring. Comfortability is enhanced with riding position engineered exclusively for the V-STROM 800.
<Main Equipment and Specifications>
V-STROM 800
Description
Equipment
S.I.R.S
(Suzuki Intelligent Ride System)
Ride By Wire
SDMS
(Suzuki Drive Mode Selector)
Able to choose from 3 different power output characteristics
Traction Control
(3 Modes+OFF)
Limits power output when wheel spin is detected
Bi-Directional Quick Shift System
Able to shift up/down without clutch and throttle operation
Suzuki Easy Start System
Can start engine with one quick press of the button
Low RPM Assist
Assists smooth launch from standing start
ABS (2 Modes)
Wheels
Cast Aluminum Wheels
Windscreen
3-position Adjustable
Other
USB Socket
Specifications
Overall Length (mm)
2,255
Overall Width (mm)
905
Overall Height (mm)
1,355
Wheelbase (mm)
1,515
Ground Clearance (mm)
185
Seat Height (mm)
825
Curb Weight (kg)
223
Tire (front)
110/80R19M/C
Tubeless
Tire (rear)
150/70R17M/C
Tubeless
Engine Type
776cm3
Liquid-Cooled
4 Cycle
Parallel 2-Cylinder
DOHC Engine
Fuel Tank (L)
20
Fuel Consumption (km/L)
22.7
CO2 Emissions (g/km)
104