4 March 2009
79th Geneva International Motor Show Press Conference
Mr. Toshihiro Suzuki
Board Member and Senior Managing Executive Officer, Global Marketing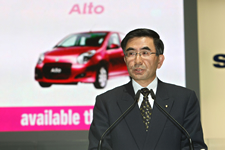 Good afternoon. It's a great pleasure to be here.
This October, Suzuki will celebrate the 100th anniversary of our founder's first step into business. Suzuki has been in the auto industry for 54 years out of the 100, and we are about to reach 40 million vehicle sales. The sales really took off when we began launching our world strategic models, firstly with the Swift in 2005. That said, the economic slowdown started last year created new challenges and pulled our 2008 sales down by 1% to 2,361 thousand units. As we begin our second century in these challenging conditions, we're focusing more closely than ever on our founder's vision of listening to customers and creating products that can thoroughly satisfy and excite them.
A huge part of Suzuki's efforts is centred on the environment. Given the economic circumstances facing our customers, we believe that offering eco-friendly cars at the most affordable prices possible is vital for reducing CO2 emissions and fuel consumption; so as well as developing fuel cells and other next-generation power units, we're focusing on ways to maximize the environmental benefits of fully proven technologies. And to do this, we're fully exploiting the know-how gained in more than 50 years of compact-car production.
A very important environmental role in the Suzuki lineup is played by the Splash and the Alto. Unveiling the Alto at last year's Paris Motor Show, we are putting it on the market this spring. The Alto has CO2 emissions as low as 103g/km(*) and fuel consumption of just 4.4l/100km(*), so it's the most eco-friendly and economical petrol-engine car we've ever created. And it delivers these great benefits at the same time as being able to carry four adults in comfort. We made a conscious decision not to use costly technologies such as a hybrid powertrain in the Alto, so we're looking forward to being able to offer the Alto for a very affordable price. Another key factor behind the Alto's economical eco-friendliness is its design, which is stylish, sporty, and youthful but also aerodynamically efficient thanks to extensive wind-tunnel testing that we conducted from the very beginning of the design programme. And although the Alto is small, it gives peppy, enjoyable performance that allows people to experience the sporty Suzuki DNA as they get around town; so the looks and the driving experience mean the Alto is a fun little car that's just right for city life here in Europe.

The Alto is the most affordable car with such a great combination of eco-friendliness, comfort, economy, styling, and performance, so I'm confident that it's going to be a great success.
The Splash launched last year, is also very impressive in terms of economical eco-friendliness. Its CO2 emissions are only 119g/km with a 1-litre petrol engine and 120g/km with a 1.3-litre DDiS diesel engine; so it's an outstanding choice for people who want a mini multipurpose vehicle that combines green performance with the ability to make enjoyable family trips.
In the near future, Suzuki will be unveiling models that offer even greater eco-friendliness. Right now, for example, we're working on engine auto stop/start systems and variable valve timing for the Alto and Splash. Through these initiatives, we aim to get CO2 emissions down to just 95g/km with the Alto(*) and 109g/km with the Splash(*).

Meanwhile, we're working hard to offer alternative-fuel vehicles that match our customers' needs and the infrastructure in areas where our customers live. Here in Europe, you will see Suzuki vehicles that can use bioethanol or biodiesel. And we're working hard on flexible-fuel vehicles for Brazil and other countries where they're very prevalent and in great demand.
Suzuki's "Way of Life!" brand philosophy is all about delighting our customers, so our focus on finding ways to deliver more economical eco-friendliness in our models while minimizing the extra cost to our customers is a great example of our kind of carmaking. Market conditions are tougher than what we've known at any other time in the last 100 years, but we're moving forward, confident in taking the right approach to delighting our customers and attracting more and more people to the Suzuki brand.
Thank you for your attention.
(*) 1-litre petrol engine / 5-speed manual transmission