MOTORCYCLE
Suzuki's 100th Anniversary Even More Special With Double MotoGP Championship Titles

Team Suzuki ECSTAR Set to Go for 2021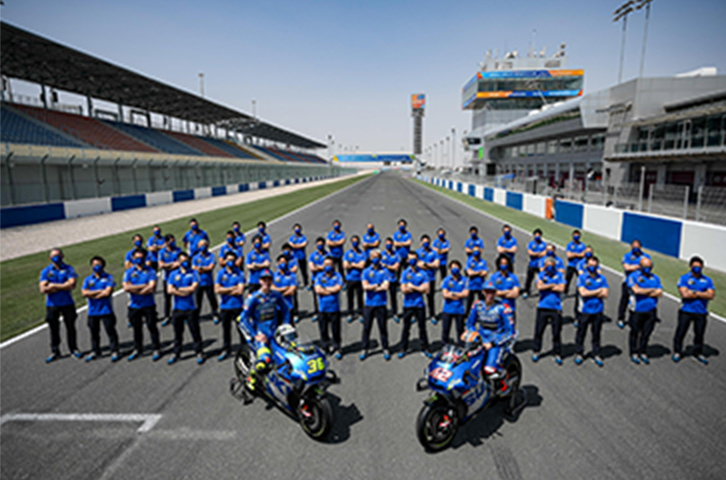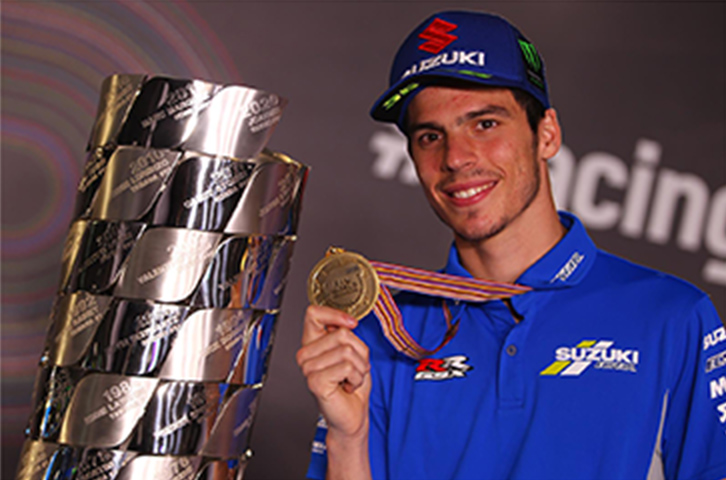 Aboard Team Suzuki ECSTAR's familiar blue and slate silver GSX-RR, Suzuki's two talented pilots, Joan Mir and Alex Rins brought to Suzuki double titles in the 2020 MotoGP Championship. Mir won the rider's championship and together Mir and Rins won the team title. The double crown is a perfect achievement to celebrate the 100th anniversary of Suzuki's founding. For Suzuki, 2020 also marked 60 years since its debut at the world motorcycle race, the Isle of Man TT in 1960. Looking forward to the 2021 season getting underway in March in Qatar, it is a good opportunity to look back on Suzuki's storied history as we gaze forward to the exciting challenges ahead on the MotoGP circuit. Mir, in just his second season competing in the MotoGP class, managed 7 podium finishes in 14 races while Suzuki team pilot, Alex Rins took third to join Mir on the podium. The year had been a difficult one with the season shortened by the COVID-19 pandemic. But in 2020 there was much to celebrate as Suzuki added new achievements to a proud past.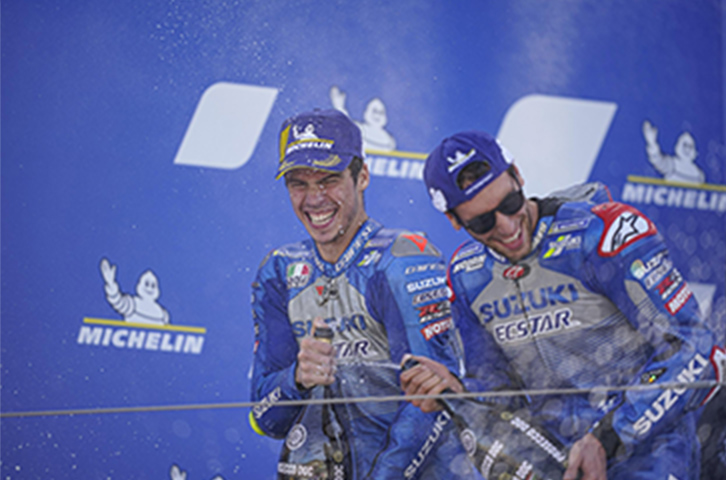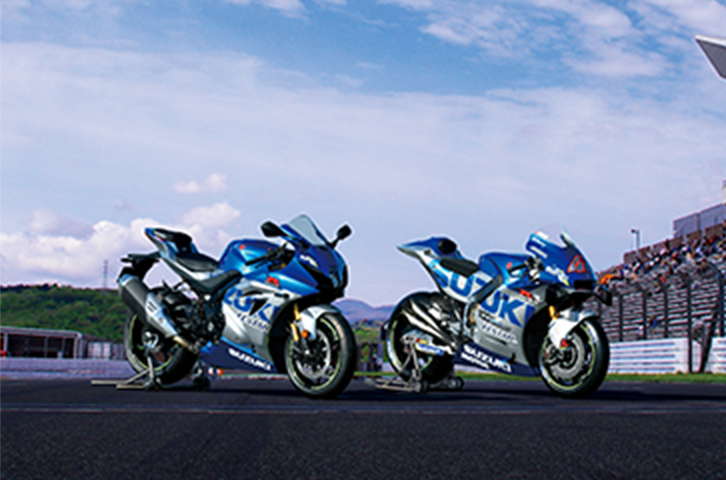 The 2021 season will feature both continuity and change. Both Team Suzuki ECSTAR pilots, Mir and Rins, together since 2019, are back together but this year in livery which will feature new sponsorship from global drinks giant, Monster Energy. Overall management of Suzuki's efforts is passing to a "Team Management Committee." There will be an engine development freeze for all manufacturers but even though the GSX-RR has proven its worth, Suzuki's skilled engineers will continue to find ways to make improvements to keep it in top competitive form. The aim will be to build on the success of 2020's World Championship season and to set our sites on podium places and defending the title.
Mir and Rins have spent the winter getting ready to get back on the track to write another chapter of the growing Suzuki legend. As MotoGP World Champion for 2020, Joan Mir will be number one on all pilots' lists of whom to beat in 2021. But instead of switching to #1, which he is entitled to wear as champion, Mir has chosen to continue to wear #36. As a 23 year old in only his third season racing at the MotoGP level, Mir said that the #36 represents hard work and that he wants to keep striving. Reflecting on last year's championship as a job well done, Mir has said in the new season "My target is a podium in every race" and he also knows that he is "the man to beat."
Rider Alex Rins also will keep his #42, the number he wore atop the podium in his superb victory from a 10th position grid start at Aragon, a thrilling win after a struggle back from an early season injury. Rins is more motivated than ever this year and knows the bike is already a proven winner. Those who have watched Mir on the track will agree that every time he lines up on the grid, a podium is a likely result. "Mir and I strive to go faster than each other which helps us both improve" said Rins. As the season gets underway on 28 March in Qatar, the wealth of experience of the Spanish pair, and the outstanding performance of the GSX-RR, mean we can expect to see both Mir and Rins on the podium often in 2021 as Team Suzuki ECSTAR writes a new chapter to a growing Suzuki legend.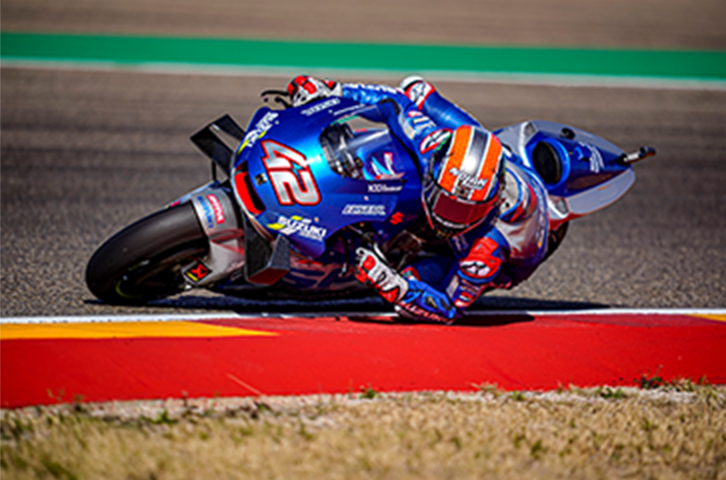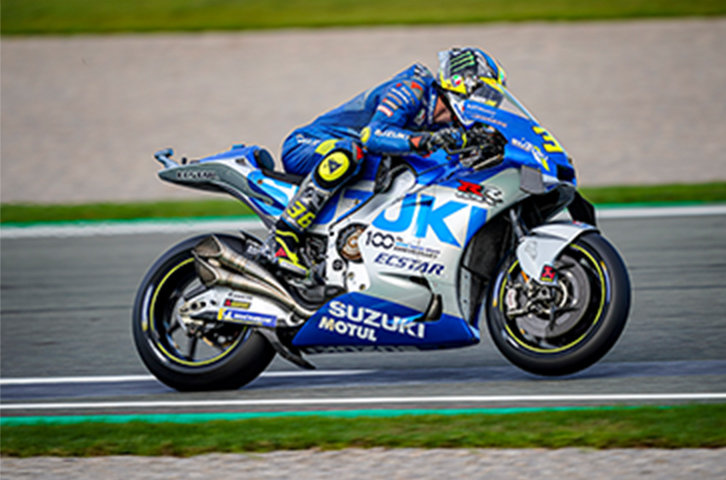 A Proud Racing Legacy Continues as Suzuki Begins a Second Century of Growth
Suzuki's first appearance in world motorcycle racing was at the tough Isle of Man TT in 1960. By the mid-1970s, Suzuki began participating in the road race world championships in the 500cc class. In 1976, British pilot Barry Sheene took the championship and then in 1977 repeated atop the podium, this time on the square type 4-cylinder machine that was introduced for the first time in the 500cc class. Aboard the Suzuki RG500Γ in 1981, Marco Lucchinelli became the 500cc World Champion. In 1982, aboard the Suzuki RG500γ, Italian Franco Uncini scored 5 first finishes and won the world championship. The 1990s, for the Suzuki team, were the golden years of American pilot, Kevin Schwantz, a popular figure with fans, known for his thrilling handling of his motorcycle. Schwantz took the championship title in 1993.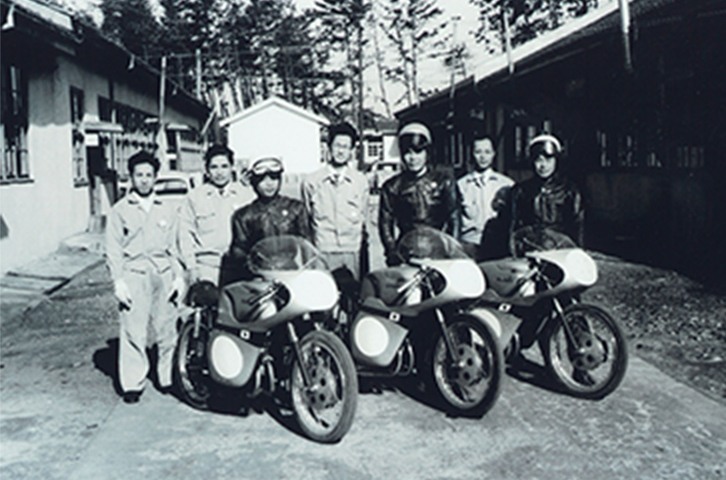 As the new century began, another American pilot, Kenny Roberts Jr., took to the stage. In 2000 Roberts took 4 first place finishes and finished on the podium 9 times. As the business environment grew more difficult, in 2011 Suzuki announced that it would temporarily suspend participation in MotoGP. Suzuki returned to MotoGP in 2015 as Team Suzuki ECSTAR and won its first race victory the next year. In 2019 a special in-house company, Suzuki Racing Company was established to focus on road racing. Alex Rins and Joan Mir were the team's pilots and in that year Rins was able to win two races, finishing 4th in the overall standing. Mir finished 12th and earned rookie of the year. These positive performances put Team Suzuki ECSTAR in 4th overall. Then, celebrating Suzuki's centennial year in great style, Mir ended the 2020 season as World Champion after a string of impressive performances.
During the off-season, Team Suzuki ECSTAR remained busy but took time to celebrate the success of the difficult year of 2020. Overcoming challenges brought the team more closely together. Whether the celebrated pilots aboard the GSX-RR on the track in Europe or the unseen team members and engineers behind the scenes in support roles at the factory in Hamamatsu, Japan, Suzuki can be proud of each individual of the Suzuki racing team. Pouring over lessons learned on the race circuit, Suzuki experts use this hard-earned feedback to develop better mass production motorcycles for all riders. It is a team that shows it knows how to win. The entire Suzuki Family together can look back with pride and now look forward with confidence as Team Suzuki ECSTAR starts a new century of Suzuki history.