MARINE
Wetwheels' Boats Powered by Suzuki Outboard Motors at Solent Platinum Jubilee Celebration.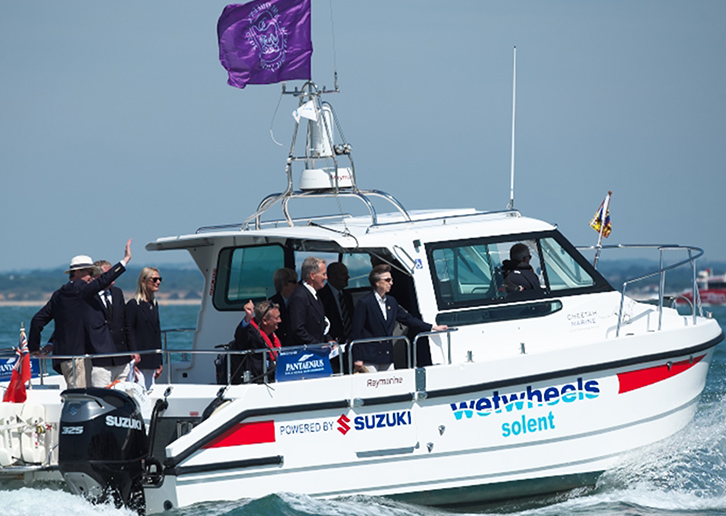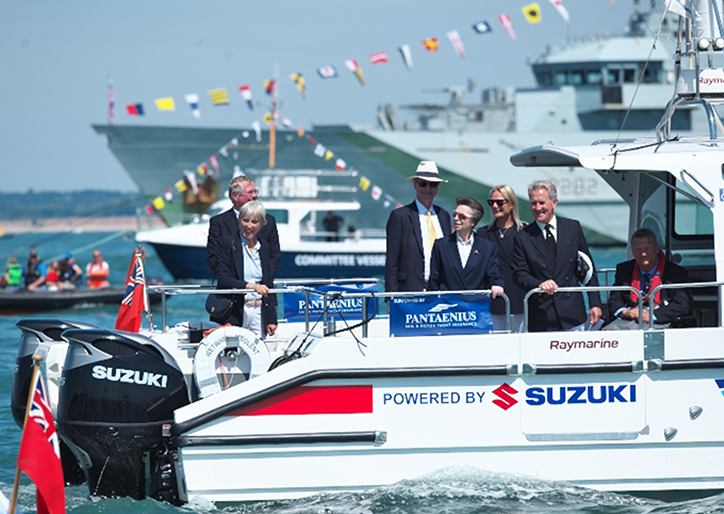 On Saturday 6th August, the celebration of the Queen's Platinum Jubilee was held at Cowes on the Isle of Wight. The Solent regions' sailing and yachting community got together at the event and Suzuki GB had the honour to be presented to HRH the Princess Royal, Princess Anne as the founding sponsor of the Wetwheels Foundation, a disability charity providing boat experiences to over 7000 disabled people in 6 locations around the British Isles every year. The Solent Platinum Jubilee event supported Wetwheels as its chosen charity.
There were 5 Wetwheels' boats at the event and HRH the Princess Royal boarded on the first Wetwheels' boat which led the other 4 boats to inspect a fleet of historic ships at anchor off Cowes. That Wetwheels boat powered by dual DF325A, then carried the Princess Royal to HMS Severn a Royal Navy Patrol Ship anchored off Cowes. The 5 Wetwheels boats then led a procession of around 750 powerboats, past the warship where Her Royal Highness took the salute.
The Wetweels's boat carrying the Princess Royal was posted on the Royal Family Instagram. The whole event was a great success for Suzuki and our charity activity was well recognized widely through the event. The Princess Anne is Patron of the Whetweels charity and Suzuki GB are proud of continuing support Wetwheels over 10 years since 2011.
Back to the celebration of the Queen's Diamond Jubilee in 2012, Suzuki was asked to supply all of the outboard motors to take part in the Sea Cadets Commonwealth display as part of the Jubilee Pageant on the Thames. Suzuki GB supplied 55 of our DF2.5 outboard motors to represent each member of the commonwealth. And Suzuki was allowed to use the event photograph for our promotional materials by the Royal Family. It was a huge honor to work alongside the Royal Family.
We would like to take this opportunity to offer our sincere and heartfelt condolences to the Royal Family on the passing of Her Majesty Queen Elizabeth II.
Official account of Suzuki GB Instagram
https://www.instagram.com/p/ChuAba0IiAZ/
Official account of The Royal Family Instagram
https://www.instagram.com/p/ChE2bWMsMUx/?igshid=YmMyMTA2M2Y=
Link for more detail about Wetwheels foundation
https://wetwheelsfoundation.org/news/solent-platinum-jubilee-celebrations/