GLOBAL NEWS
6 September 2023
Suzuki Concludes a Three-Party Agreement
for the Biogas Demonstration Project in India
- Operate four biogas production plants starting from 2025 -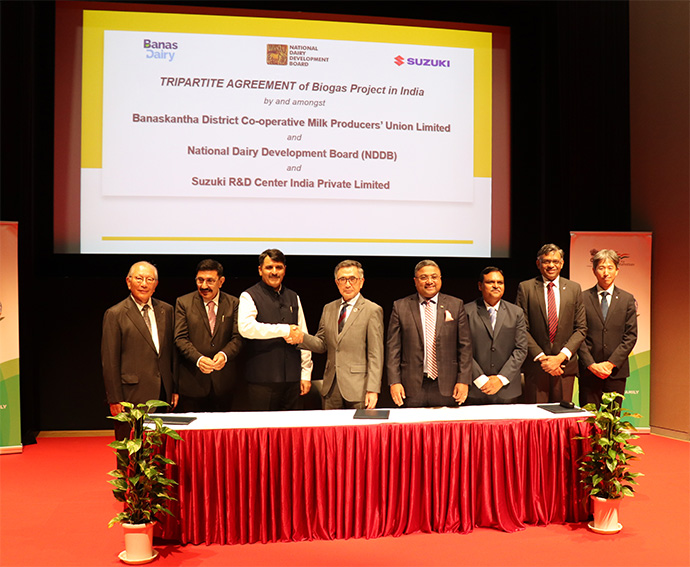 Suzuki Motor Corporation (Suzuki) has concluded a three-party agreement between Suzuki R&D Center India Private Limited, a wholly owned subsidiary of Suzuki in India, National Dairy Development Board (NDDB), and Banas Dairy (Headquarters: State of Gujarat), one of the largest dairy manufacturers in Asia, to setup biogas production plants which would contribute toward realizing carbon neutrality in India.
Contract conclusion ceremony was held today at the Embassy of India in Japan, with Banas Dairy's Chairman Chaudhry, NDDB's Chairman and Managing Director Shah, and Suzuki's President Suzuki attending. Ambassador of India to Japan, His Excellency Mr. Sibi George graced the occasion and conveyed his best wishes.
Suzuki signed MoU with NDDB and Banas Dairy in December 2022 to start a Biogas Demonstration Project. The project is aimed to make fuel for automobiles by refining methane from biogas, which is generated by fermenting cow dung. Four biogas production plants will be operated starting from 2025 in Banaskantha district in Gujarat. The total investment of four plants is planned to be INR 2.3 billion (approximately JPY 4 billion). Also, biogas filling stand will be established alongside each plant, which will distribute fuel for CNG vehicles in which Maruti Suzuki holds over 70% market share in India.
President Suzuki said "Suzuki is tackling to reduce greenhouse gas in ways that suit the situations of each country and region. In India, there is expectation for biogas which is said to have high reduction effects. We will contribute toward realizing carbon neutrality through making proactive initiatives in the biogas production business."