GLOBAL NEWS
20 June 2023
Suzuki Signs Agreement with SkyDrive
for the Manufacturing of Flying Cars
- Utilize Suzuki Group's plant, and aim to start manufacturing by spring of 2024 -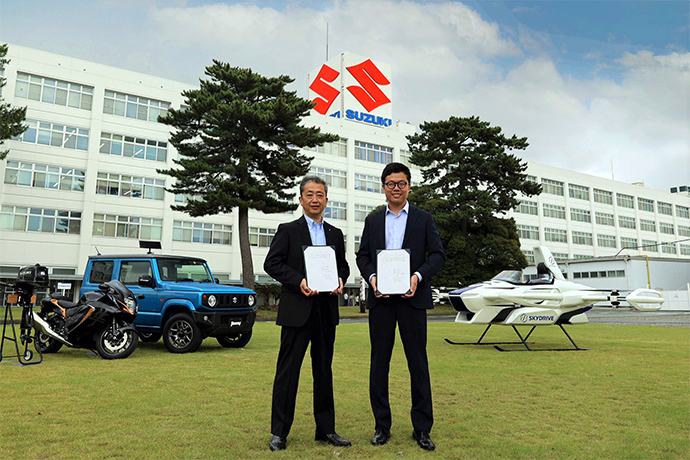 Suzuki Motor Corporation (hereinafter "Suzuki") has signed a basic agreement with SkyDrive Inc. (headquartered in Toyota City, Aichi Prefecture; Tomohiro Fukuzawa, CEO and Representative Director; hereinafter "SkyDrive"), regarding cooperation for the manufacturing of "flying cars".
SkyDrive will establish a 100% owned subsidiary to manufacture "flying cars". Suzuki and SkyDrive will utilize a plant owned by the Suzuki Group in Shizuoka Prefecture, and aim to start the manufacturing of "flying cars" around spring of 2024. Suzuki will also cooperate with SkyDrive's manufacturing subsidiary in preparing for the start of manufacturing, including securing of human resources. Specific terms of the agreement will continue to be discussed and will be agreed on separately.
Comment from President Suzuki
I'm very excited to be working together with SkyDrive. We will make ambitious strides toward the development of products of superior value, so that we can contribute to the realization of air mobility, which utilizes the sky for daily transportation.