11 October, 2021
Suzuki Wins 2021 FIM Endurance World Championship Title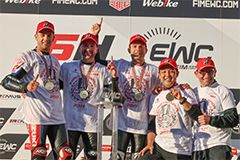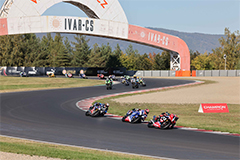 YOSHIMURA SERT MOTUL, a team that competes in the premier motorcycle endurance world road racing championship series held by the International Motorcycling Federation (FIM), the 2021 FIM Endurance World Championship (EWC), finished 3rd at the final round 6 Hours of Most held at the Autodrom Most located in the northwestern part of Czech Republic, on 9 October 2021.
As a result, YOSHIMURA SERT MOTUL has won the championship title for the first time ever. Including the record for SERT (Suzuki Endurance Racing Team), this is the second consecutive and 17th all-time title, as well as 20th all-time for Suzuki.
EWC is a motorcycle endurance race with production-based motorcycles that are modified into endurance racing specification. Suzuki entrusted the team operation to Yoshimura Japan Co., Ltd. and together they competed as a factory team with the supersport model GSX-R1000R.
YOSHIMURA SERT MOTUL finished the qualifying session in 3rd, and grabbed the holeshot in the opening lap. They showed consistency in the 3rd position and finished the race with no mistakes. The title proved the excellent teamwork of YOSHIMURA SERT MOTUL and high performance of the GSX-R1000R.
2021 Endurance World Championship
YOSHIMURA SERT MOTUL Results
| Round | Race | Date | Location | Position |
| --- | --- | --- | --- | --- |
| 1 | 24 HEURES MOTOS (LE MANS) | 12 to 13 June | France | 1st |
| 2 | 12H OF ESTORIL | 17 July | Portugal | 12th |
| 3 | BOL D'OR 24 HOURS | 18 to 19 Sept. | France | 1st |
| 4 | 6 HOURS OF MOST | 9 Oct. | Czech Republic | 3rd |
Team Ranking
| Ranking | Team | Point |
| --- | --- | --- |
| 1st | YOSHIMURA SERT MOTUL | 175.5 |
| 2nd | BMW MOTORRAD WORLD ENDURANCE TEAM | 133 |
| 3rd | WEBIKE SRC KAWASAKI FRANCE TRICKSTAR | 115.5 |