21 September, 2021
Suzuki Wins the Third Round of 2021 FIM Endurance World Championship, Bol d'Or 24-Hour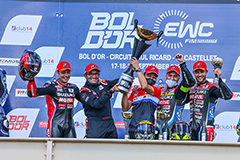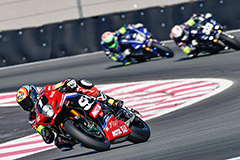 YOSHIMURA SERT MOTUL, a team that competes in the premier motorcycle endurance world road racing championship series held by the International Motorcycling Federation (FIM), the 2021 FIM Endurance World Championship (EWC), won the third round Bol d'Or 24-Hour held at the Paul Ricard Circuit located in the south of France, near Marseille, from 18 to 19 September 2021.
EWC is a motorcycle endurance race with production-based motorcycles that are modified into endurance racing specification. Suzuki entrusts the team operation to Yoshimura Japan Co., Ltd. and together they are competing with the supersport model GSX-R1000R.
YOSHIMURA SERT MOTUL finished the qualifying session in 1st, and started the race from the pole position, pushing hard from the first lap. The team became the race-leader from the first hour. Subsequently, their position fell to 2nd after they were forced into pitstop due to a slip from the rain that started to fall after the ninth hour. However, they regained the lead by the twelfth hour, and held the lead until the end, to finish with 704 laps, 19 laps ahead of the 2nd place.


Third Round Bol d'Or
24-Hour Result
| Result | Team | Point |
| --- | --- | --- |
| 1st | YOSHIMURA SERT MOTUL | 65 |
| 2nd | MOTO AIN | 48 |
| 3rd | VRD IGOL EXPÉRIENCES | 44 |
2021 Endurance World
ChampionshipTeam Ranking
(as of the end of
the Third Round)
| Ranking | Team | Point |
| --- | --- | --- |
| 1st | YOSHIMURA SERT MOTUL | 141 |
| 2nd | VRD IGOL EXPÉRIENCES | 105 |
| 3rd | F.C.C. TSR Honda France | 89 |
2021 Endurance World Championship Schedule
Round
Race
Date
Location
YOSHIMURA
SERT MOTUL
Result
1
24 HEURES MOTOS (LE MANS)
12 to 13 June
France
1st
2
12H OF ESTORIL
17 July
Portugal
12th
3
BOL D'OR 24 HOURS
18 to 19 Sept.
France
1st
4
8 HOURS OF MOST
9 Oct.
Czech Republic
-