21 June 2021
Suzuki to Supply Outboard Motors for Private Boat Brand
By Major US Outdoor Retailer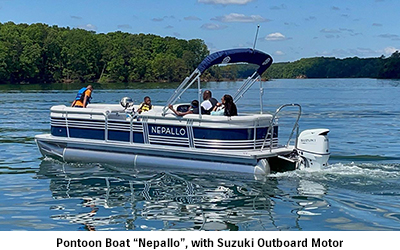 Suzuki Marine USA, LLC, the outboard motor distributor of Suzuki Motor Corporation in the US, has announced that they will be supplying outboard motors for a new private boat brand by Camping World, a major outdoor retailer with 160 locations in the US.
Currently in the US, marine leisure is attracting attention, allowing people to enjoy activities whilst maintaining physical distance. Pontoon boats have especially grown in popularity with their flat, wide and open deck. Camping World will introduce their first original pontoon boat brand, which will be packaged with the hull manufactured by Forest River and be rigged with 40 to 140 horsepower-class Suzuki outboards. Camping World will start sales of their boat as original brand "Nepallo", in their retail locations.
"Nepallo" is an 18 to 24 feet boat primarily for marine leisure such as boat parties and recreational fishing. Suzuki outboards were selected for the package for their powerful yet quiet operation. Suzuki aims to increase market presence and brand recognition by appealing to new customers starting out marine leisure.
<Suzuki Marine USA details>
| | |
| --- | --- |
| Company Name | Suzuki Marine USA, LLC |
| Headquarters | Tampa, Florida |
| President | Masahiro Yamamoto |
| Business operations | Sales and service of outboard motors and parts |