20 January 2021
Suzuki Starts Production and Exports of Jimny in India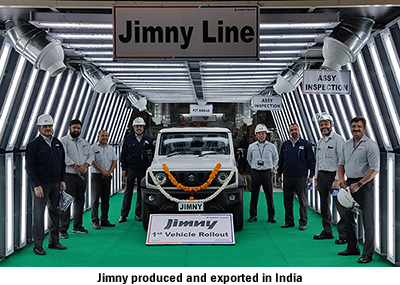 Maruti Suzuki India Limited, a subsidiary of Suzuki Motor Corporation has started production and exports of Jimny.
Jimny produced at Maruti Suzuki's Gurgaon Plant in India shares the same specification as the export models produced at the Kosai Plant of Japan. They will be produced exclusively for exports to areas including Latin America, the Middle East, and Africa.
The current generation of Jimny was launched in 2018, and since has been favoured and receiving orders from customers throughout the world. Through its production in India, Suzuki aims to reinforce its global production structure for delivering the products to customers in the earliest possible timing.
India is one the most significant production hubs of Suzuki for producing export units, and with the production of Jimny in India, Suzuki will continue to cooperate for economic development and activity of India while contributing to the "Make in India" initiatives by the Government of India.
<Main specification of Jimny in India (same as Japan production)>
Overall length 3,645mm x width 1,645mm x height 1,720mm
Engine: 1.5L
Transmission: 5MT/4AT