28 September 2020
Suzuki Wins 2019-2020 Endurance World Championship Title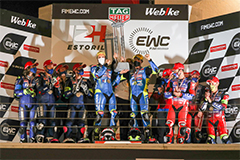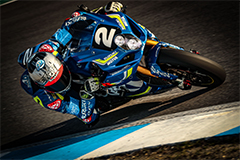 Suzuki Endurance Racing Team (SERT), a team that competes in the FIM (Fédération Internationale de Motocyclisme) World Endurance Championship, finished fourth in the final round of the 2019-2020 season held at Estoril in Portugal on 26 September 2020. As a result, SERT has won the championship title for the first time in four years, its 16th all-time title.
The World Endurance Championship is a motorcycle endurance race competed with production-based motorcycles that are modified into endurance racing specification. Four races were held for this season, and Suzuki competed with its supersport model, the GSX-R1000.
SERT earned technical support from Yoshimura Japan this season, and won the first round Bol d'Or 24-Hour. After finishing third in the third round Le Mans 24 Hours, the team had a 40-point lead in the championship title. In the final fourth round, SERT finished fourth, which gave the team a total of 167.5 points in the season, an 18-point lead to win the championship title.
The title proved the excellent teamwork of SERT and high performance of the GSX-R1000.
2019-2020 World Endurance Championship result of SERT
| Round | Race | Date | Location | Result |
| --- | --- | --- | --- | --- |
| 1 | Bol d'or 24-Hour | 21-22 September 2019 | France | 1st |
| 2 | 8 Hours of Sepang | 14 December 2019 | Malaysia | 4th |
| 3 | Le Mans 24 Hours | 29-30 August 2020 | France | 3rd |
| 4 | 12 Hours of Estoril | 26 September 2020 | Portugal | 4th |
Championship point
| Result | Team | Point |
| --- | --- | --- |
| 1st | Suzuki Endurance Racing Team | 167.5 |
| 2nd | YART - Yamaha | 149.5 |
| 3rd | F.C.C. TSR Honda France | 143.5 |