27 March 2020
Suzuki to Newly Establish a Marine Test Center in the U.S.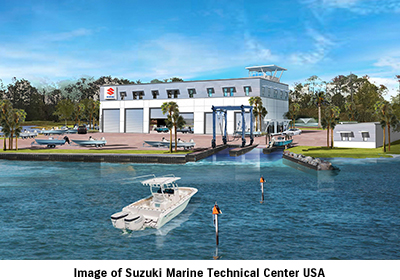 Suzuki Motor Corporation's U.S. subsidiary Suzuki Motor of America, Inc. (SMAI) will newly establish the Suzuki Marine Technical Center USA in Panama City, Florida. The center will conduct testing of marine products, which is a first-of-its-kind facility outside of Japan for Suzuki.
Conventionally, operations including design, development, and testing of outboard motors had been conducted solely at Suzuki's Marine Technical Center located in Kosai, Shizuoka. However, since the U.S. is the largest market for Suzuki's marine business, the company decided to set up a new facility in the eastern region of the country. Indeed, the eastern region, which includes the Gulf of Mexico, accounts for approximately half of the boat market, so by conducting development in an environment much closer to the customers, the company aims to make more attractive and reliable products.
Also, by having SMAI conduct a part of testing operations, the Suzuki Group as a whole will make more efficient development. Plus, the center will be utilized for proactive promotion of collaboration with the U.S.-based boat manufacturers to aim for further expansion of Suzuki outboard sales.
<Overview of the test center>
| | |
| --- | --- |
| Name of facility | Suzuki Marine Technical Center USA |
| Location | Panama City, Florida |
| Area of land | Approx. 73,700m2 (20 acres) |
| Total investment | Approx. 1.7 billion JPY |
<Overview of SMAI>
Name of company
Suzuki Motor of America, Inc.
Location of headquarters
Brea, California
Representative
Masahiro Yamamoto
Capital amount
66 million USD (100% Suzuki investment)
No. of employees
Approx. 240
Business description
Sales and services of outboard motors,
motorcycles, ATVs, and parts and accessories