15 February 2020
Suzuki Introduces the New XL7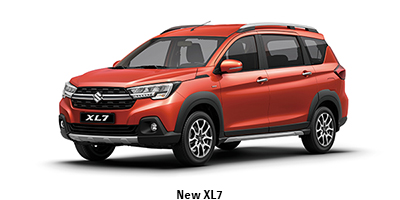 Suzuki Motor Corporation's Indonesian subsidiary, PT. Suzuki Indomobil Motor (SIM) has introduced the XL7, an all-new three-row, seven-seater crossover of SUV design and convenience of MPV.
Featuring a masculine front face and rugged protection mouldings of SUV toughness, and seven-seater versatility and ample cabin space of MPV convenience, the new XL7 is a new crossover for the adventurous families.
The powertrain delivers both fuel efficiency and performance by installing a powerful 1.5L petrol engine onto a light and rigid HEARTECT platform.
The MPV segment accounts for approximately 30% of Indonesia's overall automobile market, while the SUV segment has been making its presence in the recent years. By introducing the new XL7 toward both of these segments, Suzuki aims to further expand its presence in the market. The new XL7 will be produced at the Cikarang Plant of SIM, and is also planned to be exported to surrounding Asian countries and Latin America.
<Main specification of the new XL7>
- Overall length 4,450mm x width 1,775mm x height 1,710mm
- Engine: 1.5L petrol
- Transmission: 5MT/4AT