23 October 2019
Suzuki Exhibits Lifestyle Support Mobility Concept Models at the 46th Tokyo Motor Show 2019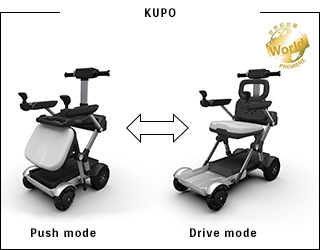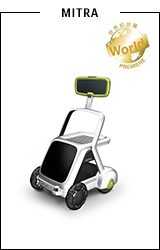 Suzuki Motor Corporation will exhibit two lifestyle support mobility concept models at the 46th Tokyo Motor Show 2019 (organised by the Japan Automobile Manufacturers Association), which will be held from 24 October to 4 November 2019 (open to the public from 25 October) at the Tokyo Big Sight and the surrounding Odaiba area.
KUPO is a concept model that transforms into two types of mobility devices: an electric wheelchair and an assisted walker.
When walking, the Push mode can be selected in a form of an assisted walker which electrically assists pushing to support walking with less effort and anxiety. When traveling, the Drive mode can be selected to transform into an electric wheelchair. Depending on its use, KUPO can be used as a cart for shopping and an electric wheelchair for traveling.
MITRA is a concept model of a partner robot equipped with automatic following function.
It recognises the user with a sensor and makes automatic following by adjusting to the walking speed. MITRA can become useful in a wide range of ages and usages from families with small children to the elderly persons, such as in carrying baggage when shopping or walking. By placing a monitor on top, it can be used for other functions such as live video calls with families in faraway places.