26 August 2019
Suzuki Wins at MotoGP 12th Round British GP

- Alex Rins wins his second MotoGP race this season -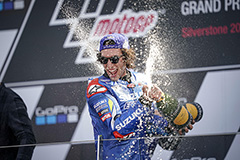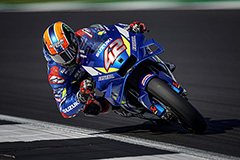 Team SUZUKI ECSTAR's Alex Rins aboard the GSX-RR won in the MotoGP class of the FIM* Road Racing Grand Prix (MotoGP) 12th round British GP held on 25 August 2019 at the Silverstone Circuit in the UK. This gave Rins his second win this season following a win in the 3rd round GP of the Americas. He also regains 3rd place in the championship standings.
Rins started the race from the second row in the 5th starting grid and made a good start, taking 2nd position right behind the top-runner Marc Marquez (Honda) in the second lap. While taking the lead sometimes during the race, he stayed in the 2nd position until the last corner of the final lap, where he managed to take the inside line to pass Marquez during acceleration in the corner exit, and passed the chequered flag first by only a hundredth of a second for a comeback victory.
This gave Rins his second MotoGP win of his career. Also, Sylvain Guintoli, standing in for Joan Mir who is out due to an injury, completed the race in 12th and earned 4 points.
*Fédération Internationale de Motocyclisme
Race result
| | Rider |
| --- | --- |
| 1 | Alex Rins (Suzuki) |
| 2 | Marc Marquez (Honda) |
| 3 | Maverick Vinales (Yamaha) |
| 12 | Sylvain Guintoli (Suzuki) |
Championship standing
| | Rider | Points |
| --- | --- | --- |
| 1 | Marc Marquez (Honda) | 250 |
| 2 | Andrea Dovizioso (Ducati) | 172 |
| 3 | Alex Rins (Suzuki) | 149 |
| 13 | Joan Mir (Suzuki) | 39 |
| 23 | Sylvain Guintoli (Suzuki) | 7 |