10 June 2019
Suzuki's Second Japan-India Institute for Manufacturing Receives
Accreditation by the Japanese Ministry of Economy, Trade and Industry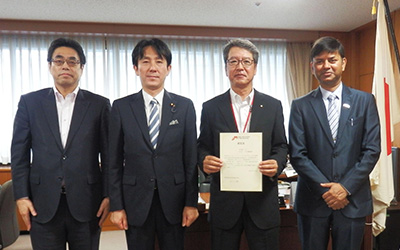 Maruti Suzuki JIM (Uncha Majra, Gurugram), an industrial training institute which is being prepared by Suzuki Motor Corporation in Gurugram, Haryana in India, has been accredited as Japan-India Institute for Manufacturing (JIM) by the Japanese Ministry of Economy, Trade and Industry (METI), today.
Aimed for human resource development in the manufacturing sector in India, JIM is part of an initiative of Manufacturing Skill Transfer Promotion Programme agreed between the governments of India and Japan in 2016. Japanese firms in India are working together with METI to set up such institutes in India. This is the second accreditation of JIM for Suzuki, following Maruti Suzuki JIM (Ganpat Vidyanagar, Mehsana, Gujarat), which was accredited as the first JIM in June 2017.
Maruti Suzuki JIM is operated as India's ITI (Industrial Training Institute) by Maruti Suzuki, who is conducting operation by bringing state-of-the-art educational facilities and human resources. The institute offers eight practical training courses including Motor Mechanic Vehicle, Mechanic Diesel, Mechanic Auto Body Repair, Mechanic Auto Body Painting, and Welder. Maruti Suzuki JIM (Uncha Majra, Gurugram) accredited today, is scheduled to open in August 2019, and it plans to produce 500 graduates annually.
Ceremony for certification held today at METI was attended by Akimasa Ishikawa, Parliamentary Vice-Minister of Economy, Trade and Industry, and Masaki Ishikawa, Director-General, Trade and Economic Cooperation Bureau of METI, Raj Kumar Srivastava, Deputy Chief of Mission, Embassy of India, Tokyo, affiliates of the programme, and the companies approved at the ceremony. Hisashi Takeuchi, Managing Officer, Global Automobile Marketing, who attended the ceremony from Suzuki said, "Through Maruti Suzuki JIM certified today, we will nurture human resources and further contribute to "Make in India" and "Skill India" initiatives by the Government of India."