23 January 2019
Suzuki Launches the All-New A-Segment WagonR in India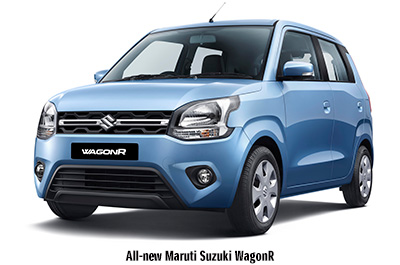 Suzuki Motor Corporation's Indian subsidiary Maruti Suzuki has launched the all-new WagonR compact car on 23 January 2019.
The third-generation model of the Indian WagonR newly adopts the new HEARTECT platform, and Suzuki developed the A-segment body dedicated for the Indian WagonR for the first time. In terms of overall width, it has been made wider by 145mm compared to the conventional model. As a result, the styling design is renewed into a bold stance to realise roomier cabin space, which is the main feature of the WagonR.
In addition to the well-proven 1.0L petrol engine, a powerful 1.2L petrol engine has newly joined in its lineup of powertrain. Combined with lightweight, high-rigidity body, the all-new WagonR realises excellent fuel efficiency and comfortability while increasing safety.
Launched in India in 1999, the WagonR has been highly valued by customers as one the main models of Suzuki's best-selling compact entry cars, and has sold approximately 2.2 million units*. The all-new WagonR is produced at the Manesar Plant and sold through Maruti Suzuki's Arena channel.
*Based on Suzuki research as of December 2018.
<Main specification of the all-new WagonR>
- Overall length 3,655mm x overall width 1,620mm x overall height 1,675mm
- Engine: 1.0L/1.2L petrol
(Reference) Sales unit of WagonR in India in CY2018: 152,020 units