26 November 2018
Suzuki Achieves Accumulated Automobile Production of 2 Million Units in Pakistan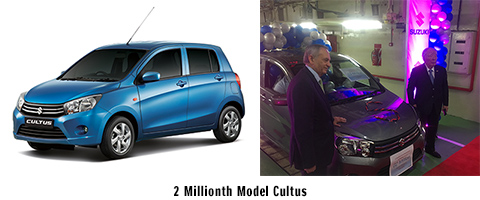 Pak Suzuki Motor Co., Ltd. (Pak Suzuki), a subsidiary of Suzuki Motor Corporation for production and sales of automobiles and motorcycles in Pakistan, achieved accumulated automobile production of 2 million units in August 2018. To commemorate this milestone, a ceremony was held on 26 November at Pak Suzuki's plant, with Osamu Suzuki, Chairman, Suzuki Motor Corporation attending to welcome the guests including Abdul Razak Dawood, Adviser to Prime Minister of Pakistan.
Suzuki made its first overseas automobile production in Pakistan in 1975 through a national company of Pakistan. Subsequently in 1982, production of Fronte started by Pak Suzuki, a joint venture between Suzuki and Pakistan Automobile Corporation. Since then, Pak Suzuki has been producing models which are mainly based on Japan's minicars including Fronte, Carry, Jimny, Alto, and WagonR equipped with 800cc to 1,000cc engines. Accumulated production of 2 million units was achieved in 36 years since starting production in 1982.
Suzuki's share of automobile sales in Pakistan was approximately 55%* in FY2017. The company plans to introduce a minicar equipped with 660cc engine in Pakistan in the spring of 2019.
*Based on Suzuki research on Pakistan Automotive Manufacturers Association
<Overview of Pak Suzuki>
Company Name
Pak Suzuki Motor Co., Ltd.
Headquarters
Karachi
No. of Employees
Approx. 1,500 (as of 1 April 2018)
Capital
823 million rupees
(73.1% Suzuki investment,
26.9% general stockholders)
FY2017 Production
Automobiles 135,000 units
Motorcycles 21,000 units
Automobile production models
Mehran, WagonR, Bolan, Ravi, Cultus, Swift
<Trends in production units>
| | |
| --- | --- |
| Start of production | Sept. 1983 |
| 1 million units | May 2009 |
| 2 million units | Aug. 2018 |
<Top 5 models>
| | | | |
| --- | --- | --- | --- |
| Top | Model | Displacement | Units |
| 1 | Mehran | 800cc | 690 thousand |
| 2 | Bolan | 800cc | 290 thousand |
| 3 | Cultus | 1,000cc | 270 thousand |
| 4 | Ravi | 800cc | 260 thousand |
| 5 | Alto | 1,000cc | 100 thousand |