7 November 2017
Suzuki Exhibits New Overseas Motorcycle Model at the Milan Show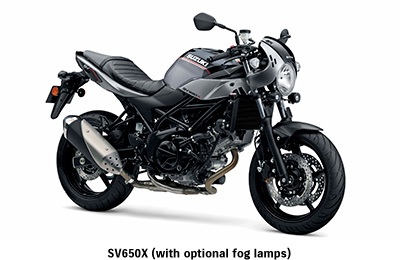 Suzuki Motor Corporation has exhibited the SV650X as a motorcycle model for the overseas market for 2018 at the EICMA 2017 (Milan Show), which is being held in Milan, Italy from 7 to 12 November, 2017*.
*Press days: 7 to 8 November. Public days: 9 to 12 November.
Unveiled at the Tokyo Motor Show in October 2017 as a reference exhibit model, the SV650X is now exhibited as a model scheduled for production.
Based on the SV650, a slim and lightweight sportbike with 645cm3 V-twin engine which features smooth output character and high controllability, the exterior styling of the SV650X has been made into a distinctive café racer style with headlight cowling and clip-on handlebars. The headlight cowling is accented with slits on both sides, and the fuel tank features the "SUZUKI" logo design. The clip-on handlebars realise sporty riding position, and the tuck-and-roll seat has soft cushioning, which helps reduce rider fatigue, even in sporty riding position. Also, optional fog lamps are attachable under the headlight.
Suzuki plans to launch the SV650X mainly in Europe from 2018.
<Main specification of the SV650X>
- Overall length 2,140mm x overall width 730mm x overall height 1,090mm
- Wheelbase: 1,445mm
- Curb weight: 198kg
- Engine type: 645cm3 four-stoke, liquid-cooled, 90-degree V-twin engine