22 September 2017
Suzuki Announces Exhibits for the 45th Tokyo Motor Show 2017
Suzuki Motor Corporation announces its exhibits for the 45th Tokyo Motor Show 2017 (organised by the Japan Automobile Manufacturers Association), which will be held from 27 October to 5 November, 2017 at the Tokyo Big Sight (open to the public from 28 October).
The theme for the Suzuki booth this year is "EXCITEMENT for Everyone, in Everywhere". Since its foundation, Suzuki has focussed on creating fun and unique products of small cars, motorcycles, motorised wheelchairs, and outboard motors for the customers to enjoy the usefulness. Suzuki, as the brand celebrating its 100th anniversary in 2020, will introduce our initiatives in development of products and technologies for ongoing success in the next 100 years.
The Suzuki booth is divided in several areas with dedicated themes. A range of automobile, motorcycle, and outboard motor models are exhibited according to the themes for visitors to easily imagine what it will be like to use these models. The concept cars will include the e-SURVIVOR, a compact SUV in independent four-wheel-drive system with independent wheel motors; the SPACIA CONCEPT, a tall miniwagon that offers a sense of excitement and fun; and the XBEE (cross-bee), a crossover wagon of whole new genre. The concept motorcycles will include the SV650X, which represents proposals in the neo-retro category. Suzuki will introduce the Suzuki Safety Support, the new safety technology brand for automatic brake, false start prevention function, and other preventive safety technologies, and present the company's initiatives in technologies for safety, confidence, and electrification, and technological proposals toward the future by showcasing the technology exhibits.
Main Exhibits
Automobiles
<Reference Exhibit>
e-SURVIVOR: a future compact SUV toward the next 100 years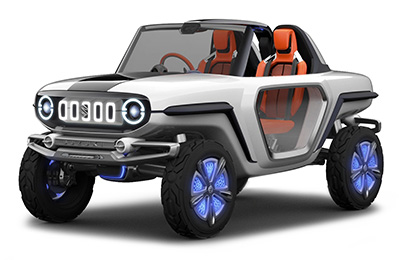 The e-SURVIVOR is a compact SUV of the next age, which inherits the magnetic identity of Suzuki from the Jimny and the Vitara.
While keeping our renowned drivability made possible by the ladder frame and lightweight compact body, it offers new possibilities of an electric four-wheel-drive.
<Reference Exhibit>
SPACIA CONCEPT: a newly-styled tall miniwagon filled with excitement and fun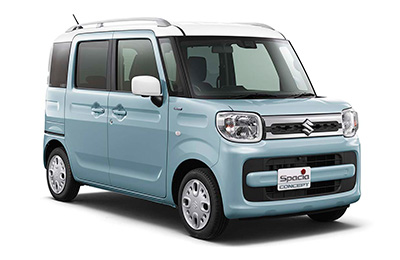 The SPACIA CONCEPT is a concept model of the Spacia, a user-friendly tall miniwagon with low floor, spacious cabin, and rear sliding doors on both sides.
It is a new tall miniwagon that offers a sense of excitement and fun from daily to weekend driving with families and friends.
<Reference Exhibit>
SPACIA CUSTOM CONCEPT: a tall miniwagon aiming for the top of styling with powerful presence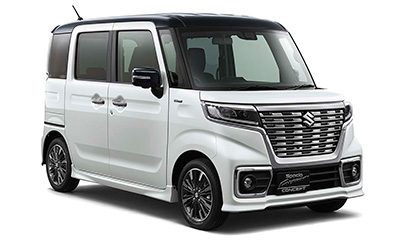 The styling design of the SPACIA CUSTOM CONCEPT has powerful impression and presence with its voluminous large-sized chrome front grille.
User-friendliness of a tall miniwagon is combined with luxurious design.
<Reference Exhibit>
XBEE (cross-bee): a compact crossover wagon of a whole new genre, fused with spacious cabin and an SUV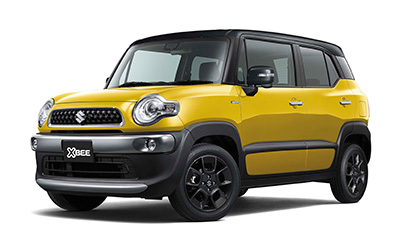 "I want to go out further and have fun with more friends", "I want to enjoy life cooler" The XBEE is a compact crossover wagon that fits in various lifestyles; from stylish lifestyle in the city to active leisure in nature.
This new genre of compact crossover wagon combines wagon packaging of spacious cabin that exceeds its class in a manoeuvrable compact size with a rough-road drivability and functionality of an SUV, and embellishes it with distinctive, unforgettable styling design that has strength and toughness of an SUV.
<Reference Exhibit>
XBEE OUTDOOR ADVENTURE: an elegant outdoor model which blends into the nature well, to enhance the fun of outdoor activities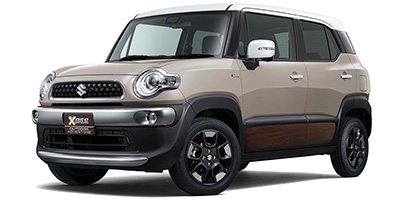 The XBEE OUTDOOR ADVENTURE heightens the crossover wagon XBEE's attractiveness of fitting into outdoor scenes.
As a variant of the XBEE designed for grownups who love camping, the elegant and attractive presence blends into the nature well and offers fun of using it in the outdoors.
<Reference Exhibit>
XBEE STREET ADVENTURE: a distinctive and appealing street model which enhances the fun of a crossover in the city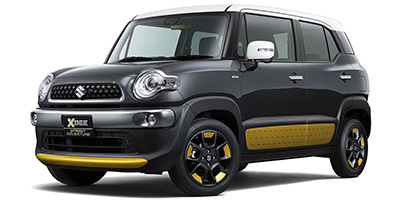 The XBEE STREET ADVENTURE heightens the crossover wagon XBEE's attractiveness of fitting into the urban scenes.
Intended for fashionable and active urban lifestyles, this new variant infuses fun and appeals with the distinctiveness of the XBEE, and nicely fits in the city.
<Reference Exhibit>
Carry Open-Air Market Concept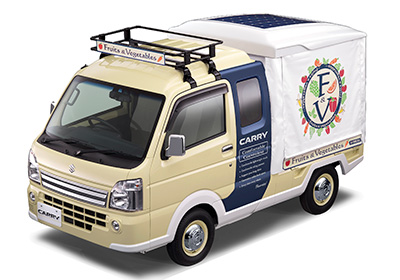 The Carry Open-Air Market Concept is designed as a mobile shop truck at an open-air minitruck market with enhanced cabin space and user-friendliness.
It goes beyond being just a commercial car and offers wide possibilities from daily transportation to leisure.
In addition, it incorporates features that are on everyone's wish list.
<Other Production Models>
| | |
| --- | --- |
| Compact cars: | Escudo (called the Vitara in markets outside Japan), New Swift Sport, Ignis, and Baleno |
| Minicars: | Jimny, Hustler, Alto Works, Alto Lapin, and WagonR (wheelchair-friendly version) |
Automobiles to be displayed in booth: 20 units
Motorcycles
<Reference Exhibit>
SV650X: neo-retro model with traditional styling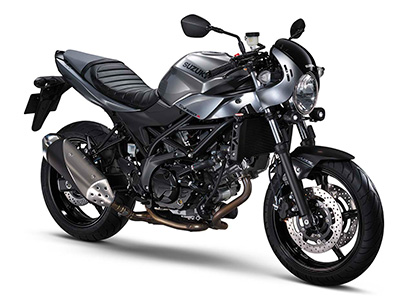 The SV650X is a new proposal from Suzuki; a mixture of traditional, so-called "neo-retro" styling design and modern engine/chassis with the latest technologies.
An evolutionary version of the SV650 Rally Concept which drew attentions of visitors at Osaka and Tokyo Motorcycle Shows in 2016.
<Reference Exhibit>
SWISH: an elegant standard scooter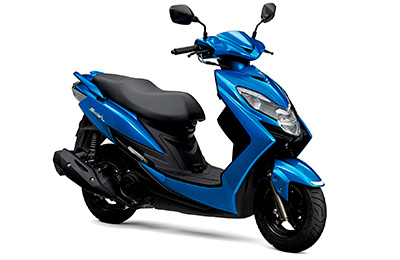 The SWISH is another new proposal from Suzuki; basic, yet classy scooter that can even convince scooterists who have already experienced with many scooters.
The SWISH is targeting those who seek easy and agile handling in city traffic for commuting.
<Reference Exhibit>
GSX-R125: lightweight, high-performance supersport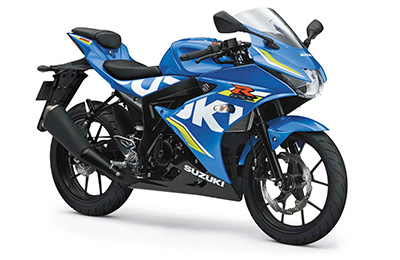 Wrapped with full fairing that is true to the GSX-R styling design concept and powered by DOHC 4-valve engine, the GSX-R125, full size supersport, has newly joined the GSX-R family.
<Reference Exhibit>
GSX-RR: MotoGP machine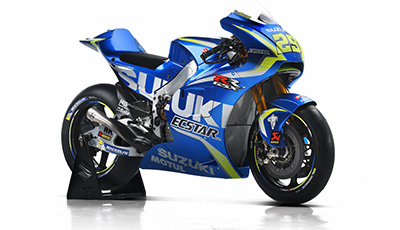 The MotoGP machine GSX-RR was developed with a view of realising high performance in MotoGP, the premiere motorcycle racing world championship of FIM, as well as feedbacking of new technologies to the GSX-R1000 and other production models.
<Production Models>
Hayabusa, GSX-R1000R ABS, BURGMAN 400 ABS, GSX250R, and V-Strom 250
Motorcycles to be displayed in booth: 9 units