21 September 2017
Suzuki Unveils New Outboard Motor at the Genoa Boat Show

- DF100B, the lightest model in the 100-horsepower class -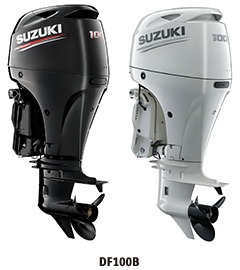 Suzuki Motor Corporation has unveiled new outboard motor DF100B, the lightest* model in the 100-horsepower class, at the Genoa Boat Show which is being held in Genoa, Italy from 21 to 26 September, 2017.
*Based on Suzuki research as of September 2017.
DF100B boasts maximum output of 100PS by reviewing the control system of the engine based on DF90A series. High output performance is realised in a compact body size with weight of 157kg, which is 25kg lighter compared to Suzuki's DF100A of the same class. It meets customer needs for more compact and higher output outboard model to be fitted on mid-size commercial and leisure boats.
<Main features of DF100B>
- By reviewing the control system of the 1,502cm3 four-stroke in-line four-cylinder engine common to DF90A series, it boasts maximum output of 100PS and realises compact body with the lightest* weight in the class of 157kg.
- Installed with Water Detecting System which protects the engine from water in the fuel using a water detecting fuel filter.
- Offered with a choice of two elegant body colours of Pearl Nebular Black and Cool White.
DF100B will be produced at the Toyokawa Plant in Japan, and will be sold worldwide including Europe and Japan.
Full lineup of Suzuki outboards from DF2.5 to DF350A are exhibited at the Genoa Boat Show.