27 June 2017
Suzuki's Japan-India Institute for Manufacturing Receives
Approval by Japan's Ministry of Economy, Trade and Industry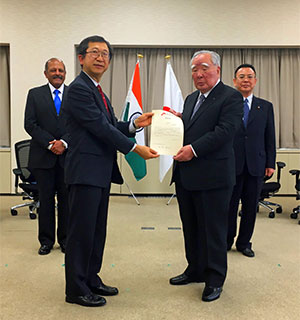 Maruti Suzuki JIM (Ganpat Vidyanagar, Mehsana), an industrial training institute which is being prepared by Suzuki Motor Corporation in Mehsana, Gujarat of India, has been approved as the first Japan-India Institute for Manufacturing by Japan's Ministry of Economy, Trade and Industry, today.
Aimed for human resource development in the manufacturing sector in India, Japan-India Institute for Manufacturing (JIM) is part of an initiative of Manufacturing Skill Transfer Promotion Programme agreed between the governments of India and Japan on 11 November, 2016. Maruti Suzuki JIM is scheduled to open in August 2017.
Maruti Suzuki JIM will be operated as India's ITI (Industrial Training Institute) by Maruti Suzuki, who will bring state-of-the-art educational facilities and human resources. The institute will offer eight practical training courses including Motor Mechanic, Mechanic Diesel, Mechanic Auto Body Repair, Mechanic Auto Body Paint Repair, and Welder, and plans to produce 400 graduates annually.
Ceremony for approval held today at Japan's Ministry of Economy, Trade and Industry was attended by Yosuke Takagi, State Minister of Economy, Trade and Industry, H.E. Mr. Sujan R. Chinoy, Ambassador of India to Japan, affiliates of the programme, and the companies approved at the ceremony. On behalf of the approved companies, Osamu Suzuki, Chairman, Suzuki Motor Corporation in his speech said "Through the institutes approved today, we will make further efforts in human resource development in India."