13 June 2017
All-New Suzuki GSX-R1000 Wins at Senior TT Race of Isle of Man TT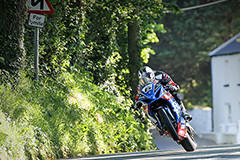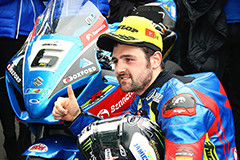 The all-new Suzuki GSX-R1000 supersport bike ridden by Michael Dunlop of Bennetts Suzuki, a motorcycle racing team supported by Suzuki's British subsidiary Suzuki GB, has achieved a prestigious win at the Senior TT race of Isle of Man TT, which was being held in British Isles of Man from 27 May to 9 June, 2017.
Isle of Man TT is a historic public road racing held from 1907. There were nine racing classes by displacements and vehicle types for this year, of which the Senior TT the most prestigious race held from 1911.
At the Senior TT race held on 9 June, the final day of schedule for this year's event, Dunlop on board the all-new GSX-R1000, which has undergone a full-model change this year, took the lead on first lap and then pulled away gradually from the battle for second place to run alone at the front, finishing more than 13 seconds ahead of the second placed rider.
Since first winning the 50cc TT in 1962, Suzuki has achieved a number of victories at the Isle of Man TT. This year became the first win in nine years for GSX-R1000, when it won two races in 2008. Also, the win in Senior TT is the first time in 13 years for Suzuki since 2004, proving high performances of the all-new GSX-R1000.
Race result
| | Rider | Time |
| --- | --- | --- |
| 1st | Michael Dunlop (Suzuki) | 01:09:24.711 |
| 2nd | Peter Hickman (BMW) | 01:09:38.031 |
| 3rd | Dean Harrison (Kawasaki) | 01:09:48:216 |