26 May 2017
Suzuki's DF175AP/150AP Outboards
Selected as 2017 Boating Industry Top Products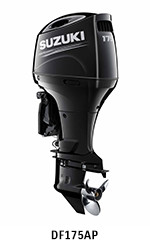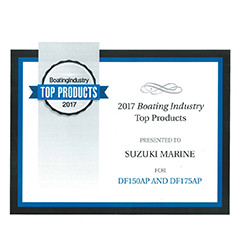 Suzuki Motor Corporation's DF175AP/DF150AP outboard motors have been selected as Top Products by Boating Industry, a marine magazine in the US.
Top Products are selected from marine products including outboards, boats, and accessories launched from January to December 2016, which have significantly contributed to the marine industry. The DF175AP/150AP outboards become the third Suzuki products to be selected as Top Products.
DF175AP/DF150AP are four-stroke outboards launched in September 2016, which have been making strong sales mainly in North America and Europe. In addition to the excellent acceleration performance thanks to its large displacement, their multi-function features were valued for their selection. Such features include the Suzuki Selective Rotation, a unique function that enables counter rotation of a propeller, and the Suzuki Precision Control, the only drive-by-wire throttle technology adopted in their respective classes.
<Main specification of DF175AP/DF150AP>
- Displacement: 2,867cm3, inline four-cylinder
- Output: 175ps (DF175AP) / 150ps (DF150AP)