16 May 2017
Suzuki Launches the All-New DZIRE in India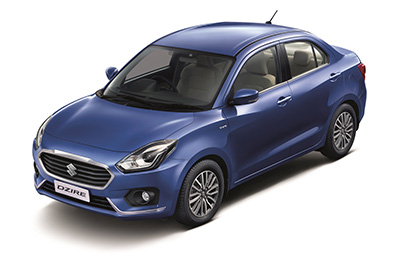 Suzuki Motor Corporation's Indian subsidiary Maruti Suzuki India Limited has launched the all-new Dzire compact sedan in India on 16 May, 2017.
Dzire is one of the main models of Maruti Suzuki. It is India's largest selling sedan with accumulated sales of approximately 1.4 million units in India.
The all-new Dzire shares the same new HEARTECT platform as those adopted for the all-new Swift, which is being sold in Japan, Europe, and other countries from 2017. Thanks to its lightweight and high-rigidity body, it strikes a balance between running performance and fuel-efficiency, while meeting safety regulations that are scheduled to be introduced in India.
The exterior design realises sedan-like flowing silhouette, while enhancing user-friendliness of a sedan by securing large rear leg and luggage space.
While the primary focus of the all-new Dzire will be in India, it will be exported to India's surrounding countries, the Middle East, Africa, and Latin America, subsequently.
<Main specification of the all-new Dzire>
- Overall length 3,995mm x Overall width 1,735mm x Overall height 1,515mm
- Engine: 1.2L Petrol/1.3L Diesel
- Transmission: 5MT/5AGS