30 January 2017
Suzuki Announces New MotoGP Project for the 2017 Championship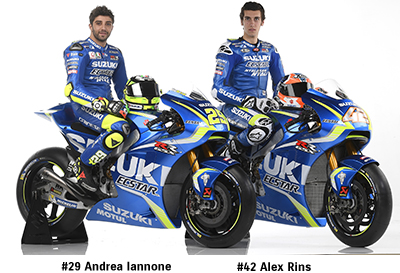 Suzuki Motor Corporation has presented its new project for the Team SUZUKI ECSTAR, a team competing in the MotoGP class of the world's premier motorcycle racing series, the FIM* Road Racing Grand Prix (MotoGP), on 29 January, 2017 at the Sepang International Circuit in Malaysia.
*Fédération Internationale de Motocyclisme (International Motorcycling Federation)
Team SUZUKI ECSTAR has further enhanced the acceleration performance of its racing machine GSX-RR, which is installed with in-line four-cylinder engine, while maintaining its high cornering performance. Two new riders, Andrea Iannone (Italy), who was ranked ninth in the MotoGP class last season, and Alex Rins (Spain), who has stepped up from the Moto2 class, will compete aboard the GSX-RR.
This is the third consecutive season for the Team SUZUKI ECSTAR, who has been competing since 2015. Of the 18 races in the previous 2016 season, the team achieved one win, and made three third place appearances. The 2017 season will start from the Grand Prix of Qatar on 26 March, thru the final round in Valencia on 12 November. 18 races are to be held in 14 countries including Japan on 15 October.
Suzuki aims to surpass the previous season results and enhance machine development to fight regularly for podiums, while developing more attractive products by giving technical feedback to the products, as well as improving the brand image.
<GSX-RR spec>
GSX-RR is installed with in-line four-cylinder engine that realizes a strong, flexible engine character, fuel efficiency, and durability at a high level. The frame has a layout that keeps its width slim for both maneuverability and aerodynamic performances, and optimizes body strength and weight balance.
For the 2017 season, engine character was reviewed, electronics were matched, and vehicle dimensions were modified to further enhance the acceleration performance while maintaining its high cornering performance.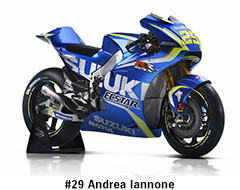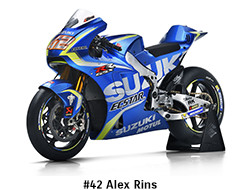 Overall length x width x height
2,096mm x 720mm x 1,140mm
Wheelbase
1,457mm
Body weight
157kg or more
Engine type
Water-cooled, four-stroke in-line four-cylinder,
DOHC four-valve
Displacement
1,000cm3
Maximum output
Over 176kw (240PS)
Maximum speed
Over 330km/h
Gearbox
Six-speed (seamless system)
Frame type
Twin-spar aluminum
Tires (front/rear)
17in/17in
Front suspension
Öhlins, inverted fork
Rear suspension
Öhlins
Brake (front/rear)
Carbon disk/steel disk, Brembo
<Team structure of the Team SUZUKI ECSTAR>
Rider profile
#29 Andrea Iannone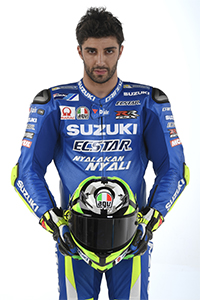 Country
Italy
Age
27 (9 Aug., 1989)
Statistics
2014 MotoGP 10th
2015 MotoGP 5th
2016 MotoGP 9th
#42 Alex Rins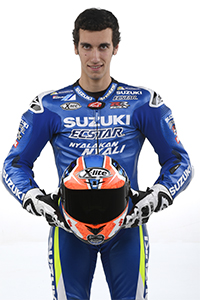 Country
Spain
Age
21 (8 Dec., 1995)
Statistics
2014 Moto3 3rd
2015 Moto2 2nd
2016 Moto2 3rd
Team Director and Managers
Team Director
Satoru Terada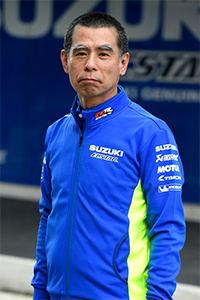 Team Manager
Davide Brivio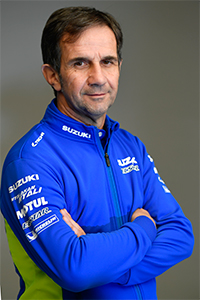 Technical Manager
Ken Kawauchi