15 April 2016
Suzuki Makinohara Solar Power Plant Starts Operation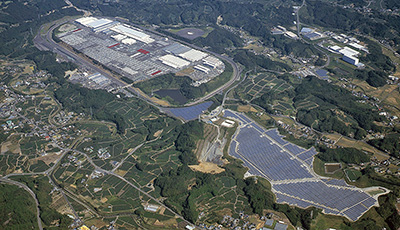 Suzuki Motor Corporation's Suzuki Makinohara Solar Power Plant, a solar power facility with a maximum capacity of 20MW (megawatt) which was being constructed at the Nakazato Industrial Park located in Makinohara, Shizuoka, has been making test operation since October 2015. Additional construction to increase its generation capacity is currently under way, which is scheduled to be completed by the end of July.
Suzuki Makinohara Solar Power Plant will have a total of approximately 110,000 solar panels in the 460,000m2 of land (a part of Sagara Plant premises and a Suzuki-owned 420,000m2 of land within the Nakazato Industrial Park). Annual generating capacity after additional construction is scheduled to be approximately 32,200MWh (megawatt hour), which equals to 8,900 standard households and will all be sold to the Chubu Electric Power Co., Inc. The total investment amount will be approximately ¥7.9 billion.
Suzuki's solar power business started operating a 0.9-MW power plant in June 2015, which is placed on the roof of the Hamamatsu Plant located in Miyakoda-cho, Kita-ku, Hamamatsu. Plus, a 4-MW (total capacity of the Suzuki Group) power plant started operating in October at an unutilised land in Maisaka-cho, Nishi-ku, Hamamatsu.
With the operation of the Suzuki Makinohara Solar Power Plant, the total capacity of the facilities for the Suzuki Group's solar power plant would be approximately 25MW. CO2 emission reduction effect earned through the operation of these solar power plants is expected to be 9.8% of the total CO2 emission amount by Suzuki's domestic plants in FY2014.
Suzuki will contribute to the local communities through its power plant business, while strengthening its efforts for suppression of global warming and environmental protection by promoting local production and local consumption of energy.