11 March 2016
Suzuki at the 32nd Osaka Motorcycle Show 2016
and the 43rd Tokyo Motorcycle Show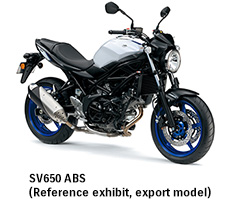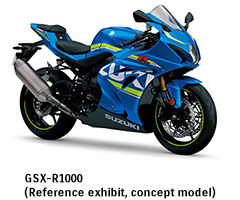 Suzuki Motor Corporation will exhibit a range of motorcycles at the 32nd Osaka Motorcycle Show and the 43rd Tokyo Motorcycle Show.
*Osaka: Held from 19 to 21 March at Intex Osaka.
Tokyo: Held from 25 to 27 March at Tokyo Big Sight.
This year's Suzuki booth will showcase seven units of reference exhibits including two models, the SV650 ABS (new overseas model) and the concept model GSX-R1000 (Japan premiere), which made their world premiere at the Milan Show held in Italy last November. Plus, 12 units of production models (mainly large displacement sport models) such as the GSX-S1000 ABS and the Hayabusa are to be exhibited. Suzuki aims to fully offer the experience of Suzuki motorcycle features by exhibiting many models open for the visitors to actually get on them. There will also be a corner for the visitors to have the chance of getting on the MotoGP machine GSX-RR.
<Main exhibits>
Reference exhibits
SV650 ABS (export model)
GSX-R1000 (concept model)
GSX-RR (MotoGP machine)
RM-Z450WS (2015 All-Japan Motocross champion machine)
Etc.
Production models
GSX-S1000 ABS
GSX-S1000F ABS
Hayabusa
V-Strom1000 ABS and V-Strom650XT ABS (both equipped with optional parts)
Etc.
*The exhibits may change without prior notice.