1 March 2016
Suzuki at 2016 Geneva Motor Show
- Focus on new Mid-Term Management Plan SUZUKI NEXT 100
- New Baleno – ready for European market launch
- New fuel-efficient technologies: new-generation platform, BOOSTERJET engine and SHVS mild hybrid system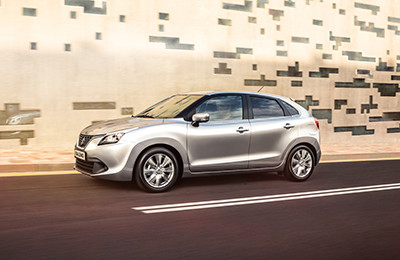 Suzuki has established itself over the years as the specialist in the compact car segment. Since launching the Suzulight in the 1950s Suzuki has produced a vast range of significant models each tailored to the needs of its time.
To strengthen the company's base for sustainable growth for the next 100 years Suzuki has developed a mid-term management plan introduced as "SUZUKI NEXT 100". The plan, with Suzuki's basic principle of "focusing on customer", aims to strengthen manufacturing by placing top priority on quality, creating original products, and fortifying technology development capabilities and productivity.
Looking into the segments the fastest growing categories in the next years will be small SUV's followed by mid-sized SUV's, B-segment, and also A-segment cars . Suzuki's product line-up fits these growing segments very well.
One of the new 20 models to be introduced worldwide until 2020 is the brand new hatchback Baleno. The new Baleno will be available at the dealerships in Europe from April 2016.
New Baleno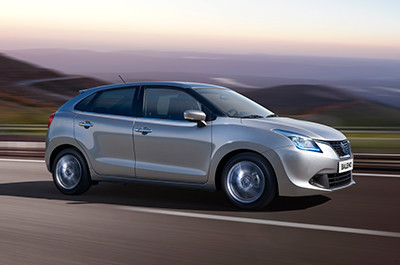 In developing the Baleno Suzuki wanted to take the compact car to the highest level by applying the skills perfected in building the successful world strategic car, the Swift.
Building on Suzuki's experience of making compact cars for over 60 years the all-new Baleno is a step to a new era.
With Baleno Suzuki set its sights on developing the ideal hatchback.
It incorporates an elegant, sophisticated and grown-up appearance, whilst combining style, roominess and a fun to drive character.
With its "Liquid Flow" design theme, compact body, roomy interior and efficient powertrains all on a new-generation platform the new Baleno offers style, utility, and fun driving performance combined with good fuel efficiency. A hatchback that offers harmony without compromises.
The Baleno was first launched in October 2015 in India, where Suzuki is a market leader, and it has been well appreciated by customers who seek for a stylish premium hatchback packed with advanced technologies. The whole sales result reached 31,000 units as of January 2016, and still there are many orders to be delivered.
The new global hatchback is manufactured in India by Maruti Suzuki, one of Suzuki's state-of-the-art production bases for global cars. The Baleno will be sold in more than 100 countries and regions including Japan and Europe.
Styling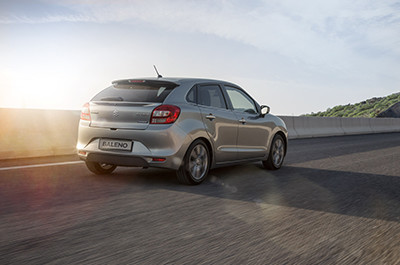 The "Liquid Flow" design theme evokes an energetic mass of liquid in motion, using curving lines and expressive surfaces.
Meanwhile, a low and wide silhouette helps underline a strong, compelling look.
Seen from the front the body opens outward from the cabin. From the side character lines create flowing highlights. The forward-sloping rear hatch suggests the moving forward of dynamic energy. This sophisticated design creates the impression of power and elegance.
For the all-new Baleno Suzuki has selected nine attractive body colours.
The launch colour "Premium Silver Metallic" clearly emphasises the body's curving lines.
Whilst the new "Ray Blue Pearl Metallic" changes from a green hue to a red tinge depending on ambient lighting conditions.
The instrument panel is also characterised by the "liquid flow theme" with its curving lines.
Silver accents together with reddish-amber illuminations underline the cabin's stylishness.
Elegant styling and interior innovations give more information to the driver which makes driving the new Baleno more comfortable and of course more fun.
A large 4.2 inch colour LCD display in the meter cluster shows vehicle information such as G force, fuel consumption, engine power and torque.
The navigation system has a Smartphone Linkage Display Audio (SLDA) with a large 7-inch touch panel screen, which also shows the view behind the vehicle.
The SLDA also supports Apple CarPlay, the smarter, safer way to use iPhone in the Baleno, for making calls, getting directions optimised for traffic conditions, listening to music, accessing messages and more.
Packaging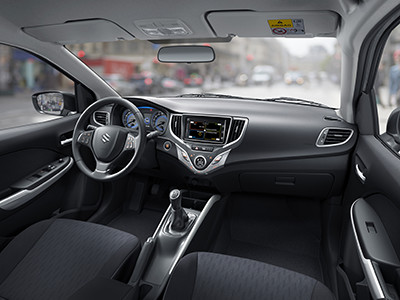 The challenge of achieving a stylish design with a roomy interior has been met by fighting for the last millimeter of space. The result is smart packaging that not only achieves comfort, but also bestinclass cabin and luggage space.
A key element in achieving style and roominess with a body length of under four metres is derived from Suzuki's new-generation platform that enables efficient use of space.
The so-called"tandem distance" is an important measurement to gauge the amount of space available to passengers.
To maximize this, Suzuki's engineers have increased the wheelbase and optimized the seat layout at the same time as providing good luggage space.
This gives the new Baleno a tandem distance of 805mm.
A luggage space of 355 litres makes the Baleno the largest among B-segment hatchbacks *.
Flexibility is another key asset of the luggage space.
Space can be enlarged by folding down the rear seatbacks, sliding the front seats forward and using the luggage board in either its upper or lower position.
*According to a Suzuki survey of B-segment hatchbacks as defined by Suzuki (a hatchback model with an overall length of 3,700mm-4,100mm) and measured using the German Association of the Automotive Industry (VDA) method.
Performance
The new Baleno features three new technologies developed by Suzuki for achieving better driving performance, better fuel efficiency and retaining a fun to drive:
- a new-generation platform
- the new highly-fuel efficient SHVS mild hybrid system
- the new high-performance BOOSTERJET direct-injection turbo engine
The 1.0 BOOSTERJET is a newly developed direct-injection turbo engine with a high torque output. This gives good fuel economy and of course driving pleasure. The BOOSTERJET engine achieves CO2 emissions as low as 105g/km, but still delivers strong driving performance.
After the Vitara S the new Baleno is the second model to be launched that utilises the new BOOSTERJET technology engine which in Baleno is a 82kW 1.0-litre direct injection turbocharged unit (DITC). This new engine has compact dimensions and offers 170Nm of torque available from just 2,000rpm through to 3,500rpm.
The BOOSTERJET engine is characterised by improved fuel efficiency and driving pleasure that has been made possible by using a small displacement and a turbocharger which produces extra power. By controlling the wastegate valve, which closes to create higher boost pressure during heavy load operation and remains open during normal driving, the system reduces pumping loss, thus achieving high levels of both power and fuel-efficiency.
During development, Suzuki's engineers virtually eliminated the typical delay in turbo power delivery or 'lag' by installing the specially developed compact turbo charger attached directly to the cylinder head as well as incorporating the exhaust manifold into the cylinder head casting. This design ensures optimum gas flow with minimal heat loss through to the turbo unit.
Historically, power and torque delivery from a turbocharged engine would not have been available until much higher engine speeds, offering less flexibility to the driver.
The Baleno is also available with a new 1.2 DUALJET, a dual-injection petrol engine with improved thermal efficiency that strikes an excellent balance between offering strong performance and good fuel efficiency. CO2 emissions for the 1.2 DUALJET are just 98g/km.
The 1.0 BOOSTERJET can be paired with either an optimally geared five-speed manual transmission incorporating a specially designed convergent gear locating system that helps reduce frictional losses and also improves shift feel or a six-speed automatic transmission that enables high performance at low speeds and optimum fuel-efficiency at high speeds. The 1.2 DUALJET can be paired with either the same five-speed manual transmission as the 1.0 BOOSTERJET or with a Continuously Variable Transmission (CVT).
The SHVS mild hybrid system uses an Integrated Starter Generator (known as ISG) to assist the engine during vehicle launching and accelerating and to generate electricity through regenerative braking. The system also uses a compact high performance lithium-ion battery placed under the front seat to store energy.
And of course, as expected the engine has an idle stop function. The ISG is belt driven which allows a smooth and quiet engine restart.
The motor function uses stored energy from the lithium-ion battery to assist the engine during vehicle start up and accelerating. This energy assistance provided during acceleration enables the SHVS to be known as a mild hybrid system.
In the all-new Baleno the SHVS system helps to reach Suzuki's target of top class CO2 level of 94g/km with excellent combined fuel consumption of 4 litres per 100km. SHVS adds just 6.2kg to the overall weight too.
Under the SUZUKI NEXT 100 plan Suzuki developed a new platform strategy and the Baleno will be the first model with the new-generation platform to be introduced to Europe.
This new platform strategy targets:
- reduction of weight and
- increased rigidity
For Baleno,body rigidity has been enhanced by approximately 10 per cent and due to the use of a new smoother shaped structure the total vehicle weight has been reduced by around 15 percent.
This high level of weight reduction has only been made possible by treating the car as a whole, not by simply looking at the individual parts.
To realize this lightweight, but rigid body, high tensile steels have been used and the result is a lightest in class body structure.
Technologies to reduce weight have been applied to the vehicle body as well as mechanical parts including doors, seats and interior parts, suspension, engine and brakes.
Whilst achieving class leading CO2 figures the new Baleno also incorporates major new safety systems including Radar Brake Support.
The RBS system detects a vehicle directly in front and depending on the situation it:
- warns the driver
- automatically lightly applies the brakes to warn the driver
- activates brake assist function
- automatically brakes
Fundamental design and development work for the Baleno were undertaken in Japan. This was supported by a full program of evaluation tuning and calibration in Europe. A range of tests were carried out in many countries by Suzuki's technical teams.
Fine-tuned by this extensive programme new Baleno offers a fun to drive experience.
More highlights in Geneva
Other models on show in Geneva include the 2016 year model GSX-RR MotoGP machine.
Suzuki has been developing the GSX-RR since 2012 with a view to making a strong showing in MotoGP (the premier motorcycle racing world championship) and transferring these new technologies to the GSX-R series and other production bikes.
The MotoGP machine GSX-RR will compete at the Losail International Circuit in Qatar on 20th March, 2016.